3 minute read
Trainer and jockey quotes following the Group 3 Manhari Metals Thoroughbred Club Stakes won by Brazen Style at Caulfield on Saturday.
Race Result:
1st: Brazen Style (C Newitt/S Nichols) - $51
2nd: Miraval Rose (J Childs/G Begg) - $3.40F
3rd: Saltaire (B Shinn/J O'Shea) - $3.60
Winning Time: 1:10.04 Last 600m: N/A
Margins: Nose x 2¾L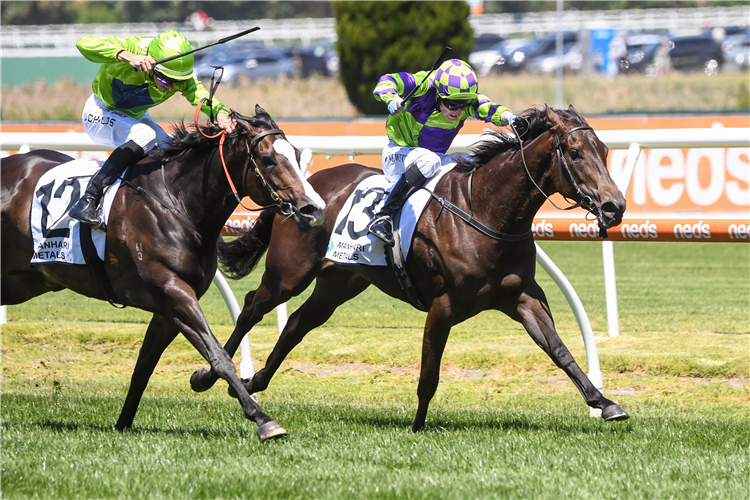 Wowee!

The Judge had a good look & it's Brazen Style who holds outs Miraval Rose at $75 @shanenicholsrac @craig_newitt pic.twitter.com/QalGdYyeVJ

— Racing.com (@Racing) November 18, 2023
Winning Trainer: Shane Nicholls
Photo finish: "I went over and spoke to Grahame Begg and said 'I thought it favoured you'. Watching it on the line and then we watched it together.
"Big thrill to win a stakes race with a filly at her third start. She was $250,000 out of (Inglis) Easter. She's out of a Group 1 winner and probably makes her very expensive.
"There'll be a gentleman in Sydney pretty happy and there'll be two boys in Adelaide very happy.
"We had the discussion with the owners yesterday. I said we're going to send her (forward). Froggy is the man for the job and we'd rather die by the sword trying to win than ride conservatively and run fifth or sixth.
"That was a big buzz. She was a nice filly and we ran into a hot one on a wet track first-up and then spelled her.
"I had her out at my place and I went and looked at her, I feed her every day, and after five days I wasn't happy, 10 days I wasn't happy.
"Initially I was going to leave her there for a fortnight and we left her out for longer.
"Now she's come back in and won at Yarra Glen dominant and now won a stakes race.
"The boys that bred her stayed in for quite a bit."
Value of 3yo races later in the calendar: "For me today but I suppose some of them had to go to the Danehill because there wasn't the race for the fillies. It was a bit of an adjustment but there was still some quality there coming through some good races."
Winning Jockey: Craig Newitt
Thoughts on the line: "I had no idea. I knew my filly was fighting as hard as she could and on the line I wasn't sure if Jordie (Childs on Miraval Rose) got us or not.
On the run: "My filly, I was at Yarra Valley on Cox Plate Day, it doesn't happen very often but I managed to win on her and she gave me a nice feel again.
"Threw her in the deep end in a stakes race and I thought if she came up with a soft gate she'd be really competitive but she's been very well educated. She's got really good gate speed.
"Shane said before the race we might as well use her good gate speed. She crossed probably within a hundred yards and was able to really back it off and give a nice midrace.
"When I asked her from the 500 (metre mark) she just kept finding another gear. I thought Jordie had her measure 50 (metres) off the line but to her credit she stuck her little head out where it counted."