3 minute read
Trainer and jockey quotes after Hypothetical takes out the Listed Neds Village Stakes at Caulfield on Saturday.
Race Result:
1st: Hypothetical (M Dee/A & S Freedman) - $3.30
2nd: Curran (M Cartwright/L Tolson & L Proctor) - $19
3rd: Sghirripa (K Crowther/S & C Oxlade) - $2.70F
Winning Time: 1:02.62 Last 600m: N/A
Margins: 2L x Nose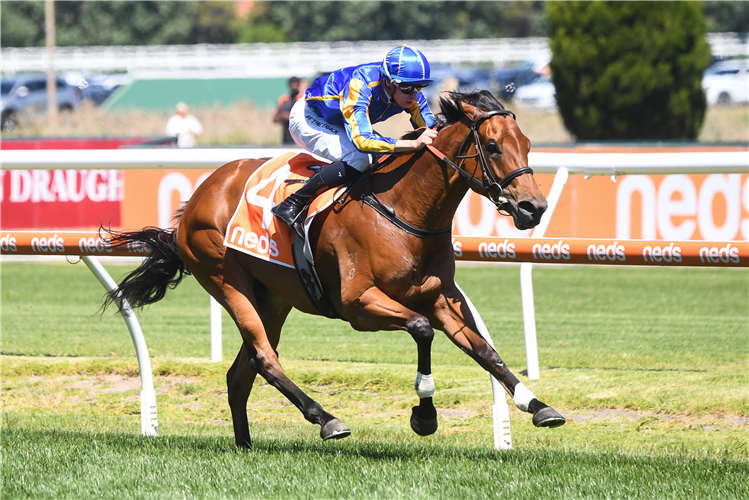 "It's Hypothetical."

A well-deserved Stakes win for the daughter of Pride of Dubai @FreedmanRacing pic.twitter.com/7A2AYCmBBv

— Racing.com (@Racing) November 18, 2023
Winning Trainer: Anthony & Sam Freedman
"It is a massive relief. She has been deserving of that.
"We've been trying for the stakes win for a while and she's had some narrow defeats. Michael (Freedman's) mare came down during Cup Week and spoiled us last time.
"She'll be off to stud next season but I think we can raise the bar now.
"I watched Michael's mare (Queen Of The Ball) work on Tuesday and she had us covered so we decided to go to this race.
"She's a mare that's got a high cruising speed. You don't want to go too slow on her and you need to keep her work up.
"She can win a race from the 800 and be out on her feet. I think we've ridden her a bit cute on occasions and Mick Dee going well makes a big difference.
"It is time for a break. She has been up for a little while and probably got one more race in her before she goes to the breeding barn.
"We could look at a race like the Sangster and run in the first three or something like that. She's got a great pedigree and now with a nice CV on the track. She'll be a lovely broodmare."
Sam is going to Dubai to deliver the Melbourne Cup to winning Sheikh: "It has been whirlwind couple of weeks. Very exciting and we have the staff celebrations tomorrow to get through.
"Off early on Monday morning and deliver to him on Tuesday. He's got a nice full cabinet now with a Caulfield Cup and Melbourne Cup."
Winning Jockey: Michael Dee
"Sometimes gate one isn't the best place to draw because horses that want to be on the speed can get a flyer and they look like they're going to cross you.
"I thought at one point I might get crossed in the early stages but I'm thankful to Sam who said to pretty much lead at all costs and use her natural speed.
"Super effort. She found her top gear shortly after straightening but she really wanted it today."