3 minute read
Trainer and jockey quotes following the Group 1 Schweppes Thousand Guineas won by Joliestar at Caulfield on Saturday.
Race Result:
1st: Joliestar (J McDonald/C Waller) - $4.60
2nd: Kimochi (C Williams/G Portelli) - $9.50
3rd: Skybird (B Mertens/M Freedman) - $4.20
Winning Time: 1:36.81 Last 600m: N/A
Margins: 1½L x 1L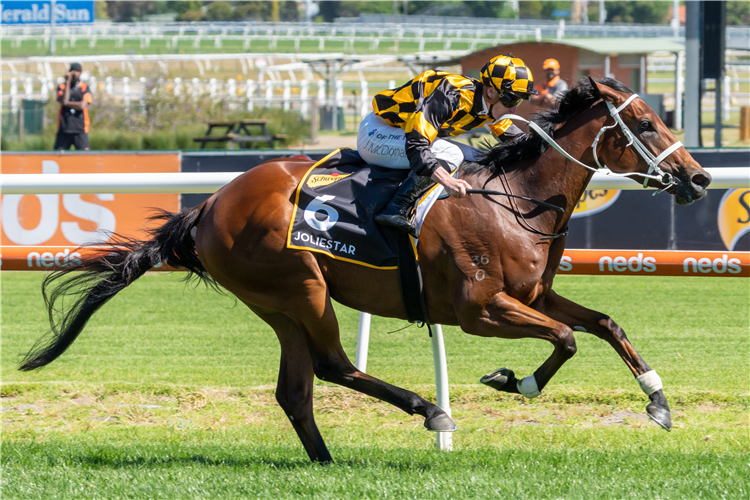 She's a

Another G1 for J-Mac this spring as the daughter of Zoustar takes out the Thousand Guineas @cwallerracing @mcacajamez pic.twitter.com/PjieVKN4yF

— Racing.com (@Racing) November 18, 2023
Winning Trainer: Chris Waller
Long range plan?: "Pretty much. For a three-year-old filly it's a pretty long range plan. She's still only starting her career, but we did identify that she had ability right from the start.
"Cambridge Stud, Brendan and Jo Lindsay, Henry Plumptre, really liked her at the sales. We could afford her and I got her to train, but it's been justified in their investments. They're a great nursery in New Zealand and they spread their wings in Australia each Carnival.
"So to train one for them with James McDonald aboard is pretty cool.
Taken time with her: "The progression of good horses is a lot easiest than average horses, it's a simple as that. She's done it herself. I've found the races, she's turned up. Steven Arnold does a lot of work for us and came and rode her on Tuesday morning and said she got around here well and said she was on the way up. He said she gave him the right feel.
"So thanks to Steven and Jo and the team down here, they do a fantastic job.
"She had a great barrier and James did the rest.
Winning Jockey: James McDonald
Riding in the silks: "We've got Brendan here today to collect the trophy. He told me a funny story before he got legged on. He said I've booked two tickets. I said what, to tackle me home, he said no, for the trophy.
"He must have known. I had such a really good feeling about her that she was building towards something. Her run was fantastic last start with a really good gate and being to get a really good trip in transit, she was always going to produce."
Barrier: "It was pivotal today, especially on the circle track has been playing a little bit up and in that a few of the leaders have had, so we were grinning ear to ear walking out.
"She's had a feeling about her that her whole preparation that she has kept improving and improving but she hasn't been winning.
"She hasn't had a lot of luck so I thought today from barrier one she was going to get every chance.
"I wish the Melbourne Cup was that easy."
Beaten Jockeys:
Craig Williams (Kimochi): "Gary Portelli has done a great job managing this filly to get her into being a more furnished racehorse coming to the autumn. We were outsprinted by the eventual winner but she was really sold through the line. I think they've got options with distance ranges further in the autumn."
Blake Shinn (Coeur Volante): "Very happy with the run we got. Presented but maybe just didn't quite have the strength to run a strong mile. Very gallant."
Beau Mertens (Skybird): "Very proud of her. She ran a great race. Unfortunately as she deos she was a bit slow out of the barriers and put in a gallant effort. I thought at the top of the straight she was a great chance but unfortunately the way the track is playing it got her beat."
Kerrin McEvoy (Arctic Glamour): "Great run from her. It was good to see her run the mile out. We just had to come the widest on the corner to make our run which has been hard here to do today but it was pleasing to see her finish this race off."
Jamie Kah (Carina Queen): "Nice horse. She's going to win a nice race over 2000-metres."
Michael Dee (Zourion): "Ridden like that is probably not her go. She'll be better with a bit of a sit. Tried something today and it didn't work out."
Declan Bates (Vivy Air): "She's run really well. Her lack of early speed from what wide gate meant we ended up at the tail of the field and I think that cost her any chance of winning this race."
Zac Spain (Apache Song): "Got into a good spot. Travelled nice. Just when the pressure went on she got on one rein."
Jake Noonan (Enna's Dream): "I'd say she's come to the end of her preparation. She's had a great prep but she was running on empty."
Mark Zahra (Ersa): "Took a chance, rolled forward but she wasn't good enough.
Damien Oliver (Vibrant Sun): "She ran well. There was just too much pressure coming off a maiden into a Group 1 fillies race but we wanted to go forward and she wasn't capable of going forward today. Really impressed with the way she went through the line. I think she's got the makings of a nice Oaks filly in the autumn."
Billy Egan (Quickster): "She didn't do a bad job to hold her own under that sort of pressure at Group 1 level at her third start. I think she'll make a nice filly."