3 minute read
Trainer and jockey quotes following the Group 1 Neds Sir Rupert Clarke Stakes won by Magic Time at Caulfield on Saturday.
Race Result:
1st: Magic Time (M Dee/G Begg) - $4.80 fav
2nd: I Am Me (B Shinn/C Maher & D Eustace) - $6.50
3rd: Strait Acer (M Zahra/E Cummings) - $12
Winning Time: 1:22.51 Last 600m: N/A
Margins: 1L x Neck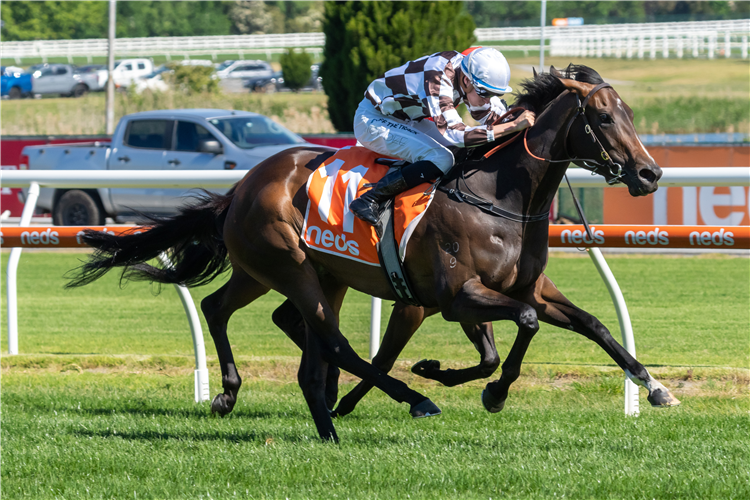 What time is it?
@Grahame_Begg's talented mare gets her G1 victory pic.twitter.com/oa8dNKuJfy

— Racing.com (@Racing) November 18, 2023
Winning Trainer: Grahame Begg
Target?: "It wasn't early doors. We had the plan to take her to Sydney. The Invitation was the race we set her for up there and we could have left her up there to run in the Hot Danish last week, but I thought I'd bring her back, run her in the handicap with 53 (kilos) on her back.
"I thought it was a great race for her. 1400 metres, good speed on, the right recipe for her and she's got the job done."
Concerns on difficulty in making ground: "I was, but I said to Michael before the race don't change anything just because the track is racing that way on speed. Be positive out of the gates, but get cover, don't work up the hill and give her the opportunity to round her race off and she certainly did that."
Challenges through the spring: "It's been challenging to say the least. This is great."
Winning Jockey: Michael Dee
Inside the race: "She's usually a mare that naturally puts herself on speed and I always knew there was going to be a massive amount of speed in this. We didn't get any favours, she's done it tough, punched the breeze and got pushed wider on the corner.
"To her credit that was a super effort."
Did you have doubts: "The whole race, to be honest. I thought for a stage I would be able to slot in with cover, but I couldn't, so all that I could do then is keep her comfortable and in a nice rhythm and keep her as comfortable as possible, get around the bend before I asked her for the ultimate question and she just absolutely took off.
"Credit to Grahame and Rohan and his team for getting her here.
"I'm sure Grahame mentioned it's been a bit of an unlucky spring for him, so to get get a Group 1 and to top it off, it's amazing.
"Grahame has given me a lot of support for a long time now."
Beaten Jockeys:
Damien Oliver (Vilana): "He ran ok. The tempo was a bit strong for him. I think he likes it better when he can travel a bit better and find his feet."
Blake Shinn (I Am Me): "Ran absolutely phenomenal. Jumped well, we got into a good position. She was there to win. She gave me a good feel. The winner was a bit better on the day but she's up to Group 1."
Mark Zahra (Strait Acer): "DId a good job to run third. Obviously the way the track is playing, rode accordingly and a big horse, I would have liked a bit of room sooner but still he ran well under the circumstances."
Jordan Childs (Bandersnatch): "He ran as well as he could. Couldn't be going any better. Very happy with that."
Craig Williams (Skew Wiff): "Her run was excellent, like the winner's. The way the track is playing today, anything away from the rail and off the speed is a big run. We were in the three-wide line two spot off the winner. The winner was excellent and we were very good under the circumstances."
Jake Noonan (The Inferno): "Found a nice spot following the winner. Tracked up competitively from the 600 (metre mark) and gave us a good sight but just didn't let go like his best. Back to the drawing board and see how he pulls up."
Daniel Moor (Ayrton): "I ended up further back in the run than I would have liked. Obviously a race of high pressure. He had to overcome some interference. To find the line the way he did was admirable."
Beau Mertens (Zoutori): "Had the right run. Rails opened up for him if he was there to present but I didn't have the horse to take me through it."
Celine Gaudray (Buffalo River): "The wide draw did us no favours and had to do too cuh work to get there. He never relaxed."
Billy Egan (Chain Of Lightning): "Something went amiss. She how she pulls upGot hit from behind somewhere in the straight which took the wind out of him as well.
Luke Currie (Munhamek): "He ran well. He had to go right back and rode him for luck but if he drew gate he would have been thereabouts."
Jamie Kah (Cause For Concern): ""Track was just a bit form for him today."
Linda Meech (General Beau): "Just did too much work."
Daniel Stackhouse (Crosshaven): "Disappointing. He didn't stick very well. Struggled to travel off that hot speed and had to ride for a bit of luck. Bit disappointing second-up."
Dean Yendall (Wrote To Arataki): "Got a little excited at the 400 (metre mark)."