The decision has been made to end the ongoing uncertainty for the industry and local community around the future performance of the track and its ability to host scheduled race meetings.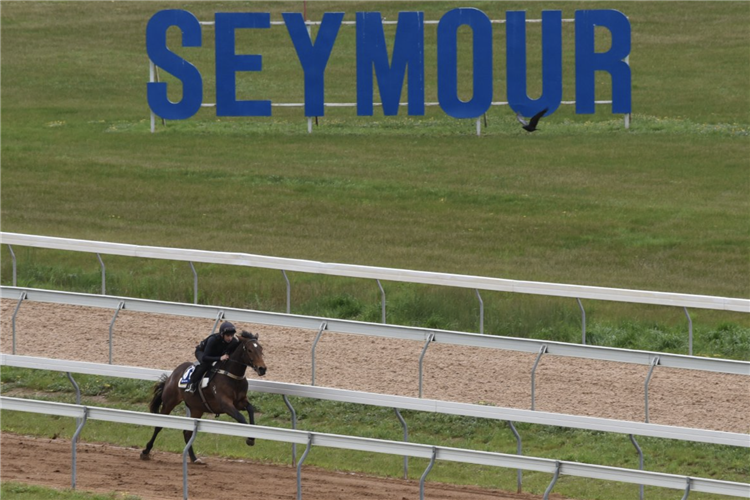 Seymour has encountered issues around stability and consistency of year-round performance following its reconstruction in 2015-16. A renovation was undertaken in early 2020 to re-introduce warm climate kikuyu grass which was expected to consolidate across a full summer growing period.
Despite making progress over spring, the track has not yet reached an acceptable standard and whilst it would be expected to improve into 2021, RV, CRV and SRC agree that it is now time to provide the industry with greater certainty around the track.
In light of the issues experienced with stability, the reconstructed track will be built on a more traditional loam-based profile than the predominantly sand-based profile which was installed in 2015-16 to enhance drainage among other benefits.
The Tracks Advisory Panel has assisted RV, CRV and SRC in the evaluation process, along with respected turf consultant Peter Anderson from SportsTurf. In addition, Sandown Racecourse Manager, Tim Bailey, has been engaged to oversee the implementation of the project to reconstruct the track.
The reconstruction will commence in the opening quarter of 2021 with racing not expected to resume before the spring of 2022 and only when the track has appropriately consolidated.
The industry has made an application for funding support for the project through the Victorian Racing Industry Fund.
Seymour's remaining eight meetings in the 2020-21 season will be transferred to other venues, while no meetings will be programmed at the track in the 2021-22 season.
The 2021 transfer venues are as follows: 6 January (Wangaratta), 17 January (Wangaratta), 8 February (Wodonga), 19 February (Benalla), 4 March (Werribee), 3 May (Kyneton), 3 June (Wangaratta), and 11 July (Wodonga – which shifts from 18 July where it is replaced by Echuca).
Quotes attributable to RV Chief Executive, Giles Thompson:
"Like all within the industry and the local community we are incredibly disappointed and frustrated that the Seymour track has failed to live up to its potential.
"Clearly the intention when it was reconstructed in 2015-16 was to deliver a first-class racing and training surface for the north east and indeed the state of Victoria.
"That hasn't happened though and whilst progress was slowly being made, the time has come to take more invasive action to address the track's issues around stability and consistency of year-round performance.
"It is difficult to pinpoint one issue as a direct cause of the track not performing to expectation over recent years as there potentially has been numerous influencing factors.
"That said, the predominantly sand-based profile has not proven conducive to Seymour and, whilst our fundamental objective was to build a better draining track that aided greater year-round performance, in this case that hasn't worked.
"In making this announcement, I want to apologise to the industry, and more specifically those participants based at Seymour and the local Seymour community, that we didn't get this right the first time around.
"We have a lot of great tracks within Victoria and Seymour deserves to be one of those for many years to come. That has always been our ambition and we will use the learnings of recent years to ensure that becomes a reality.
"Finally, I also want to acknowledge and thank the Melbourne Racing Club for their support with Sandown Racecourse Manager, Tim Bailey, to oversee the reconstruction of the Seymour track and ensure that everything goes according to plan in the formative stages."
Quotes attributable to CRV Chief Executive, Scott Whiteman:
"Seymour is an integral part of country racing in Victoria as our largest venue in the north east. It is important that we have a strong and viable racing community at Seymour and a great turf track is central to that.
"Despite the best intentions and hard work of many the Seymour track has not reached its potential in recent years and the time has now come to provide the industry and local community with some more certainty about its future.
"Once the works are completed Seymour can once again become a track that attracts the best metropolitan and country stables and delivers great racing for members, fans and punters to enjoy."
Quotes attributable to SRC Chief Executive, Penny Reeve:
"The last five years has been a testing time for the Seymour Racing Club. The excitement of a new track turned to frustration and concern when, despite our best efforts, the track's performance remained inconsistent and often didn't meet industry expectations.
"We applaud Racing Victoria's decision to reconstruct the track and thank Tim Bailey for agreeing to oversee the project.
"I would also like to thank the Seymour trainers, members and sponsors who have waited patiently for the track to improve. We look forward to them enjoying a first-class racing and training surface from 2022."
Program Changes – January and February 2021
Following are the updated programs for the for the meetings in January and February 2021 that have been transferred from Seymour to alternate venues: