3 minute read
Cox Plate Day; when The Valley becomes a cauldron, the atmosphere electric, and the favourite hard to beat. The Cox Plate draws out the big names and the big cliches.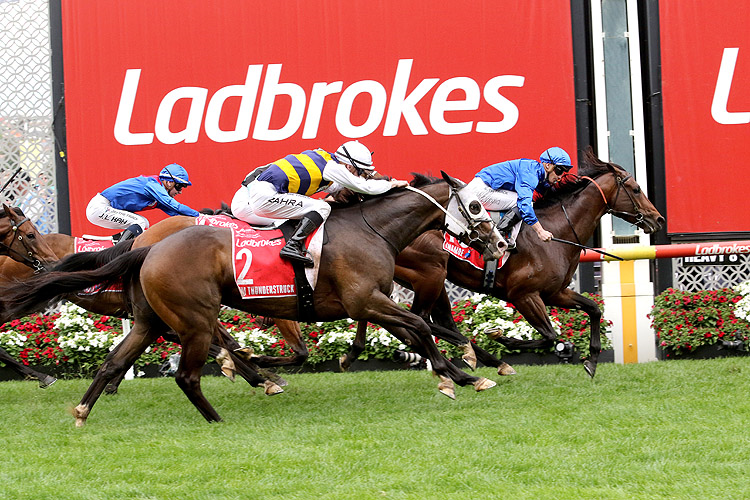 We will hear all about equine immortality, the field in 92 and how 'they don't make 'em like that anymore', and just who was the better horse - was it Sunline or was it Northerly?
Did the favourite get around the Valley? The three-year-olds have a great record here! And when one of the first two races, both run from the 1000m chute, is won by a horse on speed the pattern-seeking preachers will cry out in predictable harmony - 'leaders bias!'
All good fun and all part of what makes the great race unique.
We here at Melbourne Mail HQ are certainly not beyond offering up the trite in our search for something true and we are getting into the swing of things by stamping Gold Trip 'each way to nothing'.
Gold Trip will be the 18th horse (he is also one of the prior 17) to back up from the Caulfield Cup into the Cox Plate this century. That set have returned two winners (Northerly and Maldivian), slightly outperforming both the expectations of the marketplace and the expectations of chance. Neither significantly enough to stamp it a meaningful positive, but by enough to say that it is not a bad play.
That set have, on average, been able to essentially replicate their Caulfield Cup rating at the Valley, another pointer towards treating Caulfield Cup with the utmost respect in the Cox Plate, and in Gold Trip we get not just any old Caulfield Cup form.
You could argue that only Northerly (who turned around and won what I would argue was a better Cox Plate than the thrills and spills put on by a set of trans-tasman geriatrics a decade earlier) turned up at the Valley off a better Caulfield Cup performance than the one Gold Trip posted last week.
How Gold Trip looks on paper against a set of horses from the past won't be of any help when he fills the lungs, grabs the ground, and lowers the neck passing the school on Saturday, but it might speak to the sort of horse best made for such a test.
History hints that this is a race not for the beauty but for the beast. The list of fast-moving milers buried at the bend is long and Gold Trip finds himself priced up alongside several. He appeals as a bet against them but what about star from afar?
Romantic Warrior certainly fits the historical bill. High class form against all comers in fast 2000m races leaps off his page.
The betting made it near enough 90/10 in favour of Romantic Warrior in the Turnbull but Gold Trip was decisive in a race that ran true. The time was outstanding and Gold Trip wasn't stopping - he powered away. The betting recognises this, the early prices make them approximately 66/33 this time, but the challenge has been thrown down to the hotshot from Honkers.
He has more to come, and it will surely come, but a dive into the figures says that it is possible that there is still something more bubbling away under the surface of Gold Trip too.
Ultimately, he's a big horse for a big occasion and a bet.
Another big occasion is Stradbroke Day - a card that has thrown up the winner of the Epsom, the Everest and the Caulfield Cup this year from among it's nine winners.
Of those nine winners, none posted a faster timefigure (though a steady early pace played its part in keeping Without A Fight a tick below him...) than the Wayne Wilson winner Antino and he was every bit as fast when edged out in the Toorak last time.
In keeping with Cox Plate Day cliche, the field is small but select for the Crystal Mile. There may not be depth in numbers but there is depth in the numbers.
Despite that, Antino is the one to select from this select sextet and he goes up as our best of the day - another cliche!
THE MELBOURNE MAIL
Best Of The Day: Race 5 #4 Antino @ $3.00 with bet365*
Each Way Play: Race 9 #5 Gold Trip @ $8.50 with bet365*
*Prices correct as of 4:30pm AEST 25/10
As well as the above suggested bets, bet365 has several other offers worth looking at this weekend across the two day Cox Plate carnival.
bet365's 25% winnings Boost token race this Saturday will be the Cox Plate (Race 9 Moonee Valley)
Jockey Mega Boost – Mark Zahra to ride 1+ winners at Moonee Valley (Saturday) – was $1.53 boosted to $2.50 (boost prices available from 10am Saturday – prices subject to change/singles only/max stakes apply/eligible customers only)
Horse Mega Boost – Race 3 Moonee Valley – Wishlor Lass to finish in the top 2 – was $1.63 boosted to $2.50 (boost prices available from 10am Saturday – prices subject to change/singles only/max stakes apply/eligible customers only)
bet365's 25% winnings Boost token race this Friday will be Race 7 Moonee Valley (Moonee Valley Gold Cup)
Horse Mega Boost – Race 5 Moonee Valley – She Dances to win – was $2.00 boosted to $2.60 (boost prices available from 6pm Friday – prices subject to change/singles only/max stakes apply/eligible customers only)

What's gambling really costing you? For free and confidential support call 1800 858 858 or visit gamblinghelponline.org.au.