3 minute read
Winx is only facing two rivals in Saturday's Caulfield Stakes, but history shows that small fields make for unusual results – especially for favourites.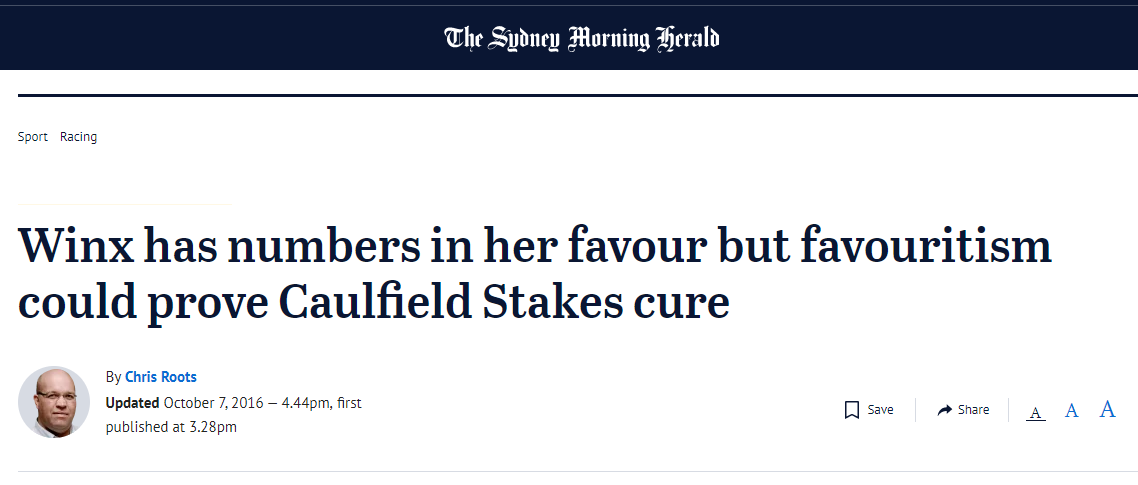 There has never been a three-horse group 1 race in Australasia in the past 25 years, but in 13 top level races with five (11 events) or four runners the favourite has only won seven times.
Not that anyone is prepared to say Winx will be beaten by the other two in the race, Black Heart Bart and He Or She as times and rating experts have her clearly in a league of her own.
"It is pretty clear that small fields can be tricky for favourites for one reason or another," Racing and Sports' Gary Crispe said.
"You would expect the favourite would just win because they are clearly the best horse, but it doesn't [always] happen.
"On Timeform numbers Winx is 128 and Black Heart Bart sits at 126, so she has a clear advantage and you would expect her to win, but it could come down to who has the better sprint."
Victims of the small field jinx include Octagonal, Filante, Juggler and Lankan Rupee, but none of them have started as short as Winx, which is a $1.20 favourite.
Jockey Hugh Bowman gave some insight into what he wants from Winx from the Caulfield Stakes, with first priority making it 12 wins in a row.
"She needs a strong race because it is going to amp right up in a couple of weeks in the Cox Plate," Bowman said during the week. "She needs to be at her top then."
He said that in a small field "Tactics go out the window a little bit ... I can just be where I'm comfortable. I don't have to worry about being too far back, I don't care if I lead or sit outside the leader although I wouldn't expect to be there."
Trainer David Hayes, who has outsider He Or She, said "I'm not going to say I can beat her, but I think my bloke can split them [Winx and Black Heart Bart].
"He has been in plenty of three gallops at home, so it is nothing new to him and he always sits behind them and then works to the line over the top of his partners and that's what we hope he will do on Saturday.
"He hasn't been working with a Winx or Black Heart Bart at home though. If they have a go at each other we will be watching and ready to pounce."
Hayes has been in a two-horse before when Better Loosen Up went down to Let's Elope in a match race, and has his views on who might have the advantage between Black Heart Bart and Winx.
"Remember Black Heart Bart has run second in a Newmarket and is a sprinter, and [jockey] Craig Williams came back after [the Underwood Stakes] last start and said nothing can outsprint him," Hayes said.
"So I would lean to him having the advantage if they dash home.
"She is a superstar and has been winning races with her turn of foot and I think she is a better stayer than him and would get the better of him the harder and further they go."
However if it comes down to a straight speed contest, times analyst Vince Accardi believes from his data that "Winx just wins".
Accardi's Daily Sectionals give speed profiles of horses and he believes the small field plays into Winx's hands.
"She has the biggest sprint in the race and the other two simply haven't gone anywhere near the figures she has produced," Accardi said.
"In the final 400m, Winx has a career best figure of +11 lengths and has a range between eight and 11 lengths. Black Heart Bart has run +5.2 lengths and range starts at around +3.5 that is a big gap.
"He Or She is probably a better chance of matching with Winx but its figures are all over the place it has got as +8 but is generally around the threes and fours but is interesting that high number come off a solid speed."
Online article taken from The Sydney Morning Herald.