3 minute read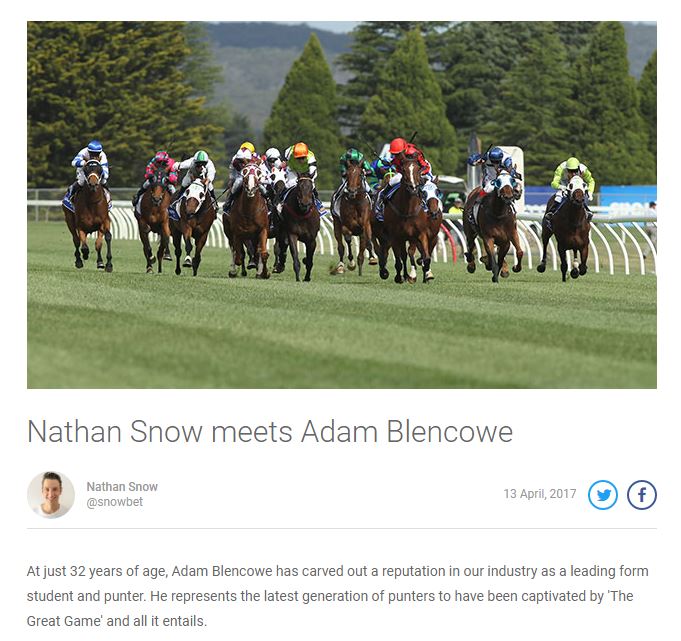 At just 32 years of age, Adam Blencowe has carved out a reputation in our industry as a leading form student and punter. He represents the latest generation of punters to have been captivated by 'The Great Game' and all it entails.
The Blencowe family has a long, proud tradition in wagering, dating back to the 1930s with Adam's great grandfather an on-course bookie in Melbourne. He also owned pubs in the golden age of SP bookmaking. Adam's grandfather would move to Canberra and that's where his formative years were spent.
A love of all sports consumed Blencowe as a kid (and still does), and some of his fondest childhood memories are of trips to the races with dad and granddad. The colours, horses, people and all the action of a race day were mesmerising to him.
Throughout his school years he would follow racing as he would other sports. Backing his favourite horse was just like cheering his favourite team. His dad would play bookie to him and 50c place all-ups were his entry to gambling.
His favourite memory of his early betting was a three-leg all-up that ended in Tarnpir Lane in the Rosehill Guineas and turned his 50c into a crisp new $100 bill. An unheard of amount for a young teenager, it was duly spent on 'investments' in basketball cards!
"He's probably not as good as I remember, but Tarnpir Lane was a champion in my mind," Blencowe said.
Saturday afternoons were spent with dad and he can still remember his dad's phone account numbers for the days he wasn't there. His dad worked for various bookies in Canberra, including Colin Tidy and Con Kafataris.
The mid-90s were a time when there were numerous bookies based out of Canberra due to archaic laws and administrators lacking foresight in NSW, who thought if they ignored off-course bookmaking it would go away. Bookies that should've been set up in their home states were based out of the ACT or NT due to more accommodating laws.
Adam was working for a bank after school, but knew that gambling and racing was where he really wanted to be. His dad organized an interview at a small bookie called Portlandbet and he landed the job.
Being a small bookie meant all the staff were 'hands on' and Adam was given a solid grounding in all aspects of the business. He was working late nights and as a 21-year-old had the responsibility of managing some sizeable English soccer books.
He had been building an interest in form all this time and had begun using the Don Scott worksheets on the Racing and Sports website to start compiling his own ratings.
At this point, Adam would write a bold email that would change his life. He wrote to Gary Crispe, the boss of Racing and Sports, to ask for any sort of job there. He was lucky enough to be given a chance and he took it with both hands.
His first role was basic data entry where he would enter margins, wides, video comments and do general website work. He would learn a new way of approaching racing, but the most important part of his punting education would come on Monday mornings. They would be spent with Crispe re-handicapping the races from Saturday. He was fortunate that, at the time, Crispe was overworked and looking for someone to prove a capable offsider, and he was eager to share his knowledge with someone so willing to learn.
It was a real privilege for Blencowe to be able to learn from someone who 'has almost conquered The Great Game' and it has been a 'never-ending apprenticeship'.
Crispe, so highly respected in the punting community and who has seen it all in racing, dating back to his time with the Legal Eagles. He would instil the importance of the mechanics of rating a horse while still emphasising the need to use one's intuition built through experience.
The primary focus for Crispe and then Blencowe would become getting 'the number right' for each horse's previous run.
"Most of my form is in the post race. That is what provides the perfect base moving forward," he said.
The key thing he learned was 'how key variables such as time, tempo, weight, going and form interplay with one another and how to measure it'.
Class and time are the most important. Relying on times alone can be fraught with danger. Class and the 'collateral form' that it provides is very important to give the times their appropriate context.
"Sometimes your class ratings and time ratings will line up and lock away perfectly. Other times it's harder and more factors need to be taken into account to come to the correct number," Blencowe said.
Given most of the work goes into the post race and landing on the correct number, Blencowe's pre-race work involves only minimal adjustments. The base number is the key and up until this time all the work to get there has been very 'mechanical'.
Pre-race and the adjustments that are made is where the intuition and experience comes in.
"There has to be art on top of the science," he said.
The two key adjustments that are made are for the map and likely suitability of the pace in the race, along with adjustments made for possible improvement depending on the stage of the preparation.
The base rating plus these adjustments are then fed into an algorithm that produces two sets of prices; one based purely off the ratings and one that factors in the market price. This will give him a range of prices for each runner. This is where instinct and experience will guide him to land on the appropriate price for each horse.
While Blencowe's model can produce a set of prices for all meetings, he only likes to bet on races when he has had a chance to make the manual adjustments and use his intuition as mentioned.
"Intuition is what can take a small margin model and make it into a higher-margin winning punter," he said.
This has led Blencowe to focus primarily on Melbourne racing along with Group and Listed races from the UK and France. He likes to approach racing overseas in exactly the same way that he approaches racing in Australia and believes this gives him an edge on the overseas markets, who are looking at the form through a different prism than he is.
He will get some races wrong this way, but will find many winners that are over-priced while also finding favourites that are suspect. Preparations, set-ups and the platforms horses take into runs are vastly different over there and Blencowe likes to take the things that work in punting in Australia and apply them to doing the form in Europe.
Focusing only on the Group and Listed races allows time to put in the appropriate work on each race, along with the benefits that the familiarity of a smaller pool of horses brings.
His focus on international racing has provided Blencowe with his most memorable win and most painful loss in racing.
Starspangledbanner was a very talented Australian sprinter that went to Royal Ascot in 2010.
Blencowe had confidence in his ability to line up the international ratings and had determined the Aussies were far superior to the opposition. Double figures were an enormous overlay in his mind and he backed his judgment for a huge result and he duly saluted.
A similar tale that didn't end so well was a horse from Japan called Orfevre. Blencowe and the Racing and Sports team had just started working on ratings for Japanese racing and had determined Orfevre to be genuinely top class, who would measure up anywhere in the world.
When they learnt it was being set for The Arc in France, the team swung into action backing it from 50s down to single figures. The horse was bolting in the run and gave them windburn as it ran to the front but somehow rolled in and hit the rail only to be just beaten on the line.
A tough loss to take while sitting in silence on the couch in the dark at 3am while contemplating a ripping bet six months in the making that was somehow beaten!
Selecting which races to bet in is also a 'feel' thing. There are no hard and fast rules, but more based around the value in the market and the confidence in each race. Over the years he has found the most success in races where he backs two runners or possibly three and where his top pick on ratings is an overlay.
He finds the more restrictive he is with his bets, the better in the long term, even if this means letting marginal overlays go around without him.
Over the years he has learned to 'not trust intuition when it comes to assessing the quality of horses, but it's very important when it comes to pulling the trigger and betting'.
When asked what improvements could be made in the industry, Blencowe is still an unabashed fan of racing as a sport but does yearn for a return to the days prior to pre-post betting. Prices currently go up on a Wednesday or Thursday in dribs and drabs and most punters haven't had time yet to form an opinion.
Blencowe would love to see all prices go up at 11am on race morning: "That moment when prices go up will be like Christmas morning with all the anticipation and excitement it brings!"
The Adam Blencowe story is like the others in this series. Hard work, dedication, a willingness to learn and dash of luck have helped him to where he is today and he will no doubt be a part of the great game for a long time to come.
Online article taken from Racing.com.