3 minute read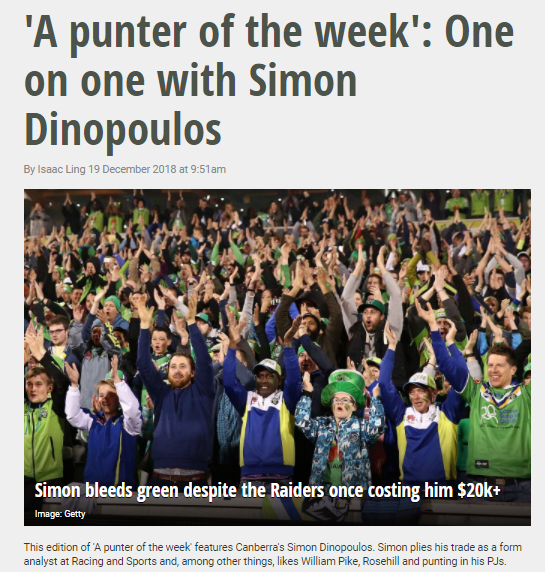 This edition of 'A punter of the week' features Canberra's Simon Dinopoulos. Simon plies his trade as a form analyst at Racing and Sports and, among other things, likes William Pike, Rosehill and punting in his PJs.
1. What got you into racing?'
Mum and dad had a few, quite slow, horses growing up so my brother and I would often get dragged along to the races. Then when I moved to Canberra, I got a job working at the racetrack as an assistant judge while I was at uni. From there I was doomed, racing had me.

2. Biggest/most memorable win?
Would have to be He's Your Man when he won the Epsom (1600m) in 2014. I had a decent throw at 50s after he won the Kingston Town (2000m) - he was the favourite for the Metrop (2400m) at the time - and fortunately the planets aligned and Waller dropped him back in trip. Still not sure how he got the photo, love Royal Descent just as much for lying down. Still watch the replay every now and then when I need a pick me up.
3. What's the sickest beat you've ever copped?
Had a $20K futures bet go down in flames back in 2013. First leg was Overreach to win the Slipper at 20s, England to win the Ashes, Brumbies to top the Australian (Super Rugby) conference and the (Canberra) Raiders to make the top eight as my last leg. That year the Raiders were tracking along well; they had 24 points by round 20. With six games to go, including four at home, they needed three wins to guarantee a spot. Unfortunately Fergo (Blake Ferguson) went AWOL and they lost every game. Somehow I still bleed green ...
4. What do you love most about punting/racing?
I see racing/punting as being very similar to golf. You'll never perfect it, no matter how hard you try or work at it. One day you'll shoot the lights out, the next day you can't tip your hat. It's the unsolvable puzzle that I love.
5. Favourite bet type?
Pretty stock standard, just win bet for me.

6. Favourite punting location?
Hard to beat Racing and Sports HQ ... though you have few excuses when you have the full database at your disposal.

7. Favourite punting snack/beverage?
Rarely drink when I'm on the punt, but hard to beat a decent piece of meat on the barbie.

8. Favourite punting attire?
Most Saturdays if I'm just on the couch, you'd struggle to get me out of my PJs. Just pull the blinds down, crank the air-con and I'm ready to embrace the pain.

9. Best punting advice you've ever received?
It's not whether you like a horse, it's how much you like a horse.

10. Worst punting advice you've ever received?
Don't worry, Mandurah is just about to start.

11. How do you celebrate a successful day of punting?
Usually try and rally a crew together and head out in Civic (Canberra), somehow end up at Moose till close and spend the next day questioning my life decisions.
12. What do you do after a grim day of punting?
Usually try and rally a crew together and head out in Civic (Canberra), somehow end up at Moose till close and spend the next day questioning my life decisions.

13. Favourite jockey and why?
Would have to be the Wizard (William Pike). In regards to speed maps, he's the easiest to read. If he draws inside he'll press up, if he draws wide you know he's going back. Simple.
Back Pike
Drink What You Like!!#Wizard pic.twitter.com/PpF6rdb6kG

— Simon Dinopoulos (@SDinopoulos) November 19, 2016
14. Any jockey you can't catch?
As good as he is - very - I struggle to catch Damian Lane.

15. Favourite trainer and why?
Don't really have a favourite trainer, though I feel some are easier to read than others. Hard to beat Waller in regards to a horse's grand final.

16. Favourite track?
Used to be Randwick, loved the old betting ring. Now I lean more to Rosehill.

17. Least favourite track?
Definitely Hawkesbury. [You're] not sure if you are in front by three lengths or a mile off them.

18. Favourite horse?
Past would have to be Shoot Out. While there have been many better than him, nothing gives a horse ability like money won. The rent went down on him a few times over the years and the champ never let me down. Gunning down Monton in the last stride in the 2013 Chipping Norton was a key highlight.
19. Favourite current horse?
Present would have to be The Autumn Sun. I've backed him all the way through and I got a fairly decent result out of him when he won the JJ Atkins.
Special!

The Autumn Sun comes from deep in the field with a commanding turn of foot, arriving in the shadow of the post ahead of stablemate Zousain to win the Group 1 J.J Atkins Plate at just his third start. pic.twitter.com/7wO3zSyW7P

— SKY Racing (@SkyRacingAU) June 9, 2018
20. Do you have a favourite punting saying?
If you can still distinguish colours and shapes, you haven't had enough on.

21. Any other thoughts on punting/racing you'd like to share?
Racing is a beautiful sickness. I can only hope more people embrace it. I really have no idea what other people do on a Saturday.
Online article taken from the punters.