3 minute read
BEHIND THE SCENES: The Ladbrokes Greatest Ever Cox Plate will provide an unbelievable virtual racing experience - and this is how the spectacular concept was put together to create an authentic race.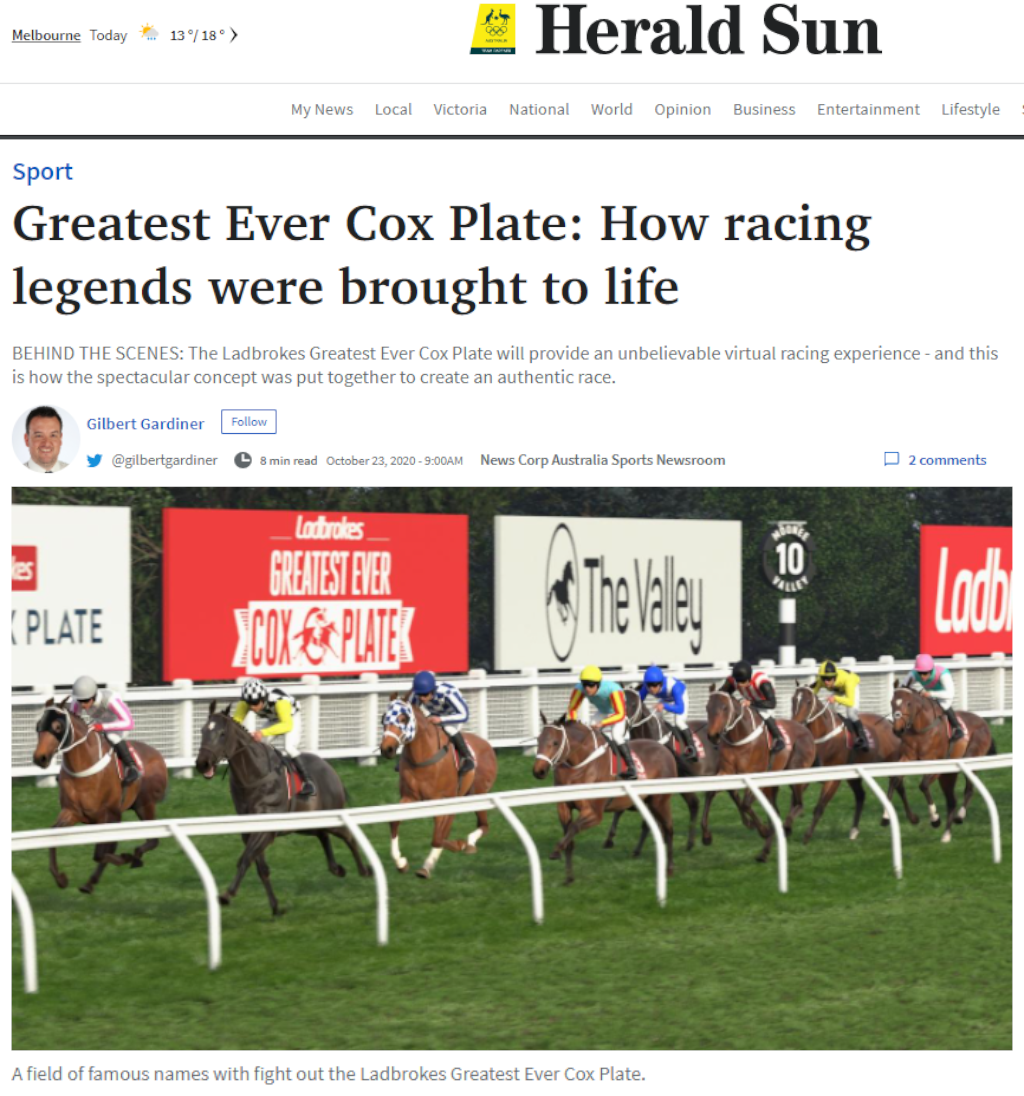 The Ladbrokes Greatest Ever Cox Plate is shaping as the greatest two minutes in Australian virtual racing history.
Having partnered with Moonee Valley Racing Club and Racing Victoria, Ladbrokes enlisted Inspired Entertainment to bring to life the virtual race to celebrate the 100th running of the Cox Plate on Saturday.
The UK-based virtual sports developer combined its pre-eminent software and meticulous graphic design with supplied racing analytics to complete the Australian-first project.
Birdseye drone footage of the Valley, which Moonee Valley Racing Club had as part of its $2b redevelopment project, was used by Inspired to replicate the tight-turning circuit.
Using verified speed maps and the 2018 and 2019 Cox Plates as reference points, Inspired was able to digitally replicate the way a Cox Plate is traditionally run — fast and uncompromising.
The race will be broadcast live on 7Two and across Ladbrokes digital platforms on Friday night as the 'Ladbrokes Greatest Ever Cox Plate'.
The star-studded 14-strong field of champions to contest the race includes Frankel, one of three international wildcards, Winx and Phar Lap.
Each runner was designed and rendered individually to build the silks and specific markings, as well as life-like muscle definition and size.
"It is always a challenge when developing virtual representations of such iconic and well-loved horses," Inspired Entertainment's Steve Rogers said.
"Fans know their markings, the silks worn by the jockeys and their racing patterns intimately, so it has been a lot of work from our team to develop a race that is fitting of the occasion.
"Typically when we undertake a project of this scale, we would like to be able to get our team on the ground and model out the details.
"Obviously, because of COVID-19 this wasn't possible. But we used a lot of archival footage and both we and Ladbrokes are very pleased with the result."
Inspired this year delivered virtual versions of the Kentucky Derby and Grand National to global acclaim.
Ladbrokes executive director — corporate development — Karl deKroo said the authenticity of the virtual race was paramount to its credibility.
"The snippets that we have seen look amazing, honestly, you could blink and think you're watching an actual Cox Plate," deKroo said.
"And then to have such iconic horses including Phar Lap, Tulloch and Kingston Town, running alongside Winx and Might and Power, for a racing fan, it is enthralling.
"We can't wait to see how it unfolds."
Ladbrokes, which has offered a novelty betting market on the event, has seen the first 500m of the virtual races to verify racing patterns and the look of each of the runners.
"It needed to be really authentic to how a Cox Plate looks and feels and how it races, that was important for us," he said.
"Inspired Entertainment had a lot of experience in this space, but the racing patterns of English racing and American racing is quite different to Australian racing.
"They don't mind if they're sitting six-wide the circuit in the UK, but here that would look ridiculous if that's how the pattern panned out.
"For instance, if Might And Power goes out the back, instead of straight to the front, you lose all credibility in the process. Similarly if Winx was to lead, so we needed to make sure those elements were accurate.
"But from there we have no idea what happens. Not surprisingly most of the market is behind Winx, so our trading team will be riding this race almost as closely as the real Cox Plate the next day."
Having been a part of the expert panel to assemble the final field, Timeform Australia chief executive Gary Crispe then had the unenviable task of rating the "formidable" list.
Phar Lap was by far the hardest to compare with modern greats Frankel and Winx, largely due to the lack of accurate information being compiled when Big Red dominated the turf.
"The record keeping back in those eras (Phar Lap) wasn't great," Crispe said.
"You have to piece it together… the further you go back it does present a challenge so all you can do is look at the facts and from there do the best you can."
Timeform's global ratings take into consideration multiple data points, including overall form, historical race results, times, weights and the quality of the opposition.
Fortunately, due to the emergence of Black Caviar and Winx more recently and thirst for comparisons, Timeform had a mountain of Phar Lap evidence that Crispe was able to draw on.
"Going back to horses like Phar Lap we do have bits and pieces of information around the opposition he met so we can adequately come up with a picture of where we think he should fit," Crispe, a noted racing historian, said.
"My personal view is he's still the best horse to race in Australia by a few pounds, and if you look at his record it would be pretty hard to argue anything else, really."
Like with Phar Lap, Crispe was forced to make some evidence-based assumptions about American dirt legend Secretariat and, to a lesser-extent, Japanese super sire Deep Impact.
"Secretariat did present a challenge but all you do at the end of the day is assume he's going to reproduce a (peak) performance in a theoretical race," Crispe said.
"We had a pretty fair idea where he sat at the 2000m and was able to work from that value."
Despite the inherent difficulty of comparing champion eras, one thing certainly surprised Crispe when the Timeform algorithm revealed the confidential ratings for the Ladbrokes Greatest Ever Cox Plate.
"How even the field actually was, under the conditions, that did surprise me," Crispe said.
"It would be a fantastic list of horses to race, if it ever happened, and the great thing about horse racing is everyone has an opinion on their favourites and they may not be the highest-rated horses either.
"I'll be as anxious as anyone to see who wins."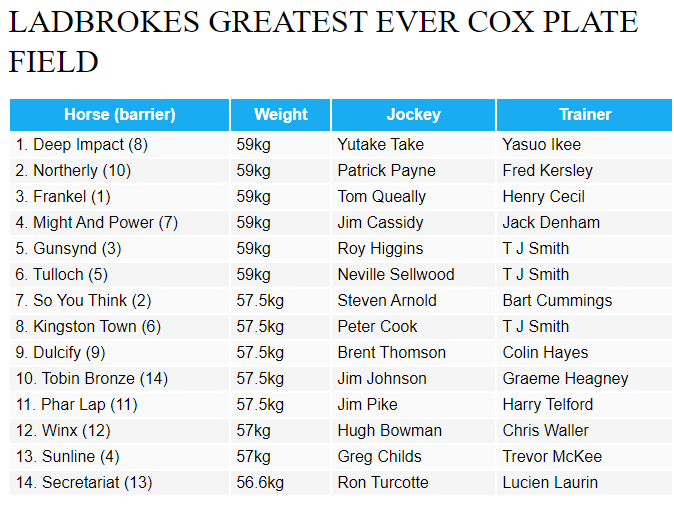 WHEN THE BEST OF THE BEST COLLIDE
1. DEEP IMPACT
Year/s won Cox Plate: N/A
Career record: 14: 12-1-0
Prize money: $27,542,034
2000m winning time: 2:02.20
Remembered mostly for his incredible exploits in the breeding barn, but Deep Impact was a serious racehorse. He swept the Japanese Triple Crown in 2005, and went on to win the Tenno Sho, Takarazuka Kinen, Japan Cup and Arima Kinen as a four-year-old.
2. NORTHERLY
Year/s won Cox Plate: 2001/02
Career record: 37: 19-7-2
Prize money: $14,203,432
Cox Plate winning time: 2:05.84
They don't breed them as tough as Northerly anymore! There was plenty of controversy around his 2001 Cox Plate but he beat his great rival Sunline fair and square in 2002. He never won by big margins but you always wanted to be on Northerly in a tight finish.
3. FRANKEL
Year/s won Cox Plate: N/A
Career record: 14: 14-0-0
Prize money: $5,420,244
2000m winning time: 2:06.59
Frankel finished with 14 wins from as many starts and was utterly dominant in the 2000 Guineas, Sussex Stakes, Queen Elizabeth II Stakes, Lockinge Stakes, Queen Anne Stakes and International Stakes.
4. MIGHT AND POWER
Year/s won Cox Plate: 1998
Career record: 33:15-7-1
Prize money: $9,066,090
CP winning time: 2:03.54
The most recent horse to have the Caulfield Cup, Melbourne Cup and Cox Plate during his racing career. After completing the Cups double in 1997, Might And Power returned for the 1998 Cox Plate and saluted.
5. GUNSYND
Year/s won Cox Plate: 1972
Career record: 54: 29-6 1/2-8
Prize money: $2,980,967
CP winning time: 2:01.90
The Goondiwindi Grey remains one of the most popular horses in the history of Australian racing and he was just about unbeatable in 1972. After finishing a close second in the Epsom Handicap, Gunsynd came out and blitzed his rivals in the Cox Plate before he finished third in the Melbourne Cup.
6. TULLOCH
Year/s won Cox Plate: 19601
Career record: 53: 36-12-4
Prize money: $1,788,234
CP winning time: 2:01.10
Tulloch had to wait until he was a six year-old before he finally got a crack at the Cox Plate, but it was more than worth the wait. His victory in 1960 broke the Australian record over 2000m and before that he destroyed Phar Lap's 28 year-old record in the AJC Derby.
7. SO YOU THINK
Year/s won Cox Plate: 2009/10
Career record: 23: 14-4-1
Prize money: $10,749,800
CP winning time: 2:03.98
So You Think could very well have beaten Winx to four Cox Plate victories if he wasn't controversially sent to Ireland after the 2010 Melbourne Cup. He led from start to finish in the 2009 Cox Plate as an unheralded three-year-old and returned 12 months later as arguably the best horse in the world.
8. KINGSTON TOWN
Year/s won Cox Plate: 1980/81/82
Career record: 41:30-5-2
Prize money: $7,111,669
CP winning time: 2:05.5
Kingston Town dominated the Cox Plate in the early 1980s. The King saved his best for Moonee Valley and all three of his victories in the Cox Plate were unique in their own way. His victory in 1982, where the legendary Bill Collins declared 'Kingston Town can't win', remains one of the most infamous moments in Australian racing.
9. DULCIFY
Year/s won Cox Plate: 1979
Career record: 21: 10-2-3
Prize money: $2,782,462
CP winning time: 2:04.9
Before the emergence of Winx, no horse had won the Cox Plate by a greater margin than Dulcify in 1979. Ridden aggressively by Brent Thomson, the Colin Hayes-trained galloper bolted in to win by seven lengths – the largest winning margin until Winx's incredible 2016 victory.
10. TOBIN BRONZE
Year/s won Cox Plate: 1966/67
Career record: 60: 28-10-6
Prize money: $1,360,304
CP winning time: 2:04.80
Tobin Bronze may be the most underrated horse in the history of Australian racing. He was almost unbeatable in 1966 and 1967, winning just about every Group 1 on the Australian racing calendar.
11. PHAR LAP
Year/s won Cox Plate: 1930/31
Career record: 51: 37-3-2
Prize money: $15,754,008
CP winning time: 1:59.25
Dominated Australian racing during the Great Depression and he remains a national icon. Having 'a heart as big as Phar Lap' is an enduring saying in Australia and he showed his toughness in two outstanding Cox Plate wins. 'Big Red' was the first horse to win the Cox Plate twice and he was a dominant odds-on favourite on both occasions.
12. WINX
Year/s won Cox Plate: 2015/16/17/18
Career record: 43:37-3-0
Prize money: $26,451,176
CP winning time: 2:02.94
The mighty mare made the Cox Plate her own with an unprecedented four consecutive victories. No horse has ever run faster over the 2040 metres at the Valley and she was capable of winning from what would look like impossible situations.
13. SUNLINE
Year/s won Cox Plate: 1999/2000
Career record: 48:32-9-3
Prize money: $18,562,568
CP winning time: 2:05.40
The 1999 and 2000 editions of the Cox Plate were both packed full of quality but Sunline made her rivals look second rate. There are many that still argue she would have beaten Northerly in 2001 without any interference.
14. SECRETARIAT
Year/s won Cox Plate: N/A
Career record: 21:16-3-1
Prize money: $18,179,420
2000m winning time: 1:59.40
The greatest horse in the history of American racing and worthy of his place as the North American representative in the Greatest Cox Plate Ever. Secretariat won the Triple Crown in 1973 and incredibly was able to break the race record in all three events, including the legendary 31-length Belmont Stakes romp.
Online article taken from the Herald Sun, published on Friday, 23rd October 2020, Author, Gilbert Gardiner.