3 minute read
Betting data provider Racing and Sports aims to raise $20 million in an initial public offering on the ASX in November, setting it up to ride the wave of fixed-odd betting following its legalisation in the US.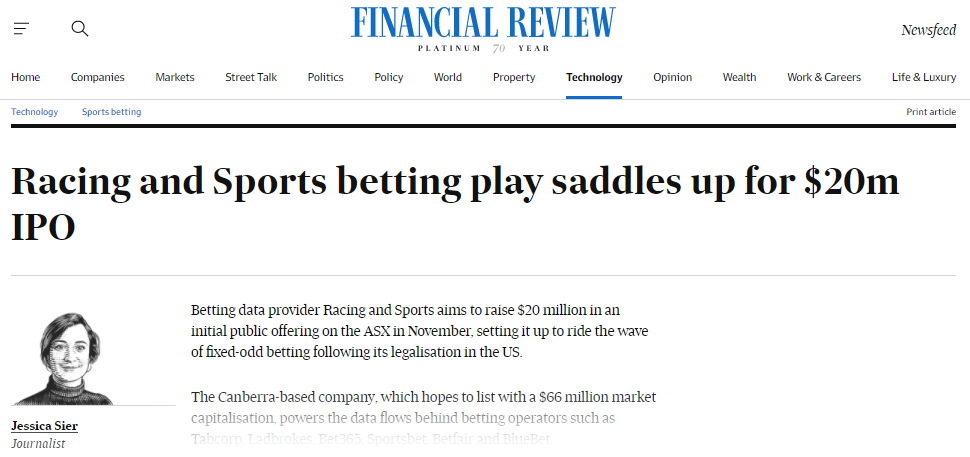 The Canberra-based company, which hopes to list with a $66 million market capitalisation, powers the data flows behind betting operators such as Tabcorp, Ladbrokes, bet365, Sportsbet, Betfair and BlueBet.
"Everything comes back to the quality of the data we have, that's the nucleus of the business," said Gary Crispe, co-founder of Racing and Sports.
"We've been collecting it for 20 years, and as the racing industry becomes more globalised we're in a good position to offer that middleware layer between all the jurisdictions that want to connect with each other."
The company also manages racingandsports.com, a website that receives over 2 million unique visits a year, clocking up about 25 million page views, from more than 200 countries.
The business was founded in 1999 by Mr Crispe and co-founder Robert Vilkaitis, originally as a statistics-based website covered by advertising. Both men are still majority shareholders.
It functioned as a media-based business, but as the data flows increased, Racing and Sports began to insert itself as a middleware layer between international racing jurisdictions and wagering operators whose systems operated in silos.
They've also built up one of the biggest databases of thoroughbreds in the world, as well as harness racing and greyhound racing.
"Australia has a very advanced industry, with very good, very mature, very efficient bookmakers and we've grown up providing services to those customers," said Mr Vilkaitis.
Leveraging automation, the company transforms that data into products and services they can sell to wagering operators throughout Australia, UK, Europe, parts of Asia and has established relationships across the US.
Because betting information is presented differently all around the world, with operators using different formats and dashboards for their customers, Racing and Sports has doubled down on its capability to ingest various data flows from different countries and re-assemble it in familiar formats for new markets.
"That translation part is at the crux of the whole industry from a data and content perspective, it just needs to be easy to consume," said Mr Crispe.
"That's where the secret comes into it, that regionalised, highly customised format so local audiences understand what they're looking at and feel comfortable and confident participating."
While Racing and Sports has long fine-tuned its operations and relationships with overseas operators, it has its sights firmly fixed on the US where fixed-odds betting was made legal in May 2018.
There is an important distinction between a traditional pari-mutuel race bet (where the odds fluctuate after a bet is made until the race goes off) and a fixed odds bet (where the bettor is paid off on the odds at the time the bet is made).
"It's important in the US to have the rights to commercialise their products and for wagering operators on their tracks and their events," said Stephen Crispe, Mr Crispe's son who joined the business as chief executive.
"We have the relationships in the US, and as fixed betting takes hold across the states we are well positioned to serve these new markets."
Ord Minnett is the lead manager on the IPO scheduled for late November and is looking to raise north of $20 million in the process.
The valuation on listing would be roughly 10 times the annualised recurring revenue of $6.6 million as of June 2021.
The company is profitable with revenue climbing at 45 per cent and at high margins with EBITDA of $2.9 million on revenue of $5.3 million in the year ended June 30.
Kate Carnell, the former ACT chief minister and Small Business Ombudsman, will chair the company.
Online article taken from The Australian Financial Review, published on Wednesday, 29th September 2021, Author, Jessica Sier.

What are you really gambling with? For free and confidential support call 1800 858 858 or visit gamblinghelponline.org.au.