3 minute read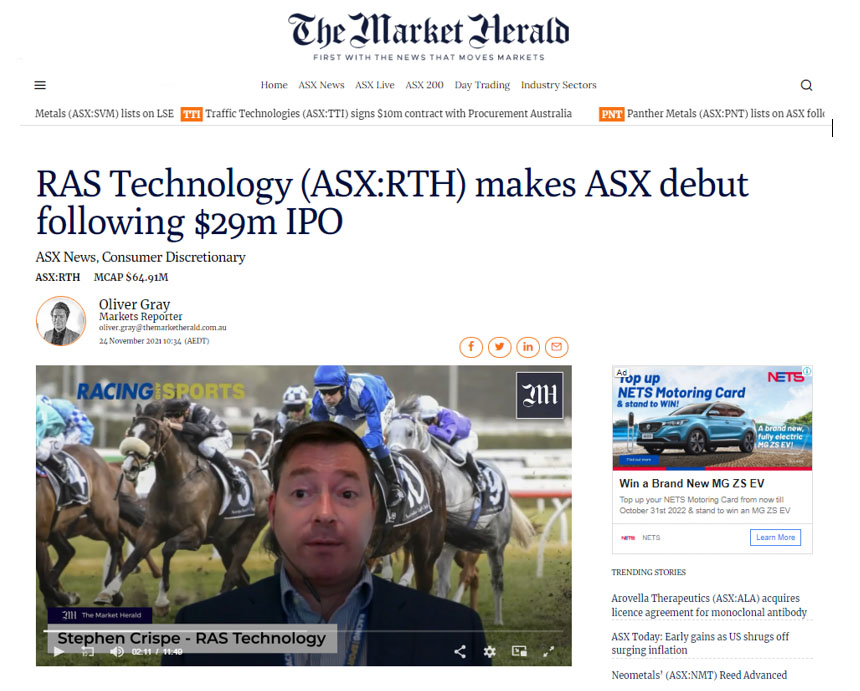 RAS Technology (RTH) had a successful first day of trading on Tuesday, with shares climbing 6.6 per cent following the company's $29 million IPO
The company issued 19.3 million shares to investors at $1.50 each, culminating in a market capitalisation of roughly $68.1 million at the time of listing
Established in 1999, RAS Technology provides fully integrated data, enhanced content and software-as-a-service solutions to the global racing and wagering industry
During the 2021 financial year, the company saw annualised monthly recurring revenue hit $6.6 million — an increase of 75 per cent compared to a year earlier
Shares in RAS Technology finished trading on Tuesday at $1.60 each

RAS Technology (RTH) had a successful first day of trading on Tuesday, with shares climbing 6.6 per cent following the company's $29 million IPO.
Pursuant to a fully underwritten offering led by wealth management firm Ord Minnett, the company issued 19.3 million shares to investors at $1.50 each, culminating in a market capitalisation of roughly $68.1 million at the time of listing.
Co-founded by Gary Crispe and Robert Vilkaitis in 1999, RAS Technology — also known as 'Racing and Sports' — provides fully integrated data, enhanced content and software-as-a-service solutions to the global racing and wagering industry.
It services clients across a number of segments, including Wholesale Data, Content and Distribution, Wagering Technology and Services, Specialist Data Services, Digital and Media, and Consulting and Integrity Services.
Those clients include Entain Group's Ladbrokes, Flutter Group's Sportsbet and Betfair, Tabcorp, bet365, Hong Kong Jockey Club, and Racing Victoria.
RAS Technology generates revenue through both recurring and transactional streams, with the majority of its enterprise customers on multi-year contracts. During the 2021 financial year, the company saw annualised monthly recurring revenue hit $6.6 million — an increase of 75 per cent compared to a year earlier.
The company's Wholesale Data, Content and Distribution segment — which provides racing data and analysis, automated editorial content and advanced analytics — accounted for 64 per cent of that income.
Chief executive Stephen Crispe said the success of RAS Technology's IPO is a testament to the market's enthusiasm for its product offering.
"Racing and Sports has been aggregating data and refining our product offering for over 20 years and, as the racing industry becomes more globalised, we're in an outstanding position to offer that middleware layer between all racing jurisdictions and wagering operators that want to connect with each other," Mr Crispe said.
"We see tremendous opportunities to grow, especially in the US from 2022 as online wagering grows dramatically, as well as into new sports internationally."
Shares in RAS Technology finished trading on Tuesday at $1.60 each.
Online article taken from The Market Herald, published on Wednesday, 24th November 2021, Author, Oliver Gray.

What's gambling really costing you? For free and confidential support call 1800 858 858 or visit gamblinghelponline.org.au.