3 minute read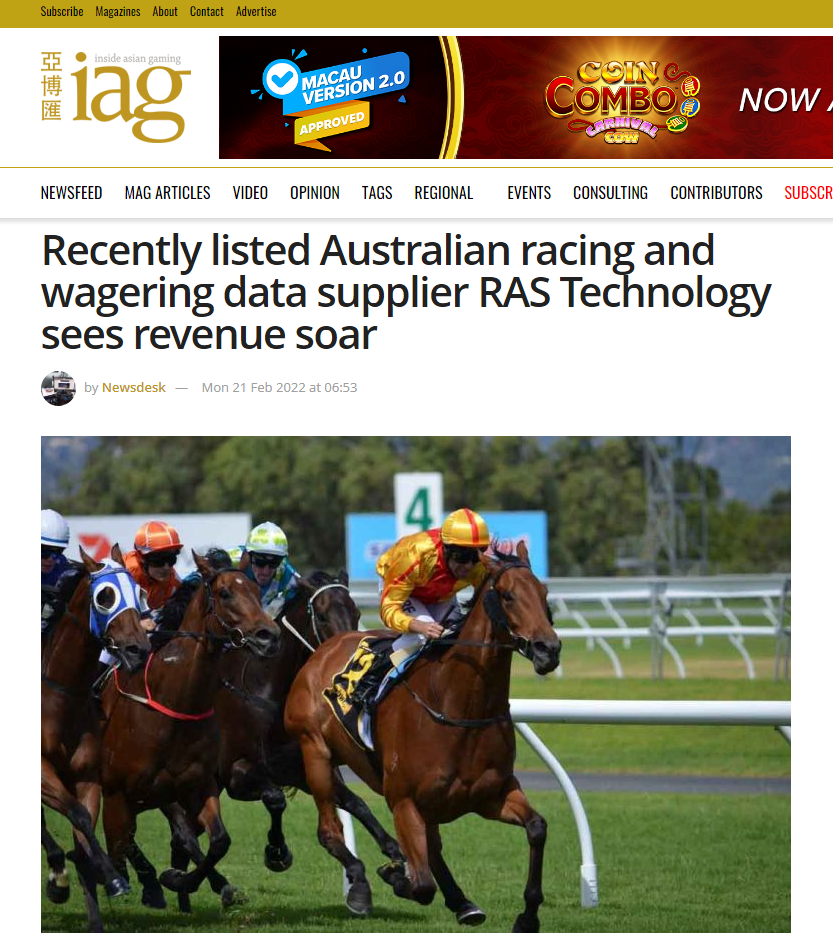 A recently listed supplier of data and content solutions to the global racing and wagering industries has reported a 90% year-on-year increase in revenue and 93% increase in growth profit for the six months to 31 December 2021.
RAS Technology Holdings, which says it currently supports the offerings of Australian sportsbooks Sportsbet, Tabcorp, Ladbrokes, bet365, Betfair and BlueBet among others, was listed on the Australian Securities Exchange in November after raising AU$11.2 million via an Initial Public Offering. Among those to subscribe to a "significant stake" in the company via its IPO was UK gaming giant Entain, with RAS Technology stating in its results announcement on Monday morning that it has been "working with Entain to explore commercial arrangements and future product roadmaps."
While EBITDA for the six months to 31 December 2021 was a loss of AU$1.1 million due to IPO costs of AU$1.8 million and investment in management, commercial and development resources, revenue grew 90% over the same period in 2020 to AU$4.28 million. Gross profit was up 93% to AU$3.6 million.
RAS Technology said it had completed a series of strategic initiatives since its IPO, including the expansion of a commercial arrangement to deliver its Trading Manager technology and Race-Day Control services on behalf of XB-Net racecourses, which represents 60 racecourses and covers 45,000 races per year throughout the United States and Canada. The company has also signed an exclusive strategic partnership agreement with Sky Racing World, a subsidiary of Tabcorp, in the US.
"The company continues to expand its international footprint with 51% of revenue for the half being derived from outside of Australia (up from 31% in 1H21) – the strongest growth areas being the UK and the US," the company explained.
"International expansion is one of the strategic growth initiatives of the company."
Online article taken from Inside Asian Gambling, published on Monday, 21st February 2022.

You win some. You lose more. For free and confidential support call 1800 858 858 or visit gamblinghelponline.org.au.