3 minute read
Collingwood midfielder Taylor Adams won't take the field again before the AFL finals after scans showed he suffered a groin injury against Port Adelaide.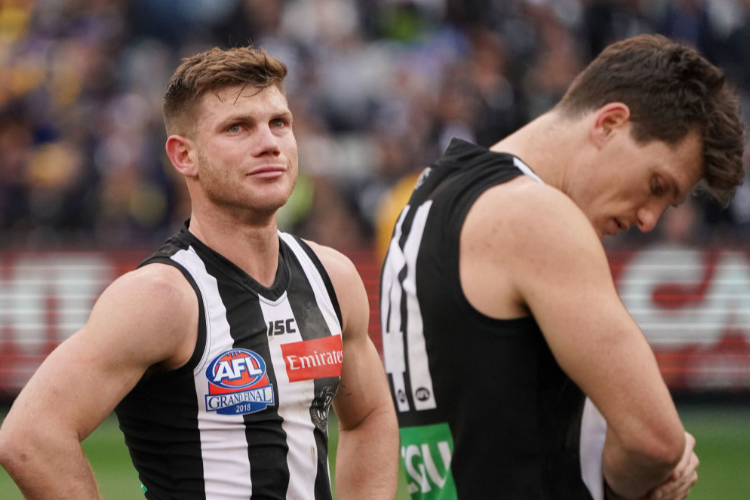 Collingwood midfielder Taylor Adams is racing the clock to be fit for the finals after suffering a groin strain in his side's narrow win against Port Adelaide.
The Magpie vice-captain was subbed out in the second quarter of his side's six-point win and has been ruled out for the rest of the home-and-away season after scans revealed the strain.
Collingwood said in a statement he would be further assessed in the coming weeks but his finals campaign would appear in doubt given the severity of the injury.
While potentially missing Adams for the finals would be a blow, his absence could yet hurt Collingwood before then as they look to finish in the top four to secure the double chance.
The Magpies sit third on the ladder and are a game clear of fourth but face top-eight teams in Melbourne, Sydney and Carlton to close the regular season.
Richmond captain Dylan Grimes is also in doubt for the finals after injuring his hamstring in Sunday's win against Brisbane.
Grimes, who was subbed out during the third quarter, said he wasn't giving up on returning this season but added he might need his team to win a final or two for him to be ready to play.
"It's not a great time of year to get injured, but I'm still hopeful at this stage," he told the Seven Network.
"So trying to stay positive ... I'll see what the doctors say but I'm not putting a line through the season at all.
"I hope the Tigers can keep winning and give me every opportunity to get back.
"They (hamstrings) can be funny things. Sometimes it will feel really bad the morning after but they come good pretty quick, so hopefully that's the case with this one."
And Brisbane's Zac Bailey could yet play this week despite spending Sunday night in hospital after leaving his side's loss to Richmond coughing up blood.
Lions' coach Chris Fagan said the injury had appeared more serious than it turned out to be.
"He spent the night in hospital, he got out this morning, he's recovered well and is back in Brisbane," Fagan told Fox Sports.
"I think he'll be fine this week, he was just coughing up a bit of blood, and that's not a good sign when that's happening.
"As it turned out, it wasn't anything of huge significance, which is more than anything pleasing for Zac and his health."