3 minute read
Racing and Sports will provide analysis of many games in the 2022 AFL Season.
We'll endeavour to run through the form, incorporate appropriate stats and also supply a betting prediction which won't always just be who will win.
---
GEELONG V ST KILDA
Saturday 6 August @ GMHBA Stadium
It's not quite that famous match at the Docklands when they went in undefeated and created an epic but especially for St Kilda, this one could decide this season.
But for Geelong, when you're the presumptive Minor Premiers and current flag favourites, it's hard not to get swept up into forward thinking.
And down Sleepy Hollow way, the back slapping will be fast and furious even at the start of August leave alone the end of September.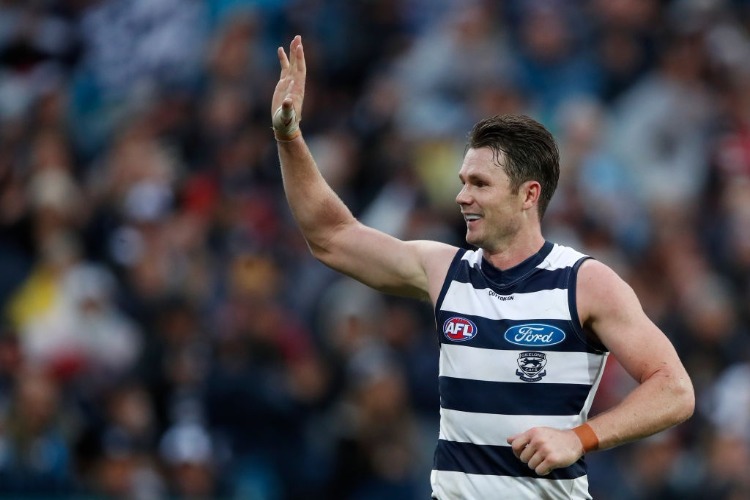 Geelong's fixture against the Bulldogs last week was a weird one. Utterly outplayed and bedraggled to halfway through the second, they started the comeback and once they got a sniff, it was all over.
Eight goals to zero in the third says it all. That was a tsunami that the boys out west didn't look like maintaining. The dam wall broke early and flowed freely.
While it was Joel Selwood's night, it was almost the rebirth or the re-energisation of Patrick Dangerfield. His full frontal attack on the ball held no fear for his own safety. As long as he holds some for his opponents, things will be alright.
But Geelong folks won't care if a full scale assault delivers the first premiership since 2011. For all the platitudes for how good they've been home & away, comes the same ineptitudes for their finals record. They want to change it and so too does a flagless Dangerfield.
In St Kilda, they confront a team desperate for a win that sees them hard in the conversation for that last spot which they currently have ownership of.
Those Saints have a big hurdle though. The last time they won at Kardinia Park was in 1999. OK many of those games went to the MCG or Docklands for crowd purposes but it is still a fair body of work to understand things haven't worked out well down there.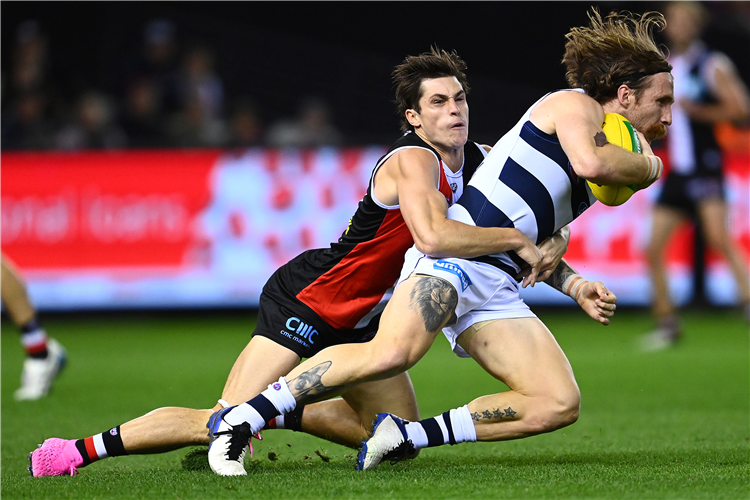 They got the job done over Hawthorn in what really was an unconvincing result. After seemingly getting things under control early into the last quarter, a late surge put some hearts into flutter mode down Moorabbin way.
It was not only that it occurred but that it occurred so easily. Hawthorn waltzed into forward 50 with regularity. It could have been even closer too.
Such a great note was the return of Dan Hannebery. For so long out, his comeback was good for the soul if not just the team. A grand player in Sydney, his Saints career has been a source of much frustration to both himself and those who recruited him.
It has been a shame as his running capacity would have well suited his second team. He'll probably get a tag as Geelong would see him in the middle and Bradley Hill across the half back line as those capable of creating. At the same time the reverse will probably happen to Dangerfield.
Not sure the old line about a loss is good for you leading into the Finals works for the Cats. Besides the fact they love being front runners, Melbourne could snag the Minor Premiership on percentage with three straight wins.
They're so much better than St Kilda when near their best. If they are up for the game they win. If Dangerfield is tagged, watch for Duncan to get off the chain.
Match Selection: Geelong by 33 points
Suggested Bets: SGM - Geelong/Mitch Duncan 25+ possessions @ $2.15