3 minute read
Racing and Sports will provide analysis of many games in the 2022 AFL Season.
We'll endeavour to run through the form, incorporate appropriate stats and also supply a betting prediction which won't always just be who will win.
---
MELBOURNE V COLLINGWOOD
Friday 5 August @ MCG
This late in the season, it is great to get such a heavily finals featured and high class clash as this Queen's Birthday reprise.
To explain its significance, the loser could be out of the Top 4 at round's end – highly likely in Collingwood's position were it not to be on the right side of the ledger.
Melbourne got some mojo back a week ago. They played at 'home' (well their happy hunting ground) and did a right royal job on the Dockers which has more credence given they too were fighting for Top 4.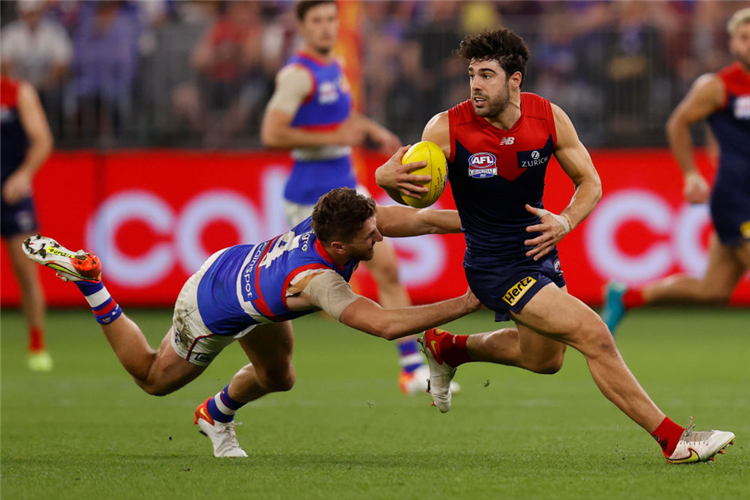 What was impressive was they started well. Come Finals time you are better not giving away starts. Not everyone can be Chautauqua flashing home late to win.
Perhaps of even more likeability to the coach was only five goals were given up. Even if that is an indictment on Fremantle, it was the MO from what made their Flag push in 2021.
They kicked 12 themselves but it was basically their small forwards and runners that snared them. They would love both Ben Brown and Tom McDonald to be back and straightening them up.
But reality is they may need mobility as the main point of attack. Does that stand up in September? It is a big question but you can only play those dealt cards.
Angus Brayshaw got his off field matters sorted and then the same on field as he had more midfield time. He has been great down back but maybe that is for the history books.
A team not as reliant on Clayton Oliver's excellence is a good thing if he loses some time in the middle. That said they won't be giving up his impact in a month's time.
When they play well though, he and Jack Viney tend to be high on the superiority scale. The latter is a great barometer for this side.
Now they need to bring it against a fellow tenant who have had a remarkable, exciting and high blood pressure inducing run.
To win that many in a row is no fluke – what may be more on the lucky side is how close those games have been.
Collingwood get the chance to prove to the many doubters that it has been no fluke (that includes the odd opponent tonight). That lack of belief externally is born of recently playing Port Adelaide, Essendon, Adelaide, North, Gold Coast, GWS since the bye.
Now the run home has Melbourne, Sydney and Carlton in the headlights. It's a great test leading into Finals and also provides a true indication of their form.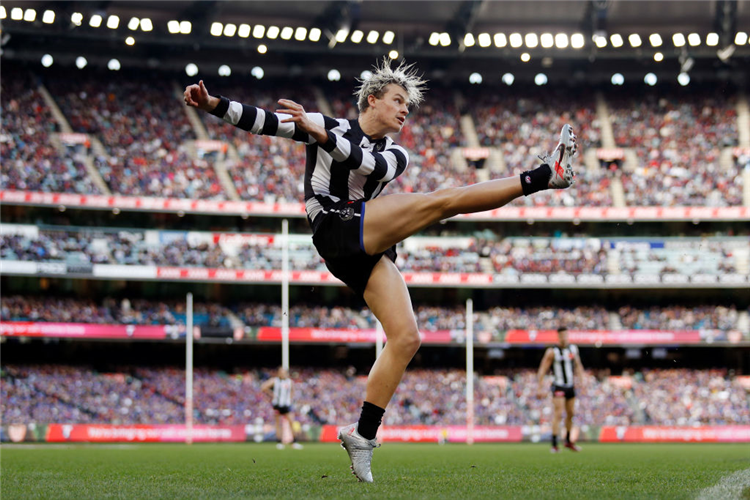 You always had the impression they'd comeback against Port. To what extent the comeback would survive was up in the air but when they believe, things succeed.
Infectious is possibly an accurate reflection of a great way to describe them. Their want and desire is for each other. The issue now is if it is good enough.
They haven't gone for Brodie Grundy to attempt to circumvent the Gawn/Jackson one/two punch? Would that have upset a system that has worked beautifully?
The Demons go in heavy favourites which seems somewhat unfair; almost unrealistic. Their backline will provide the Pies more heat and some injuries are now on the radar (Adams + Howe under a watch).
The reality of the season is really not on this match but the next one for Collingwood. Should they lose they'll be behind Sydney but if they beat them a week later they jump back in front with their biggest foe to come in Round 23.
Human beings shouldn't look ahead – but we are tarnished and weird creatures who are capable of contemplating the worst.
The Demons want to begin their attack and it begins here meeting the Pies contest in the middle head on. Petracca is on the bounce now.
Match Selection: Melbourne by 20 points
Suggested Bets: SGM - Melbourne win/Christian Petracca 25+ possessions @ $1.90