3 minute read
NRL boss Andrew Abdo says salary-cap incentives for a raid on rival codes could be implemented without jeopardising a level playing field for all clubs.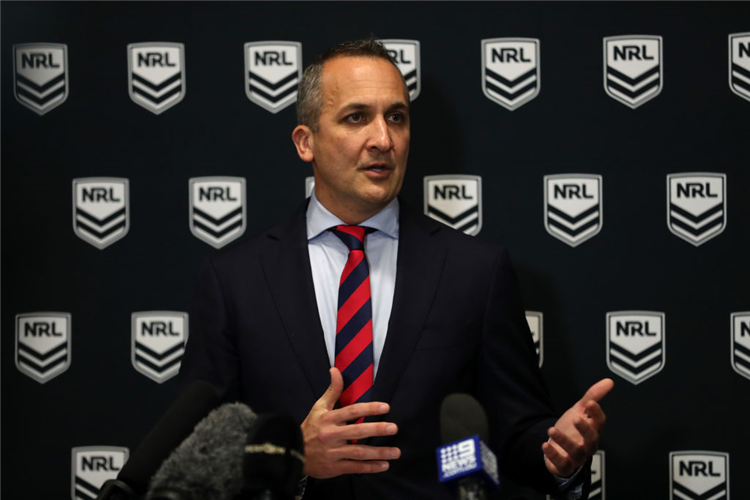 NRL chief Andrew Abdo insists any salary-cap exemptions to attract players from rival codes would be implemented fairly, as league bosses eye off potential incentives for a looming raid on rugby.
The ARL Commission is expected to discuss potential options for exemptions at next month's meeting, with Rugby Australia bosses admitting a horror World Cup has left them vulnerable.
During a dramatic 2023, Joseph-Aukuso Suaalii has been successfully lured to the 15-man game, Eddie Jones has come and gone as Wallabies coach, and the likes of Cameron Murray have opted to stay put in rugby league.
But there is the potential of the NRL striking back.
The Sydney Roosters are reportedly in talks with Wallabies winger Mark Nawaqanitawase, while NSW Waratahs teenager Max Jorgensen has long been a target for the NRL.
"We want the best athletes playing our game, whether that's the men's or women's competition," Abdo said.
"Growth is on our agenda, so while our primary focus is developing rugby league talent through our own pathways, we're also open to attracting and, potentially in some cases, returning to league from other codes.
"Would salary-cap relief be potentially used? Yes.
"That's an absolute possibility that the commission will consider, and consider in due course."
Getting that right, while appeasing all 17 clubs with a level playing field, stands as the NRL's biggest challenge.
Salary-cap exemptions are already in place for developed players and veterans, with up to 10 per cent of their salaries wiped off the cap to a maximum of $300,000 per club per year.
A similar system could potentially be put in place for players who have been signed from rival codes.
"Any change the commission might make to that policy will have to be very carefully considered, and there will be parameters and caps," Abdo said.
"It won't be a free-for-all.
"It will be delicate and it will be about making sure there's an opportunity for all clubs on an equal basis to have one or two talented players that they recruit potentially from other codes around the world.
"It'll be carefully considered though, because we do want to make sure that we focus on our pathways, and we also want to maintain competitive balance."
Abdo's comments came as Rugby Australia CEO Phil Waugh conceded his ailing code needed to win back the faith of the players after the Wallabies' disastrous group-stage exit at the World Cup.
"We talk about building trust and connection. We've lost a lot of trust with the playing group as well," Waugh said on Tuesday.
"The experience that they had this year with the Wallabies at the World Cup, compared to what they would have envisaged going into the World Cup, might have been very different.
"So it's really important for us to build a system that's attractive for them to be a part of.
"Right now where we are in the cycle with the (British and Irish) Lions and the home World Cup (looming in 2025 and 2027 respectively), it's the perfect opportunity for us to rebuild the game.
"But we need to build that trust of the players."
Meanwhile, Abdo said the ARL Commission would determine the next steps on the league's own expansion in coming months.
A Papua New Guinea team based out of Cairns is favoured to be the 18th NRL side, from as early as 2027.
"We haven't concluded yet on when expansion will take place," Abdo said.
"More preparation is better. You want players that have signed multi-year contracts to have the opportunity to transition to a new team.
"You also want pathways set up and high performance and a stable, strong environment with the right personnel for as long as possible."