3 minute read
Michael Hooper says Eddie Jones is entitled to his opinion after the coach said the former Test skipper wasn't a good role model for the young Wallabies team.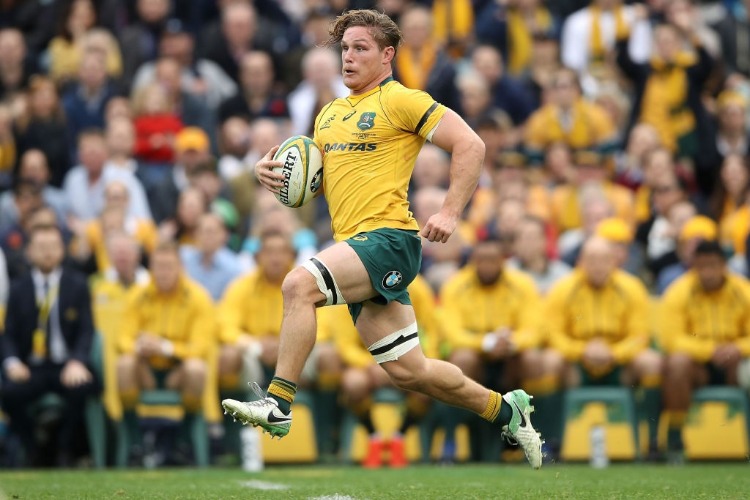 Michael Hooper has avoided being drawn into a war of words with Wallabies coach Eddie Jones, who says he didn't select the long-time former captain for the World Cup as he wasn't a "good role model".
The embattled Jones is reportedly in talks with Rugby Australia to end his five-year contract after less than a year following the Wallabies' World Cup flop.
The coach was heavily criticised through the France tournament for leaving the likes of centurion Hooper and fellow veterans Quade Cooper and Bernard Foley out of the inexperienced squad, which failed to make it out of the pool stage for the first time.
Jones last week explained his selection and said the trio were no longer "obsessed with winning".
"The situation reminded me of when Wayne Bennett let Wally Lewis go," Jones told the Sydney Morning Herald.
"No one could quite understand why, but Wally Lewis wasn't a great role model for the rest of the team. And for those guys, I don't think they were the right role models for the team going forward.
"Don't get me wrong, they're not bad guys. But you need guys - particularly when you've got a team like Australia has at the moment - you need guys who are obsessed with winning, obsessed with being good, and those three are past those stages.
"He (Hooper) is a great guy, but the timing is not right for him."
The NSW Waratahs flanker is set to fly to Cardiff to play in a Barbarians team against Wales, which is a testimonial match for retired Welsh great Alun Wyn Jones.
He's set for an awkward reunion with Jones, who is co-coaching the Baa Baas team along with incoming New Zealand coach Scott Robertson.
Commentating on the World Cup final between the All Blacks and South Africa, Hooper declined to respond to Jones.
"I've got no response, he's entitled to his own opinion as are we all as we're all fans of the game," the 32-year-old told Stan Sport.
"I've got nothing more to say. I'm doing what I've always done and I'm hoping to do that next week when I play for the Barbarians and potentially sevens next year.
"I'm going to carry on being the best player I can be."
Hooper was asked about reunion with Jones, who named him as a Wallabies co-captain in June before his shock World Cup axing.
"I don't know (if it will be awkward). It's going to be fun," the champion flanker said.
"I've never worked with 'Razor' Robertson before. What a track record he's got.
"I'm really excited. I'm just looking forward to the week and to playing at an amazing stadium against a pretty good team."