3 minute read
Rugby Australia chairman Hamish McLennan has defended the decision to appoint Eddie Jones as Wallabies coach, and argued why he should remain at the helm.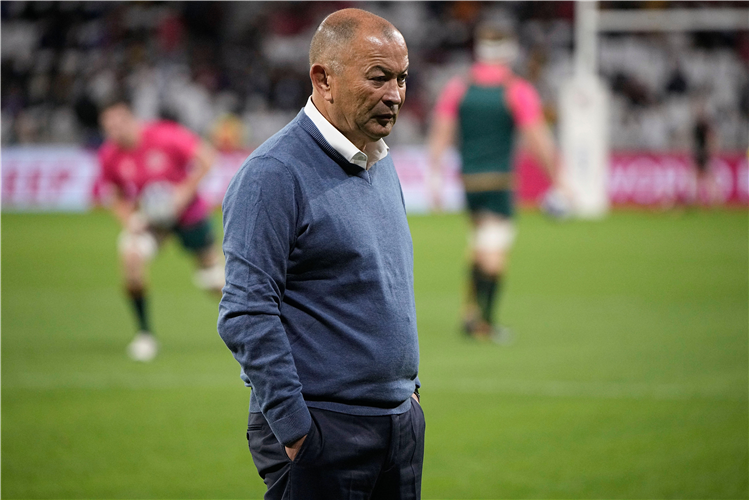 Rugby Australia chairman Hamish McLennan doesn't regret hiring Eddie Jones, despite the Wallabies coach's short-lived reign over a historically poor World Cup.
The RA boss has argued why he should remain at the helm after Jones was parachuted in, only to oversee the Wallabies' first World Cup pool-stage exit and then resign nine months into a five-year deal.
In an interview with Stan Sport, McLennan also revealed the World Cup budget had blown out, and rejected the narrative that the recruitment of Jones had been his "captain's pick".
"I think its unfair because it was socialised amongst the board and we were all concerned about how the team was performing (under former coach Dave Rennie)," McLennan said of the decision to axe Rennie and install Jones late last year.
"I was in a position where I certainly gave a point of view.
"It is unfair to say it was my call only, but I was certainly an advocate for Eddie, and I think given the circumstances I would probably make the same call again."
Jones has denied reports that he was interviewed before the World Cup for the Japan coaching vacancy, but told Japanese media this week he would be interested if approached.
The Wallabies' budget blow-out will be analysed in a season review to be conducted by former Wallabies Andrew Slack and Justin Harrison, and consultant Darlene Harrison.
McLennan also confirmed former Wallabies Phil Waugh and Daniel Herbert, who form the rugby committee on the RA board, will conduct the search for a new Wallabies coach.
Challenged on why he shouldn't fall on his sword, McLennan said stakeholders involved in the future finances, broadcast and administration of the code in Australia desired continuity.
"I always knew there would be a moment like this where it would get really ugly," he said.
"I again apologise for what happened at the World Cup, but hopefully you see someone with a steely resolve who wants to bat on.
"Rugby eats itself every three or four years, and it has lacked a coherent strategy over a long period of time, and I feel like we are just getting to the point where we will break through."