3 minute read
The Socceroos will face Palestine in a World Cup qualifier and will donate some of their match fees to humanitarian efforts in Gaza.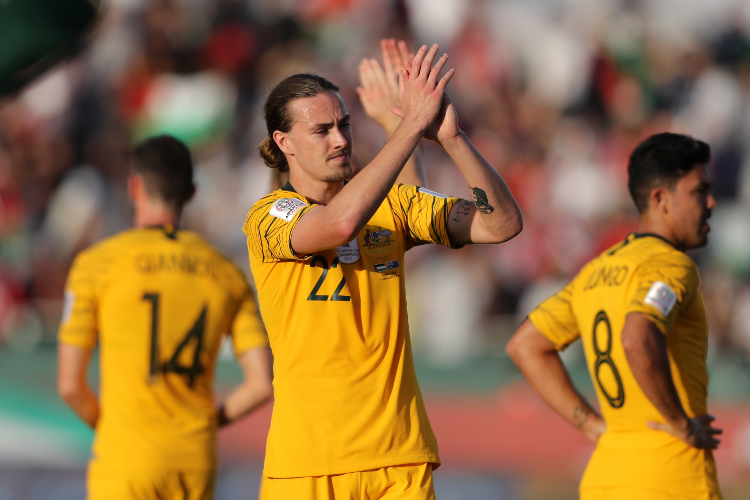 The Socceroos will donate a portion of their match fees from their World Cup qualifier against Palestine towards humanitarian causes in Gaza.
Australia play Palestine in Kuwait on Tuesday in a game that was going to be held in the West Bank but was relocated due to the escalation of violence in the region.
Hamas' deadly attack on Israel's southern region on October 7 was followed by Israel declaring war on the group and launching retaliatory strikes on the Gaza Strip.
Palestinian officials say more than 11,000 Gaza residents have been killed in air and artillery strikes.
"It's unfathomable to comprehend," midfielder Jackson Irvine said.
"You're talking about one of the most complicated geopolitical issues of the last 100 years.
"It's something we're aware of, something we have spoken about as a group and as staff in terms of not just the game, but recognising what that means for us.
"Even thinking about the Palestinian players themselves and what this game means for them as individuals and trying to process playing football in a time like this. It's a difficult situation to process.
"But for us as players we've spoken about it and through the PFA we will approach some kind of contribution or awareness of trying to play some role."
The players' union, Professional Footballers Australia, confirmed a percentage of player match fees would be directed towards Oxfam's humanitarian efforts in Gaza, via the PFA's Footballers' Trust.
The move is a player-led effort with Football Australia matching the players' donation.
"The thoughts of the PFA are with all of those impacted by the conflict and the humanitarian crisis that is unfolding as a result," co-chief executive officer Beau Busch said in a statement.
"Aid agencies and humanitarian groups have been clear on the scale of need and the players were able to play a part.
"The Socceroos have long used their platform for positive impact and this is another example of their commitment to Australian football being a force for good."
Irvine, who is the PFA president along with captaining German club FC St. Pauli, insisted citizens needed to be the priority.
"At the end of the day, I support any humanitarian cause," Irvine said.
"The deaths of civilians is a tragedy in any conflict and that's got to be the priority of the conversation."
The Socceroos beat Bangladesh 7-0 in Melbourne on Thursday and took a charter flight to Kuwait on Saturday.
"We're aware of the situation, we understand that football in this moment is probably not the priority in some ways," Irvine said.
"But at the end of the day, we've got a game to win and a performance to focus on.
"Everything has been put in place in terms of security and safety. So we know that we can go out and focus on that."