3 minute read
Martin Boyle has recovered from a swollen knee and will line up for the Socceroos in Tuesday's World Cup qualifier against Palestine in Kuwait.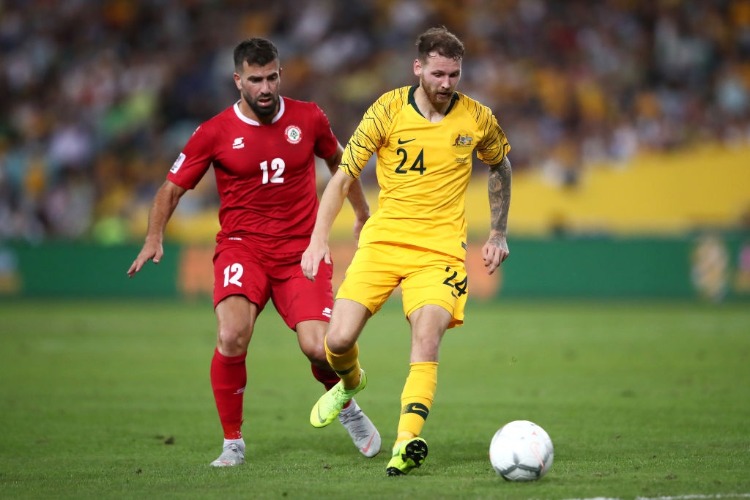 Socceroos winger Martin Boyle hopes his injury nightmares will help extend his career and get him to the 2026 World Cup.
His teammates hope his imminent return against Palestine can add further potency to an already-impressive frontline.
Boyle has endured a horror run when it comes to major tournaments.
The 30-year-old missed out on the 2019 Asian Cup after a knee injury in a warm-up match.
And he missed the 2022 World Cup in Qatar after damaging his knee playing for Scottish club Hibernian.
It was later discovered he may have been playing with a ruptured anterior cruciate ligament for up to seven years.
Boyle missed last week's 7-0 World Cup qualifying win over Bangladesh as a precaution following a recent swelling of his surgically-repaired knee.
But he will be back in action when Australia face Palestine in Kuwait on Tuesday.
Boyle is keen to make up for lost time by playing in next year's Asian Cup in Qatar and the 2026 World Cup in the US, Canada and Mexico.
"Obviously I've not had luck in the tournaments. The Asian Cup last time was a nightmare for me," Boyle said.
"Hopefully it's third time lucky at major tournaments.
"I'm not getting any younger, I'm aware of this.
"But hopefully with the injury setbacks I've had, I can prolong my career a couple more years and hopefully get to that World Cup.
"I'm still as hungry as ever. I want to win games, I want to create chances for my teammates, and I want to score goals."
Boyle is ready to play a full 90 minutes against Palestine if needed, saying the recent swelling on his knee was nothing to be concerned about.
"He's brought a lot of energy, certainly," defender Harry Souttar said.
"As a team we know what he can do. The amount of danger that he causes defences when he plays against them with just that sheer speed.
"It's so good for us defenders having the ball ... that we've got that outlet in him because there's not many that can probably match him for speed.
"And obviously, he's got quality on the end of that and he's scored and assisted a lot of important goals for us throughout the years."
Tuesday's match was originally scheduled to be held in the West Bank, but due to the war in the region it's been moved to Kuwait.
The Socceroos have already announced they will donate a portion of their match fees towards humanitarian causes in Gaza.
Australia are bracing for an emotion-charged Palestine team who will be keen to bring joy to their war-ravaged homeland.
Souttar was confident the Socceroos were fresh after taking a charter flight to Kuwait.
"We had an extra day recovery back in Australia and I think the consensus from everyone is that's helped massively for us," he said.
"Training yesterday, the lads looked really good, really fresh.
"We're excited to train on the stadium today and we just can't wait to get going for tomorrow."