3 minute read
Led by defender Harry Souttar, the Socceroos want to keep a high level of concentration as well as a clean sheet in their World Cup qualifier against Palestine.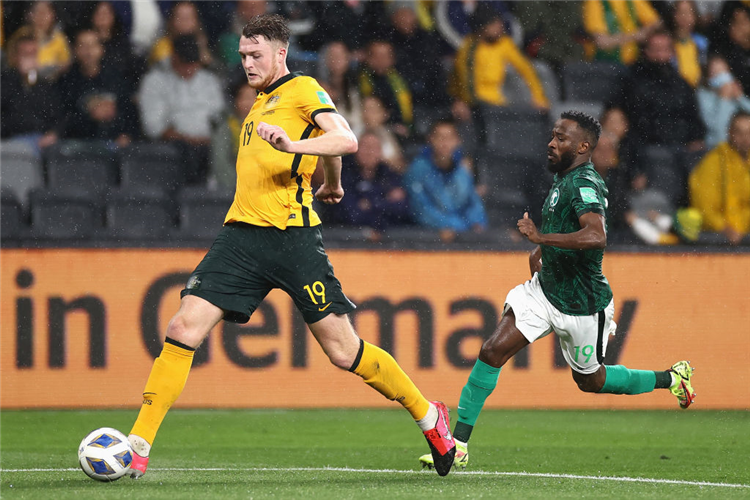 The Socceroos are determined to stay focused when they face Palestine in their away World Cup qualifier.
Graham Arnold's charges take on Palestine in Kuwait on Tuesday night local time (1am Wednesday AEDT), determined to maintain the perfect start to their campaign.
Tuesday's match at the Jaber Al-Ahmed International Stadium was originally scheduled to be held in the West Bank, but it had to be moved due to the escalation of violence in the region.
The Socceroos have announced they will donate a portion of their match fees towards Oxfam's humanitarian efforts in Gaza.
Kuwait was chosen by Palestine as the venue for the relocated 'home' fixture and the crowd is expected to be significantly pro-Palestine.
Australia kicked off their campaign with a comprehensive 7-0 thrashing of Bangladesh in Melbourne while Palestine drew 0-0 with Lebanon.
But defender Harry Souttar certainly wasn't taking anything for granted.
"There's no easy games of football and there's always going to be good players no matter what level you play at," he said.
"So we know we're going to have to be on the top of our game.
"First and foremost, it'll (the focus will) be a clean sheet really.
"Against these teams, we know that we're going to have more of the ball.
"So it's about our concentration levels because any given day you never know what could happen."
Souttar has consistently led Australia's defence under Graham Arnold and impressed, shaking off his lack of game time at Leicester City.
"I've got to thank the boss for continuing to select me and play me even though I've not been playing at club," he said.
"His trust in me that I can go out there and perform is big.
"So for me to go into every match with not just playing for your country and wanting to play well, but obviously trying to repay his faith.
"I'd like to think I'm one that really speaks on the park and helps players alongside me. I think the manager knows that and he really trusts me to get his message across on the pitch as well."
Souttar, who stands more than 200cm tall, is confident he's now respected as a centre-back well beyond just his height.
"As long as the people that are selecting me - the boss (Arnold), Rene (Meulensteen), Bugsy (Brad Maloney) can see what I can do on the ball and trust me, then that's fine by me," he said.
"Certainly at this stage of the campaign a lot obviously does get made about my height.
"But as long as we keep winning football matches and keep going in the right direction then people can say what they want."