3 minute read
Storm Hunter has completed an 18-hour dash across the Atlantic to keep alive Australia's chances in the Billie Jean King Cup.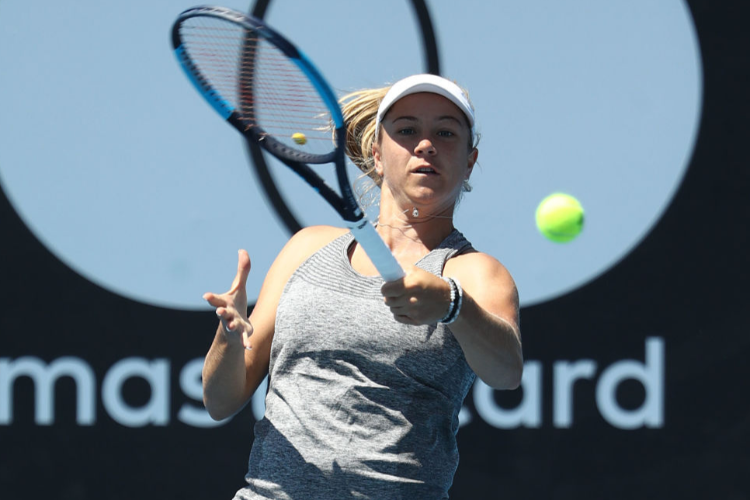 Storm Hunter has declared her pride at stepping off a plane and onto court to breathe life into Australia's ailing Billie Jean King Cup campaign.
The newly crowned world doubles No.1 flew in to Seville, Spain, from Mexico, arriving just 90 minutes before the tie started on Tuesday, overcoming jet-lag and the loss of her luggage to win a potentially crucial point for an Australia team that had already lost both singles rubbers to Slovenia.
Captain Alicia Molik's faith in the experience of Ajla Tomljanovic and Daria Saville had backfired with both losing in straight sets, but Hunter teamed up with Kim Birrell to win the doubles in a super tiebreak.
It gave the Australians a priceless lifeline despite losing their opening tie 2-1.
Australia must now beat Kazakhstan, who include Wimbledon 2022 champion Elena Rybakina, on Thursday, while hoping the Kazakhs defeat Slovenia on Friday.
"It's not about me, it's about the team, I'm so proud to come out and get a win with Kimbo for Australia today," said Hunter after her 7800km, 18-hour journey from the WTA Finals in Cancun.
"It's been a busy 24 hours. As soon as I finished in Cancun, I tried to get here as soon as I could - ended up landing at 8:30 this morning.
"Bags didn't arrive, so that made it a bit tricky, but I had some racquets on me and was prepared to play.
"I had my outfit, my shoes, and mentally was ready to go if our team needed that.
"It was a quick turnaround, but representing my country is the greatest honour and the most amazing thing I can ever do with my tennis career."
Hunter had been playing in Mexico along with Ellen Perez, another of the quintet who reached last year's BJK Cup final.
With rain delaying the closing stages in Cancun, Perez - who reached the doubles final - was stranded in Mexico, adding to the challenges for Molik in her final tournament after a decade as Australia's captain.
Molik had left the decision over competing in Seville to Hunter, who had lost her doubles semi-final in Cancun.
"It's 18-hour door-to-door trip, so anyone can be forgiven for not wanting to play as (soon as) they land," Molik had figured.
But just as last year in Glasgow, when she also arrived late after the WTA Finals, the 29-year-old Hunter was up for the fight, and the flight.
She and Birrell saved three set points before taking the opening set against Veronika Erjavec and 17-year-old debutant Ela Nala Milic 7-5, but their young opponents came back to win the second on a tiebreak.
But Storm and Birrell showed their experience to win the super tiebreak 10-5.
Earlier Tomljanovic, in only her sixth match after missing most of 2023 following knee surgery in January, crashed to a 6-4 6-1 loss to Kaja Juvan, the world No.104.
Saville, also on the comeback trail, lost to world No.100 Tamara Zidansek, a 2021 French Open semi-finalist, 6-1 6-4.
Tomljanovic could see positives in simply being on court.
"The biggest takeaway is that my knee is good," she said.
"I have had some big rallies, some hustles, and not thinking about my knee compared to my previous matches That's a great sign.
"I'm back playing, and this is so much more valuable than a training week."
In Group A, the Czech Republic beat defending champions Switzerland 3-0.
The Swiss were without Olympic gold medallist Belinda Bencic, who announced on Friday that she is pregnant.