3 minute read
Racing and Sports Recap the 2021 Hong Kong International meeting from Sha Tin.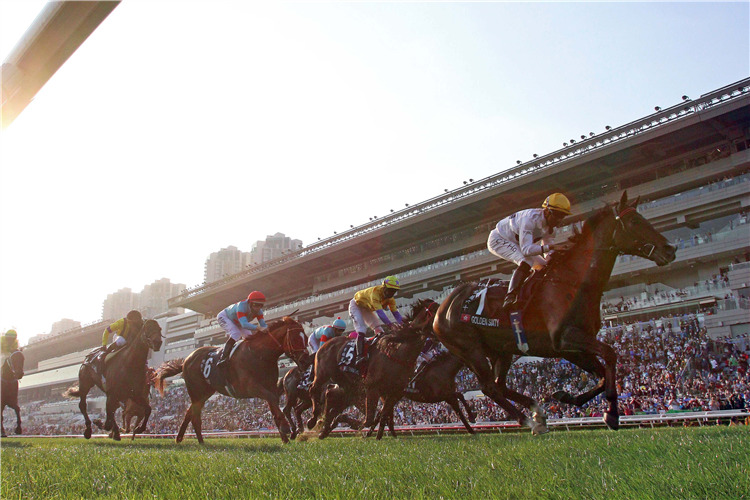 Hong Kong's International Day is a globally significant meeting for horses and handicappers alike. It may be rare to see a world champion crowned at Sha Tin in December but it is always informative.
This year many had hoped that Sha Tin would host the coronation of it's very own world champion. In the eyes of many it did, as Golden Sixty landed his second Hong Kong Mile is his typical fashion, but that was just it; it was typical. Race fans tuned in wanting something atypical.
Of course, G-60's version of typical is far from it, and a second Hong Kong Mile alongside a consecutive-wins record is a fine bit of legacy building, but beating More Than This for the seventh time didn't tell us anything we didn't already know.
More Than This was 1.8 lengths away. In six prior losses the average margin between the two was 1.9 lengths - all very typical.
Golden Sixty has only covered the Sha Tin mile slower than the 93.86 seconds it took him on Sunday on one occasion; the start prior when he rocketed home in 21.5 seconds for his last 400m. Sunday's 22.4 was a bit more sedate and no faster than either More Than This or the fourth-placed Mother Earth.
The changing value of a length, and the dramas this causes conventional handicappers, was covered when we looked back at Golden Sixty's latest - which you can read here - and much of that remains relevant in reviewing the Hong Kong Mile, but Baaeed had beaten Mother Earth by what most would measure as further in Ascot's QEII, and Gran Alegria had Salios more comfortably held, and was running away, in Japan's Mile Championship. Just two data points in a much wider and deeper network of information but they are noteworthy points all the same.
And so the handicapper still faces the dilemma of doing Golden Sixty justice.
As we have so often mentioned, horses are best judged not only on the peak performances but on their full array of ratings. We may question the height of G-60's ratings array but not the breadth.
What matters more? It's a balancing act.
Is Golden Sixty the best miler on the planet? On balance; yes.
Is he the best racehorse on the planet? That remains inconclusive.
A stronger case for world's best horse was made outside of Golden Sixty on Sunday and it was done via proxy.
In the Mile, Danon Kingly failed to give his running, and Salios continued his trend of shaping like a top-notcher but failing to go on with it, but Japan still bagged two at the meeting they have taken charge of in recent years.
The aptly named Glory Vase won his second and Japan's third HK Vase in six years while Loves Only You completed a hattrick of wins in the Cup for Japan who have won five of the last seven.
Back in April, that pair had led in a 1-2-3-4 for Japan in Hong Kong's QEII Cup; they have now won three of the last five of those.
The Japanese are the dominant force in the east and their vast empire extends as far west as Dubai, where they have had similar success, but this is no time for the Japanese to sit back and weep; there are more worlds to conquer.
Sunday's results provided further evidence of their standing globally. They may have equals but there are none better. Some will point to Pyledriver as being outside the real top brass at home but Glory Vase holds similar status - if that - in his homeland.
Loves Only You, one from five in Group Ones at home, is now three from four when abroad. But perhaps the most significant run on Saturday came from Hishi Iguazu.
Hishi Iguazu had to settle for second to his compatriot but late splits show him in a good light and he in turn he showed off the depth of the horse who may well be a decisive world's best by year's end; Efforia.
Efforia sits at the other end of the height and breadth continuum from Golden Sixty. He has had just six starts and his claims to being the best in the world largely hang on the strength of just one win; but it was some win.
That win, by Racing and Sports' measure, came in the best race run in 2021 (at least on turf) the Tenno Sho Autumn in which Hishi Iguazu was among those comfortably outpointed by a trio of the world's very best. That positive view of the Tenno Sho gained in strength when it's fifth placegetter beat home significant global formlines in Hong Kong
Golden Sixty might be the stuff of handicappers nightmares but the Tenno Sho was what they dream about. A world-class speed figure with the best horses roaring to the fore. Second and third, Contrail and Grand Alegria, have come out and dominated subsequent Group Ones with more world-class speed figures.
We often see the best races described by an average of the ratings from the first five home. This seems obviously flawed. A race is surely better described by it's winner than by it's fifth-place getter. A weighted average to account for this is a simple way to make this a much better (albeit far from perfect) measure of race quality. Using a weighted average of Racing and Sports ratings across the best (turf) races of 2021 none come out better than the Tenno Sho. The Irish Champion Stakes, the King George, the QEII at Ascot, and the Jacques Le Marois it's nearest pursuers.
Golden Sixty starred on Sunday but he didn't answer the handicapper's questions. There is just one more major race to come this year, the Arima Kinen, and it could be decisive. Efforia has the big peak, that can't be taken away, but if he can add depth to his C.V at Nakayama he will tip the balance in his favour. A win will be enough to make him the world's best for 2021.