3 minute read
Timeform recap the 2022 Lightning Stakes won by Home Affairs.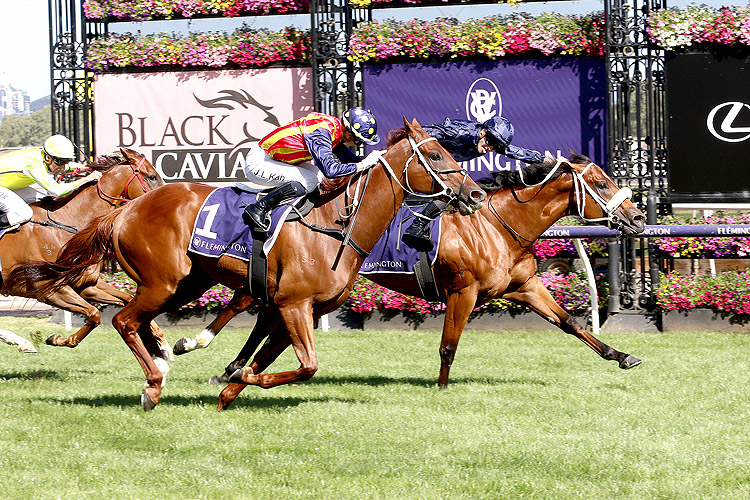 The much-hyped 2022 Lightning Stakes went the way of Home Affairs; the three-year-olds winning a key battle against their elders, this time over the best horse(s) they have to offer.
A couple of interesting skirmishes had already gone the way of the classic generation in 2022. Overpass and Marine One won the Expressway and the Rubiton but they had been thrashed by Home Affairs in the Coolmore and wins over Forbidden Love and Oxley Road (both on criticised battlegrounds) were not conclusive evidence of generational dominance.
But the Lightning was no scuffle out wide. It was a meaningful battle on centre stage. Hannibal vs Scipio; Nelson vs Napoleon sort of stuff.
Home Affairs was toughened by his first encounter with Nature Strip and Eduardo. There the young, brash sprinter went out too hard. Eyeball-to-eyeball with the fastest on earth. So fast that even Eduardo, the fastest of all from the draw, took a backward step and a more cautious approach.
Home Affairs paid the price that day, but that short term pain was for long term gain.
'Train hard, fight easy,' said the Russian General Alexander Suvorov.
Horses, like humans, learn from experience. Nature needs nurture.
Lennon, McCartney and Harrison were obviously naturally gifted but there is also little doubt that five trips to Hamburg in two years from 1960, playing as many as 106 nights a trip, made them The Beatles.
Eighth in the Golden Slipper and ninth in The Everest were scratchy gigs for Home Affairs but they may well have made him the horse we saw in the Coolmore and now the Lightning – the number one act in town. Or not quite…
The win may have been slightly opportunistic, Nature Strip took a heavy blow out of the gates which left him poorly placed, but Home Affairs had to be good enough to post the 126 Timeform rating required to take that opportunity.
And every pound of that 126 was required. Nature Strip ran to 125, short of his 129-rated best, but it is easy to think that 4lbs was left at the start. Nature Strip is as good as ever.
The war then, remains unresolved. This battle goes into the books but there are hopefully more to come both here and abroad.
The final battleground may well be Royal. Nature Strip is better than required there. He has been fast enough often enough to infer with near certainty that he can beat the best of the British.
With back-to-back winning ratings of 125 and 126 we can also infer plenty about Home Affairs chances abroad.
Home Affairs and his accomplice in taking out Nature Strip, Profiteer, were the 99th and 100th three-year-olds to run in the Lightning since it became a Group One in 1987.
A three-year-old Placid Ark won it that year with a rating of 129; a number which remains the best of the now 11 three-year-old ratings to win it. Those 11 represent 30.5% of Lightning winners in that time and the 100 three-year-old runners represent 29% of all runners. Quite neat, as is the list of three-year-old Lightning winners:
Placid Ark; 129
Zeditave, Testa Rossa; 128
Schillaci, General Nediym, Choisir, Fastnet Rock, Home Affairs; 126
Gold Ace; 124
Keltrice, Isca; 122
Home Affairs is keeping nice company; and he heads the current three-year-old leaderboard as well, he is their General, a post he has held since his Coolmore romp.
Underneath him the three-year-olds continue to win smaller battles.
The aptly named Military Expert, War Eternal and Mazu won handicaps against their elders at the Rosehill meeting.
Mazu won so impressively that only fellow three-year-olds Anamoe and Hilal, 1-2 in the Hobartville, rated higher than him across the meeting.
Anamoe overcame rather than overpowered to win the Hobartville. It was job done; but no more than that.
Hilal looked a match for him and Converge loomed behind; ominously so for the longer trips that await.
Ratings of 111-117 in two runs this campaign are too good to go cold on Anamoe but they sit on the soft side of expectations; that bar having been raised up high at the back of last preparation.
A pair of 123s came in high-pressure races, a fast Caulfield Guineas a gruelling Cox Plate. A low pressure 1400m meant Anamoe didn't need to bring out the heavy artillery but that doesn't mean it isn't still there.
Anamoe remains a key part of the three-year-old army but at this stage he is a mere Colonel underneath General Home Affairs.