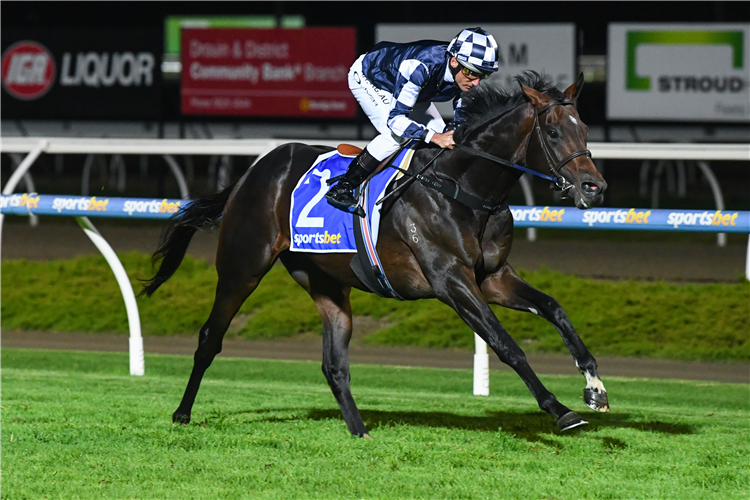 A bit of Timeform Recap housekeeping off the top. Russian Camelot ran to a Timeform rating of 122 on Saturday, the highest rating in the modern history of the South Australian Derby, and he did it despite a setback in the lead up and conceding six months to his rivals.
A rating of 122 eclipses the 117 that Mummify produced in 2003 and, more pertinently, it sits well above the other two Derby winners in Australia this term. Quick Thinker ran to 115 in the Australian Derby and Warning, who was no match for Russian Camelot on Saturday, ran to the same 115 when winning the Victoria Derby in the spring.
It's the first time since 2001 that the South Australian Derby winner has run to a higher mark than the Victoria Derby winner (Big Pat ran to 116 which was 2lbs higher than Amalfi who ran to 114 at Flemington) and the first time the winner has outrun the ATC Derby winner in at least 30 years.
So that is what Russian Camelot is rated. Admin done. Now onto a couple of more interesting points around why that were raised on the rather popular website Twitter dot com.
No disputing that from my perspective. Visually fantastic Just querying how you get these rating figures when the overall time of the race is average at best.

— BrisburghPhil (@BrisburghPhil) May 10, 2020
Brisburgh Phil, a decendent of Pittsburgh Phil and one of Twitter dot com's more interesting racing minds, raises interesting point number one. Only two editions of the South Australian Derby have recorded a slower overall time in the last 30 years.
With that in mind, Phil is being very kind in labelling it average. It is below average. But we know two important things about times. 1) They are a product of the conditions under which they are produced and 2) They work in the negative. In the words of another great Phil of horse racing, Phil Bull, "a time tells you not how good a horse is but how bad it isn't".
So fast horses can run slow times and the information we get from the stopwatch needs to be tidied up a bit to allow for the conditions under which that information was produced, standardised for going, weight, age, and perhaps most importantly pace, to come away with a meaningful measure - this is essentially building speed figures.
To make allowance for the going, and put times into context, we compare what happened with what we expected to happen.
Expectation for speed figure merchants comes, for the most part, in the form of a well made set of standard times. Not just averages... But we will leave standard times alone for now as this is already getting long winded...
Comparing what happened on the card with what was expected allows us to calculate an allowance for conditions (often called a track variant at speed figure conventions around the globe) to apply to all the times on the card, thereby creating a link between those times. Increasing the number of links in this way works a bit like statistical inference where an increase in the sample has a mathetmatical relationship with increases in confidence/knowledge.
When looking at Saturday's Morphettville card we see the gap beween expectation and reality widening as the day went on. Sometimes this is hard to explain but on Saturday it looks easy enough - the ground was soft, and then it rained. It became softer and therefore slower. This does weaken the relationship to the rest of the card and so our confidence/knowledge decreases. But we still have our prior, our expectation, and expectation matters.
In the tweet that preceeded Brisburgh Phil's time query another Tweeter sharp, Brett Dwyer, had referred to this particularly interesting point. We already knew a lot about the principal players on Saturday. This isn't the first time we have run the rule over Dalasan, Warning and others, and while we have a pretty good idea of how good they are. Or at least how bad they aren't. When Russian Camelot mowed down Dalasan and Warning (rated 118 and 115 respectively) the expectation was that this was not just an average performance.
Again we are dealing with expectation and realisation. But as any sharp in a pub will tell you (typically in the wake of another 5/4 shot flaming out) horses aren't machines. A horse is not just a rating but rather an array of ratings and possible ratings around an unknown mean. So while the established form of these principal players clearly provide importantant points of reference it's again a good idea to look to widen the net, grow the sample, and increase our confidence/knowledge.
We can do this via race standardisation, which is the answer to another interesting addition from the Twittersphere. This time from Sydney gambler Mike Wood.
Got to look at this mate, linked form from 3rd/4th horse to Sydney runners makes it hard to believe there is a clear gap!?

— Mike Wood (@TRGMikeWood) May 10, 2020
Warning was beaten by 9 lengths by Quick Thinker in the ATC Derby and by just 2.6 lengths by Russian Camelot. 9 - 2.6 = 6.4. Therefore Quick Thinker is 6.4 lengths superior to Russian Camelot. Easy!
But Warning ran to 99 in Sydney and 107 in Adelaide. And he ran to 115 when winning the Victoria Derby. Warning on his own is a very noisy point of reference.
We widen the net by looking not just at Warning but also at Dalasan, Zayydani and so on. And we widen it further again by looking at the race in the context of past editions. Like a standard time gives us an expectation with which to compare a realised time, past editions of a race can establish expected ratings levels to compare to a race result.
Laying today's race result over those established levels provides a range of possible values to consider. Based on recent runnings a South Australian Derby winner would typically be rated 111. A runner up typically 109. Third 107.
Russian Camelot beat Dalasan by 13lbs. So if Dalasan was typical, Russian Camelot would be rated 122. He beat Warning by a further two pounds. So if Warning was typical, again we get 122.
Our prior, or expectation, based on the established form of Russian Camelot, Dalasan and Warning (the race runs deeper than just the first three of course but for the sake of keeping it tight we will focus on them) had them all above those typical levels already, and they are obviously also key reference points to consider along with the range provided by race standardisation: 111, 122, 122. All these values can be appropriately weighted and considered. Our points of reference grow and so our margin for error shrinks.
The other interesting point here is the value of the winning margin.
Weight-for-age is a significant point in regards to Russian Camelot. He was at a six month disadvantage on Saturday with no allowance for it. It is easy enough to allow for this. And that makes his margin over Dalasan greater.
Pace is slightly more complicated. Pace may not have been against Russian Camelot winning the race on Saturday but it was against him running a particularly fast time. A look at the sectional times show as much.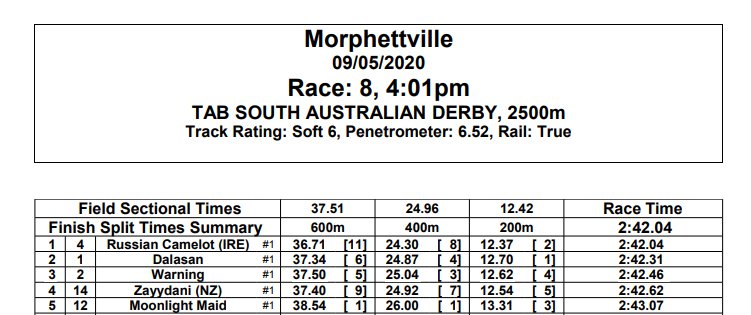 The field finished quickly relative to the overall pace. We can call it slow/fast. And Russian Camelot was faster again. Of course, anyone can work that out. He was at the back and then he was at the front, therefore he ran quicker than the others over the closing section.
But that can mean little or a lot. Studying a large sample of race times will show that the way to run a fast time is to do so at an even pace.
Small deviations from even pace don't have much of an effect. But large deviations quickly have a large effect and that effect compounds the further from even pace a horse goes.
Non-linear effects such as this are in vogue at present, with epidemiologists seemingly popping up at an exponential rate to talk about exponential growth, and they are in play in horse racing via pace.
The whole South Australian Derby field finished faster than even pace (even pace as established for the Morphettville 2500m course again by considering a large sample of race times and how they were produced) and that difference is meaningful. But the difference between Russian Camelot and the field, even further away from an even pace line, is more meaningful - exponentially so.
This points to the final margins, already untypically grand, only flattering those behind Russian Camelot and when we correct his time for his uneven pace the accompanying speed figure becomes a good one. A very good one in fact.
The conclusion of all of this is a Timeform rating of 122 complete with a '+' to indicate that there is evidence that it could be a good bit better than that. This marks Russian Camelot down as a remarkably good Cups prospect for the spring and certainly one of the best local staying prospects in a long time.