3 minute read
Timeform Recap the 2020 Memsie Stakes won the Behemoth.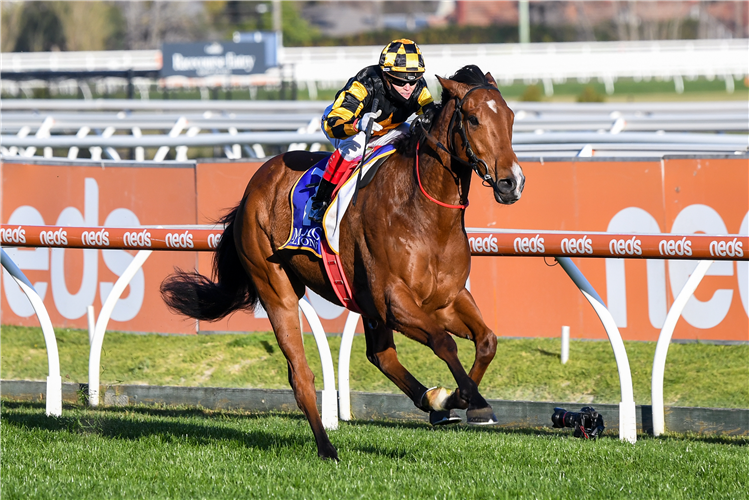 Last week the Group One racing season in Australia kicked off in Sydney with a Group Two masquerading as a championship event and this week the Memsie followed suit in Melbourne.
The similarities between the now Winx Stakes and the Memsie don't stop at being a faux Group One. In 2020 both were strongly run races that can, for the most part, be taken at face value. Reliable pieces of form at the start of the spring carnival. Good news for punters. (Well maybe, good punters probably want to play on a harder course. Why would you want things to be easy for everyone if you are skilled...)
For the Memsie, this was a rapid departure from the Lawrence Stakes two weeks ago - click here for the Lawrence Stakes review - which was run at a muddling pace and produced an unsatisfactory result.
That wasn't the case this week. The pace was on and the Lawrence form got slammed. Behemoth returned a new career peak rating of 120 (up from 116) and the win was backed up by a strong timefigure - a result of both a good pace and Behemoth being a good horse.
Cascadian was the pick of those through the Lawrence (sectionals had hinted at him being as good as any on the day there), and his race fastest 800m/600m/400m/200m splits in the Memsie are sure to make many a notebook, but so fair and true was the pace that there is no reason to think that he was any better than the 2.4 length margin at the finish. He was seen to good effect and a rating of 113 here seems to do him justice for now.
That pair both look on track to run from the head of the betting in the Rupert Clarke in three weeks time. A handicap. And that says something about the make up of the field. There were two All Star Mile winners in the line up but both were giving out more of a Washington Generals vibe than All Star.
Mystic Journey is heading home to eat apples, truffles and pinot noir (or whatever else it is that Tasmanians do in their down time) and Regal Power, the only horse in the field outside of Behemoth with a current master rating of 120, will be hoping that a step up in trip can get him back on track. The positive for him being that 1400m around Caulfield is far from ideal for him and he will be much better suited elsewhere. The negative being that he has done absolutely nothing in his two runs this time in...
So what is to be made of this form heading into the spring? Conventional wisdom would have it that a strongly run race here will have all of these cherry ripe for their upcoming assignments. Cast our gaze back 12 months and a bit of gloss comes off that theory.
The 2019 Memsie won by Scales Of Justice was run and won in very similar fashion to 2020. The same horse, Begood Toya Mother, ran them along at a tempo (when cleaning the times up for conditions on the day etc) very similar to 2020.
Begood Toya Mother then went out and won the Rupert Clarke. Case closed. It's going to rain winners out of this Memsie... Unless we consider the others. Nine of the thirteen went backwards on their Memsie rating next time out and of the four that improved three of them ran last, second last and third last in the Memsie. Just a case of regressing to the mean.
Tweak things to account for that and we can roughly say that on average runners from last year's Memsie went backwards about 4lbs (let's call it a length and change) at their next start.
Begood Toya Mother was the only principal player from the Memsie to take a step forward next time and even then it was only narrow.
A good pace may well bring horses to the boil but it is also exposing. A true tempo brings about a true result, and the problem for the Memsie is that it afforded all a chance to run a big rating if they were good enough and none were good enough to beat Behemoth.
If differing scenarios see several of these dipping on their Memsie ratings it's hard to see how they are going to be winning noteworthy races next time out.
Of course something has to win all these races coming up, but as was the case after the Lawrence, we walk away slightly sceptical of the Memsie and with our ear to the ground for something new.