3 minute read
Timeform Recap the 2021 Melbourne Cup won by Verry Elleegant.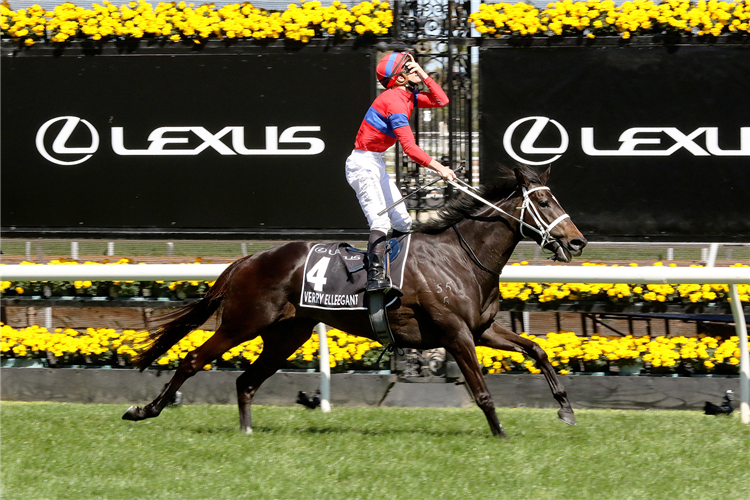 It's Cup week, and there are still two days to go; so no time for superfluous quotes from ancient philosophers or obscure literary figures.
Straight to the point; Verry Elleegant put up a Timeform rating of 127 in the 2021 Melbourne Cup. Her tenth Group One, remarkably all in different races, was her finest moment.
Now onto what the punters really want - lists!
That rating of 127 has only been bettered four times in the modern Melbourne Cup. Here we will define modern Melbourne Cup as being as post Vintage Crop in 1993.
Modern Melbourne Cup winners by Timeform rating:
Makybe Diva 129
Saintly 128
Protectionist 128
Might And Power 128
Verry Elleegant 127
Americain 126
Verry Elleegant is one of two mares in that 'Big Six'. That 129 rating famously saw a champion become a legend. This time a verry good mare became a champion, one of several champion mares that we have been lucky enough to have seen this century. Yep, another list:
Black Caviar 136
Winx 134
Sunline 129
Atlantic Jewel 128
More Joyous 128
Verry Elleegant 127
Another list and another Big Six that Verry Elleegant has muscled her way into with her magnificent Melbourne Cup-winning performance. And what about mares racing in 2021 right around the globe:
Gamine 128
Verry Elleegant 127
Tarnawa 125
Gran Alegria 125
Writer's view: Tarnawa might be a little undersold in that awesome foursome but she, along with Gamine, goes to the Breeder's Cup this coming weekend with a chance to show herself off.
Lastly, where does she sit in the list of trainer Chris Waller's greats. And this is becoming a great list!
Winx 134
Nature Strip 129
Reliable Man 128
Verry Eleegant 127
Sacred Falls 127
The Autumn Sun, Brazen Beau, Boban, Rangirangdoo, Shoot Out 126
Yes Yes Yes and Home Affairs 125
Horses are more than just their peak rating. A list of Waller's 'best' would need to be massaged not just for peaks but for achievement. And on that list Verry Elleegant would clearly climb over Reliable Man who raced for the stable just twice and hangs up the pointy end courtesy of one peak and win. Granted, it was a fine peak and win, hammering Dundeel in slick time in a QEII.
There are some very good horses on this list but Verry Elleegant isn't one of them; she's better than that.