3 minute read
Timeform recap the 2021 Rosebud Stakes won by Paulele.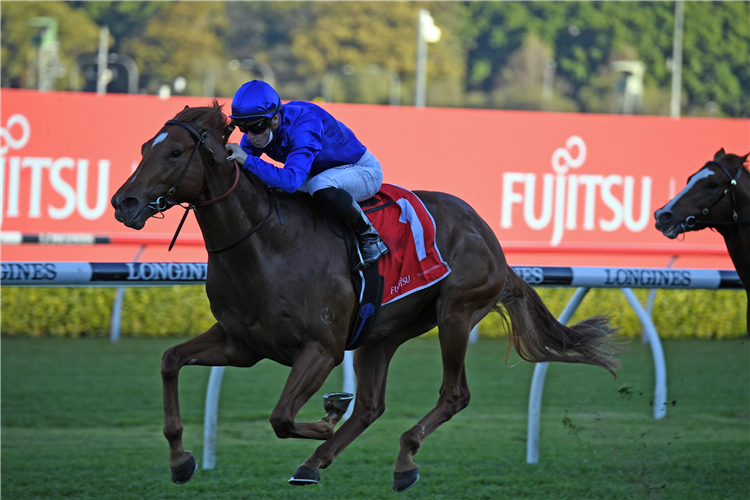 Alexander Pope wrote that hope springs eternal. In racing, spring hopes are eternal.
Racing's perpetual motion can make it hard to know where one season ends and the next one begins but if you listen carefully you can hear the sounds of the new spring dawning;
"He's come back bigger and stronger."
"She's better than ever!"
The trainers, perched, binoculars in hand, high up in their nests, are chirping. The trial watchers emerge from their caves after a winter in hibernation. The punters clear their spreadsheets to start again. Optimism!
Paulele, the winner of the 2021 Rosebud, is cause for such optimism. He signed off his two-year-old season on a high, dominating the Kindergarten by 2.5 lengths, and put up the same margin under full penalty in the Rosebud, improving his rating from 108+ to 114+. We're away! The good ones are coming back and this is a good one. What price the Rose/Guineas/Coolmore treble?!?
It's easy (and at times quite fun) to scoff at such optimism. Optimism runs the risk of sounding foolish and, taken too far, it can tip from sounding foolish to being foolish. Writing about betting on horse racing (presumably), our friend Pope offers that "fools rush in where angels fear to tread."
The antidote to foolishness is wisdom and at Racing and Sports HQ the best place to acquire a dose is from Gary Crispe:
"He's got the right profile to go on with the dominant win in the Rosebud. We so often see horses like Paulele, very smart but not quite ready to compete with the top-liners at two, catch up quickly at three. But a rating of 114+ is identical to what we rated Anders in this race last year. Anders, like the three-year-old group around him, arrived with plenty of promise in August but by the end of the season the crop had won just twice at Group One level against older horses, the worst return on record - and by some way."
It might be time to start taking down the Paulele banner, hastily popped up upon reading a sizzling time of 1:01.98 - a time that hardly cools down after interrogation. Whichever way you slice and dice it, Paulele produced a high quality combination of overall time and sectionals. Those annoying little know-alls with their stopwatches are going to love it.
More from Gary: "Remarque was obviously unlucky not to finish closer, but I don't think he would have won and the closing sectionals show Paulele finishing fast. They are two highly promising three-year-olds and the weak crop from last season should mean that there are plenty of races there for the taking this year. There were enough positive signs from last year's two-year-olds to expect them to prove well up to standard this year. Perhaps even a little bit better. We can expect something closer to 6 or 7 wins against their elders this season."
The banner is down, but we will keep a couple of streamers up - for now.
For a race of its standing, the Rosebud has produced its share of good horses over the past decade. Ole Kirk, Lasqueti Spirit, Vanbrugh and Dissident all won three-year-old Group Ones via the Rosebud. Dissident was the one of those who was able to take that form outside the three-year-old bubble and win a 'real' Group One with Trekking and I Am Excited the other two to win at the top level as older horses having contested the Rosebud.
Rosebud winners have been responsible for a grand total of zero of those Group One winners, but Paulele can be rated and considered one of the very best of them and must have some hope of making it at the top level.
James Cummings has thrown the saddle onto two previous Kindergarten winners, Hallowed Crown and Bivouac, and developed both into Golden Rose winners. They make for interesting comparison:
Hallowed Crown - 2yo rating 112+; August 3yo return - 115+; Three-year-old peak - 122.
Bivouac - 2yo rating 116+; August 3yo return - 124+; Three-year-old peak - 127
Paulele - 2yo rating 108+; August 3yo return - 114+; Three-year-old peak - ?
Of course, this is a cherry-picked sample of just two. Two horses that in no way make Paulele faster or slower than he is and to infer anything from it is daft. But punters are left to make optimistic inferences from statistically insignificant information every day. Mistakes are assured and, unlike betting on businesses or property or Dogecoin, punters get confronting feedback constantly (perhaps Dogecoin backers get that too...). Optimism is a requirement to play.
The three-year-olds can kick some cheap goals in the early months of the season and optimism runs that risk of appearing foolish but (unless you are chasing cheap likes on Twitter) the alternative, pessimism, doesn't work in the real world.
Old punting adages about 'wanting to see them do it again' and 'waiting till he ticks all the boxes' sound wise but there are few edges in the cheap seats. The optimists are in the arena chasing the edges. Making mistakes and learning as they go. In other words, livin'.
We will leave the final word to our punting pal Pope: "A man should never be ashamed to own that he has been in the wrong, which is but saying that he is wiser today than he was yesterday."