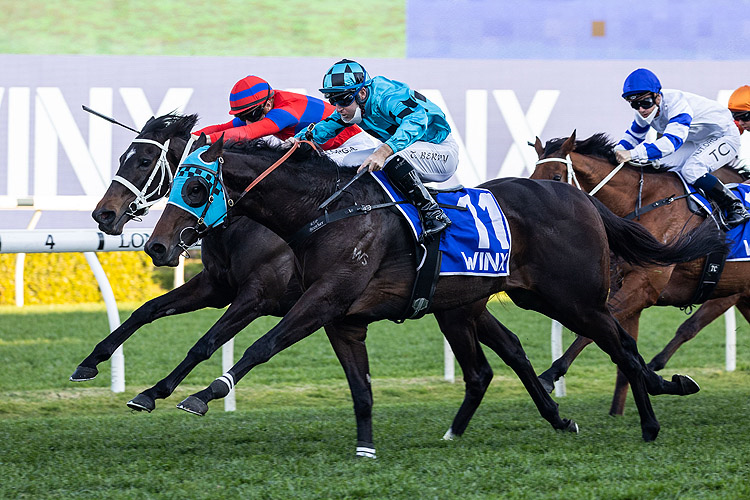 After weeks of this column bashing the now four-year-olds, Mo'Unga stepped out and went whack, beating arguably the best horse in the country and winning the first Group One (cough, cough...) of the season.
A busy finish - the first six were covered by a tenth of a second - and a combination of time and sectionals that were good rather than great, means that Mo'unga didn't have to better his previous peak rating of 120. He returned a rating of 118, about in line with what it typically takes to win the Winx (formerly Warwick) Stakes. Plenty of genuine Group One horses have run in the race over time but ultimately only Defier and Winx have produced what we would call 'Group One' performances to win it this century.
So, beating Verry Elleegant is no better than form around Lion's Roar and Sky Lab. Ha! Ratings folk, eh? What are they on?!? Absolutely mental...
We ratings folk have an agreement; we give an ambigious answer to such criticism that allows us to perpetuate the idea that these ratings are a product of a deeper understanding - an understanding available to a select few.
But, while certainly not normal people, ratings people are people too, complete with flaws; an obvious one being that we can forget that our models are an abstract of reality.
"The map appears to us more real than the land." — D.H. Lawrence; ratings man and punter.
Mo'unga's rating of 120 back in the autumn had one big assumption. Timeform's model assumes horses improve in line with its weight-for-age scale. It does this because it works. Maps work, and Timeform's weight-for-age scale does a good job - remarkably so in fact - but it is still an assumption.
Mo'unga's 120 from the autumn could be described as 116 (+4). With its fewer assumptions, and its proximity to the present, Mo'unga's Winx Stakes-winning 118 is more relevant and more reliable than his prior work.
Mo'unga improved. If not with age, then with experience. A weight-for-age curve works, and has done to some extent since The Honourable Henry John Rous scribbled down Version 1.0 some 200 years back, but so could/would/does an experience curve.
The Mo'unga of last year would not have been able to win a race like the Winx Stakes run the way it was. He was a terrific talent from day one, his late strength obvious on the sectional map and in reality, but things unfolded too quickly for him in the Caulfield Guineas, the CS Hayes, and to some extent in the Doncaster (where he was left impossibly placed) and the Randwick Guineas where he was unlucky not to have won but perhaps part of that bad luck was his own inexperience and/or lack of race smarts.
But running in those races, and then taking on the QEII, was potentially a masterstroke from the trainer that sits at number one on Peter Moody's Global Trainer Power Rankings: Annabel Neasham.
Mo'unga has had good practice, learning to race the best by racing the best.
Saturday was start number 10 for Mo'unga and we saw a much sharper model. He was still chased along 600m from home but he responded quicker than in the past, latching on to Verry Elleegant's tail before putting her away like a pro.
At a first attempt at an experience curve, I would have horses expected to reach full maturity around start 10-12. Mo'unga is coming into that zone now.
On putting forward a model like this it is important to cherry pick an example that fits your map perfectly to make your point - that is example is Winx.
Winx lost six of her first ten starts. Then she went to Queensland, at the peak of her experience curve, and she never lost again.
This map may just be perfect.