3 minute read
Timeform recap the 2021 Turnbull Stakes won by Incentivise.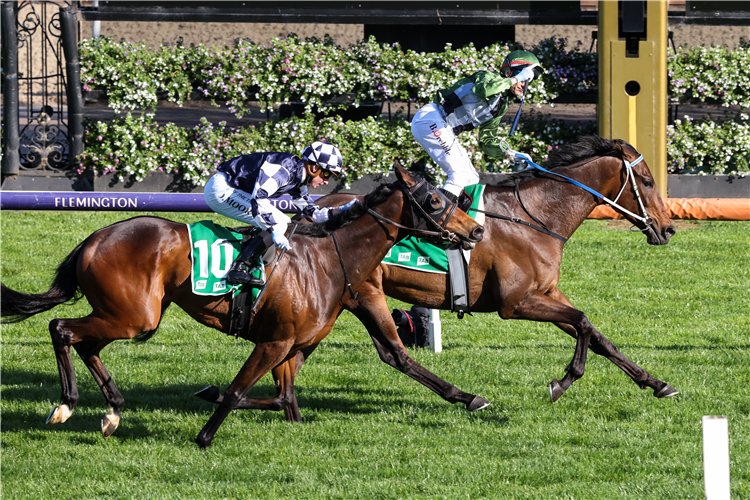 For the last 20 years or so a small group of mathematicians have been challenging one of most famous conventions in mathematics. Pi, the ratio of the circumference of a circle and the diameter, is not as fundamental or elegant as Tau, the ratio of the circumference and the radius - apparently.
The radius is just half the diameter, meaning Tau is just 2x Pi, and so this all seems pretty trivial, but from what I can gather these renegades have a good point. It's just that breaking down conventions is hard.
One such convention in Australian racing that would be better done away with - trivial as it may be - is the trend of using over-the-top adjectives like 'brutal' or 'murderous' to describe the pace of any race where the early sectionals are above average.
We get more than our share of sit-and-sprints in Australia and the last thing we need to do is frighten the jockeys whenever they dare to run a race honestly. And honestly is how Saturday's Turnbull Stakes was run.
Race fans got what we (surely) want; a well-run Group One contest that resulted in a strong winner, a fine spectacle, and a piece of form that tells us plenty.
Did Incentivise go out faster than average? Of course he did! It is folly to compare him to average because Incentivise ain't average. Incentivise is a lot (lot) better than the average horse that runs over 2000m at Flemington.
Incentivise's pace, viewed and compared alongside itself, was even. We can see this quickly and intuitively by looking at the ratio of his time, cut into discrete portions that we call sectionals, and the distance he covered.
Incentivise covered the last 800m - 40% of the 2000m covered overall - in 47.8 seconds. 39.3% of the overall time of 121.5 seconds. He allocated less of his time to that last 40% than he did to the rest.
Of course, we would expect to see Incentivise a bit faster in the last 40% of the race than the first 60%, if for no other reason than that he started standing still. But this ratio (40/39.3 = 1.018) quickly highlights that this pace (while perhaps brutal et al for the typical 2000m handicapper at Flemington) was just a good, even gallop for Incentivise. This is how fast he is!
Fast enough to post a Timeform rating of 124, a figure that, if repeated in two weeks, will set the bar beyond most - probably all - in the Caulfield Cup.
And it was that even pace that allowed Incentivise to flex his muscle when Young Werther - who was finishing faster than par - ran at him in the final furlong. The narrative goes that Incentivise showed his great will to win. He knew where the winning post was and he was 'up for the fight'. This may be true, but what we really saw was the effect of pace. Incentivise, having been ridden evenly, used his energy efficiently. If the leader is running evenly then we can infer that any looking to come from further back and beat him must be running unevenly. Young Werther spent his cash getting to Incentivise but the winner had taken the cheapest way home.
It should be noted that this is hardly a glaring example of this. Young Werther did finish strongly but not so much that he could be considered an unlucky loser or even close. In fact, Young Werther posted a rating of 116 leaving the margin 8lbs at the finish in Timeform's view. A margin that has only been bettered in the Turnbull twice this century; by Winx in 2017 and Hartnell in 2016.
That pair of wins from Winx and Hartnell (rated 133+ and 128 respectively) are the only two in the last 10 years rated higher than this 124 rating from Incentivise. Impressive stuff, and up the highway at Randwick Montefilia accomplished something similar winning the Metropolitan.
The list of horses to post better form in the Metropolitan this century is a short one, beginning and ending with last years runner-up Mugatoo.
Now it is true to say that the Metropolitan has not been the most glorious Group One run on the Australian racing calendar in the modern era, but Mugatoo was (is?) no mug, and Montefilia is no mug either.
Some (myself...) questioned her at 2400m going into the Metropolitan (there was a million bucks under her nose in the Hill Stakes back at 2000m) but she stayed the trip well on Saturday and that 121 rating gives cause for pause. We have to think that she can be a real and competitive threat to Incentivise in the Caulfield Cup.
Particularly now that we have such and honest and reliable piece of form to work with from the Turnbull. A well-run Group One race; something we should all encourage.