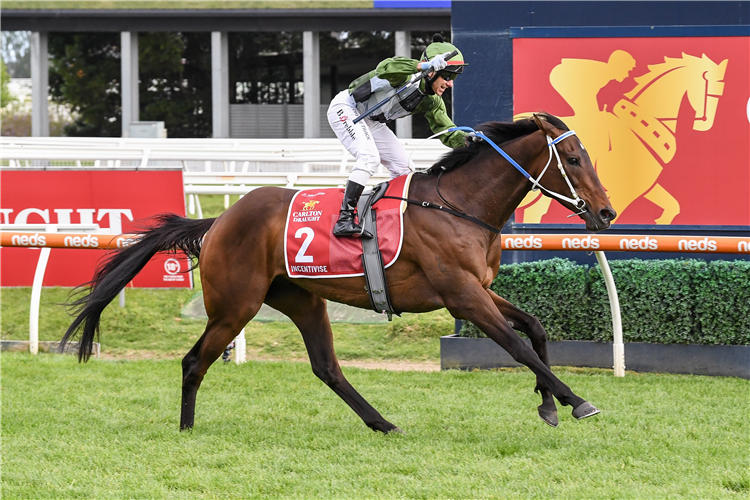 "You can fool some of the people all of the time, and all of the people some of the time, but you can not fool all of the people all of the time."
Abraham Lincoln's famous quote (almost as famous as his one about the internet...) speaks to authenticity. Only what is authentic, only what is real, survives the filter of time.
Punters know this. The value of a theory, an angle or an edge, is tested by time. It doesn't matter what sounds clever or what should work; only what does work will survive in time.
Saturday's racing was authentic. It wasn't about pop-up races, tradition, or Sydney versus Melbourne - those things only matter in admin offices and media rooms.
Saturday wasn't about the Caulfield Cup or The Everest. Saturday was about Nature Strip and Incentivise. About J-Mac and Tommy and Moods. It was about fast horses running fast, and doing so carrying the money of punters right across the country - the rest is window dressing.
What was great about racing on Saturday is what was great about racing in Hyde Park in 1810, or in Newmarket in 1622, or in Ancient Rome, and it was what will be great about racing at Elon Musk Downs at the base of Olympus Mons in the year 2500.
Punters in Melbourne roared for Nature Strip; a horse that started under their noses but now plies his trade from Sydney under the guidance of a jockey and trainer for New Zealand.
In Queensland the pubs are open and from there they could cheer for Incentivise; the horse that turned heads in the Queensland winter blew them off in the Victorian spring.
A starting price of $2.30 says that no horse has had more demanded of them in a Caulfield Cup since Tobin Bronze in 1966. Incentivise gave the punters what they asked for and then some. A performance of historical significance, splitting the Caulfield Cup-winning ratings of Northerly (128) and Might And Power (130) by earning a Timeform rating of 129.
It was a memorable performance and some would bemoan the use of ratings or statistics to describe it; "horse racing doesn't take place on a spreadsheet!" "Why do we have to compare!"
But context doesn't take away from a moment. As Brad Pitt, playing Billie Beane in the vanguard of the sabremetrics movement, says in Moneyball: "How can you not be romantic about baseball?"
Pretty hacky really.... But it is true. Gaining a deeper understanding of something, studying it's foundations, only strengthens our connection to the moment. An understanding, however deep, is why Incentivise reeling away from the Caulfield Cup field on Saturday felt different to watching one put up similar margins at Sale. Though that can feel alright too if you've had something on.
But 3.5 lengths in a Caulfield Cup hits different because it is different. In terms of simple margins, only Might And Power's 7.5 length and Gurner's Lane's 5 length margins have been greater in the past 50 years.
The dominant margin only gets more impressive when we consider it with weight and age differences considered. 14lbs split Incentivise and Nonconformist at the finish on Saturday. The average between the top rating and the next in modern Caulfield Cups is less than 4lbs - 3.5x what is typical.
When we lay these margins over historical standards - weighted for recency and relevance - we get a (very wide!) range of potential values from 123 to 139. The average of which - again weighted for relevance, so first is more significant than second which in turn is more significant than third and so on - is just a tick over 129.
Here we rate horses based on races. Now we rate the race based on horses.
In our recap of the Doomben Cup - which you can check out here - we decribed a rating as "a point estimate that best describes the result(s) in front of us" and rating horses as "finding the solution that is least wrong or, in stat language, minimising the mean squared error."
Here we do that again for Incentivise. Testing out a series of plausible ratings to find the one that is 'least wrong' given our prior expectations. Incentivise was rated 124, Nonconfirmist 119, Persan 115, Montefilia 119. The image below shows the mean squared error for ratings between 126 and 132 - our best and most plausible guesses.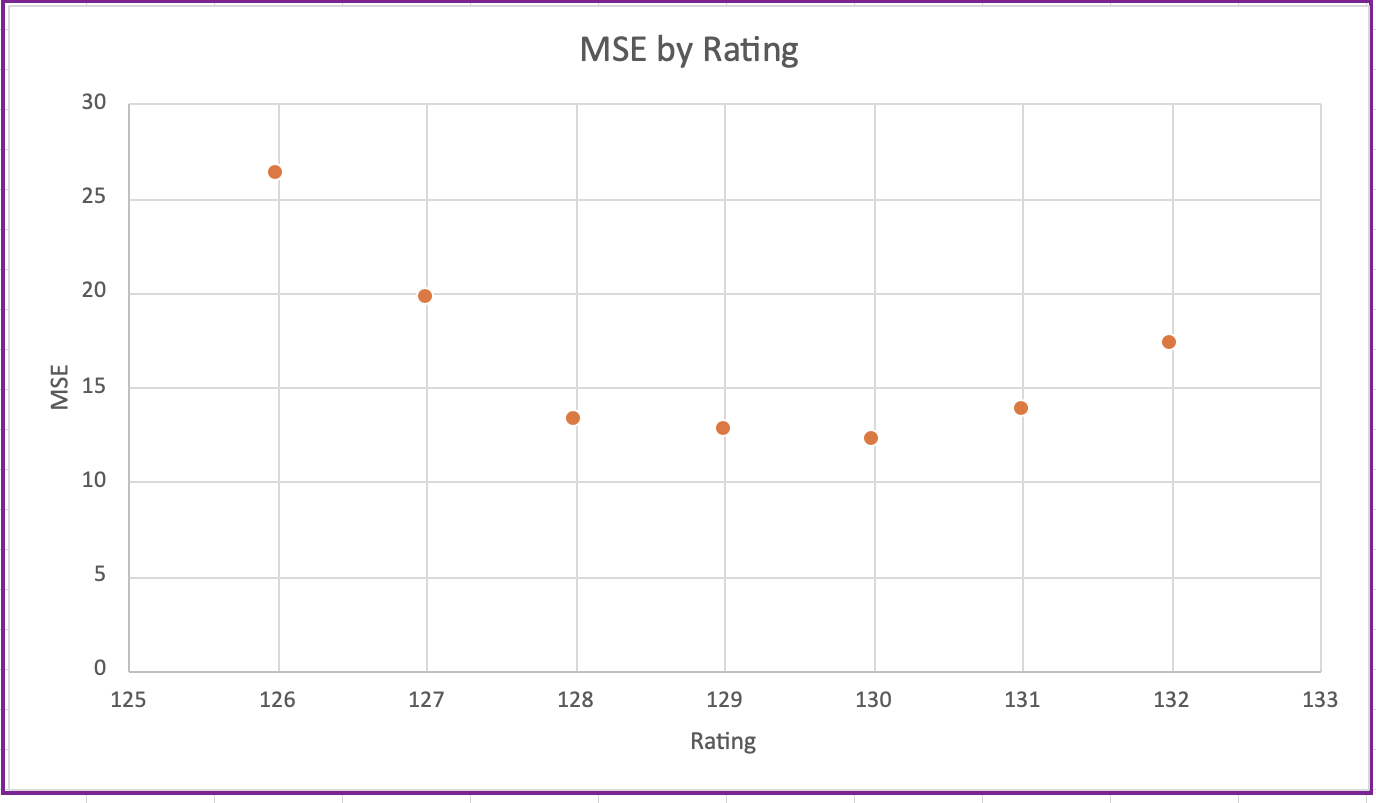 The image shows the mean squared error lowest between 129 and 130. Right where historical standards pointed us.
The task for the handicapper is to fit a horses performance rating into the wider distribution but also into the distribution(s) of the individual horse. Here again the statistical goal is to lower the variance between ratings.
129 is a new peak for Incentivise, outside his prior array of ratings, but it looks plausible given the result. His ratings spiral is something to behold: 105 - 107 - 117 - 122 - 124 -129.
The next question is just how representative this 129 is of Incentivise and the 2021 Caulfield Cup as a whole. For this we can look to the clock. Unsurprising the overall time can be considered a strong one and the sectionals point to a well-run race with none looking to have been particularly or obviously disadvantaged by the run of things.
Persan, under Linda Meech, was ridden to perfection. We can calculate his finishing speed as: (100 * d * T)/(t *D) where D and d are the distance and sectional distance and T and t are the overall time and sectional time.
In the case of third-placed Persan and our Queen of even pace Linda Meech this comes out as: (100 x 600 x 151.81) / (37.56 x 2400) = 101%. Oh Linda! Perfection. Enough to bring a tear to a pace nerds eye. How can you not be romantic about pace!
So the pace was ideal and Incentivise finished just as strongly as it appeared. The fastest last 400m and 200m in the race. Nothing was gaining. Incentivise kept powering away.
Incentivise's win in the 2021 Caulfield Cup felt great. It felt special. And the spreadsheets, and the nerds that worship them, only confirm that we were not being fooled. It is a win that will stand the test of time because it was authentic; everything that is good about the great game of horse racing.