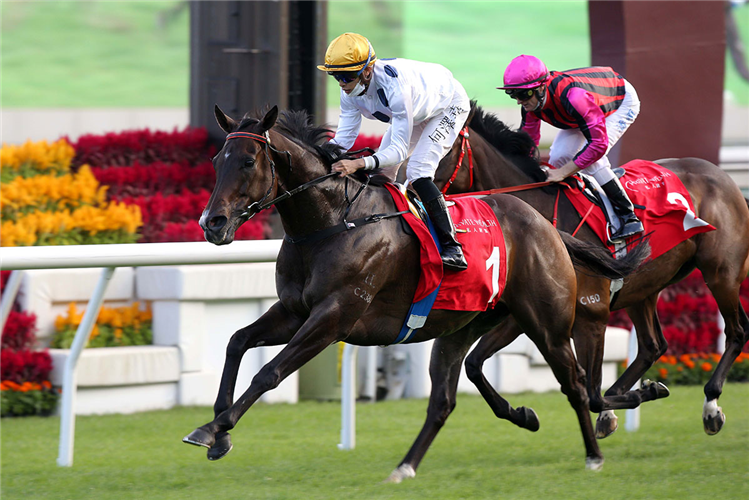 A thousand Roman paces evolved and by the 16th century we had the London mile measured in furrows; a furrow being a trench made by a typical plough. A mile was eight furrows long or eight furlongs for short.
The furlong now belongs to the great game of horse racing. Put eight of them together (roughly, depending on where in the world you happen to be) and you get one of racing's most important and celebrated distances. The weekend just gone was a celebration of the mile.
That celebration, viewed through Timeform's lens, looks a little bit like this:
Golden Sixty - 122
Gran Alegria -122
Western Empire - 121
Count De Rupee - 118
This mile merrymaking started at home with the Gong - impeccably preceeded by the banging of a gong - at Kembla Grange which was won by the 118-rated local Count De Rupee; a grand result for the race and for racing.
118 is a big rating this deep in to November, when the Australian calendar has traditionally hit a bit of a lull despite it being the best time of the year for both racing and for getting attention - why run spring features in August (spring features in winter is a clue that they are in the wrong spot...) when its cold and we're all watching football?
That is beginning to change. There was no lull in proceedings on Saturday; Count De Rupee's 118 knocked out of the headlines by 8pm Eastern when attention switched to Perth
There Western Empire continued the recent trend of big margins in big races; his record-breaking four-length romp - which you can and should read about in this Simon Dinopoulos recap - following on from Incentivise and Verry Elleegant in the Cups and Home Affairs and Nature Strip in Cup Week's biggest sprints.
These aren't just big margins in big races, these are historically significant margins in big races. We can add Espiona, Fangirl and Extreme Warrior to the list and Profondo put plenty of fresh air between himself and the chasing Spring Champion pack. And, if you account for late speed (and it would seem to me that you absolutely should) Hitotsu thumped the Derby field.
These are the sort of margins that racing gurus and handicappers love. No need to acknowledge the wider variance that comes with wider margins; just plonk on a big number (a four-year-old-crop-topping 121 in the case of Western Empire) put your feet up and bask in the glow of your own genius.
It's a nice spot for the handicapper/guru to confirm what the punters already know. But Golden Sixty is not so kind. He makes the models look as daft as his opposition.
He beats ordinary (ordinary by top-of-the-world's-mile-rankings standards) horses by small margins. No plonking on a big number with ease now. Waikuku ain't Winx!
Margins are a function of time and times are a bit different in Hong Kong (or Japan) than they are in Australia and (in particular) the UK and Europe.
Golden Sixty covered 1000 Roman paces in 94 1/2 seconds on Sunday. He typically covers it a full second quicker than that and he has dipped below 93 seconds.
For comparison, the top miler in Europe, Baaeed, has won six from six at a mile in an average time just over 100 seconds. Quick ground in midsummer at Newmarket allowed him to dip as low as 96.95 but still nowhere near the times returned by Golden Sixty.
Baaeed is not slow. He ran a speedfigure well clear of 110 (undersold by many I think but then again I am very shrewd....) at just his second start and has routed the best milers in Europe since. But not all miles are the same. A German foot was bigger than a Roman foot. The Irish and the Scottish had their own miles aside from the London mile. And a nautical mile changes depending on longitude.
Using the same models, models that treat the lapses in time referred to as margins, in the same way whether they are at Sha Tin and at Newmarket, must be imperfect. They may be useful, sure, but imperfect.
Over the low-resistance Sha Tin mile, Golden Sixty has made a habit of winning in a flurry of heads and necks, leaving the handicapper with the dilemma of doing him justice. A dilemma that prompted (I assume) George Bernard Shaw to say: "The reasonable man adapts himself to the world; the unreasonable one persists in trying to adapt the world to himself."
When analysing Hong Kong, Shaw no doubt cranked up the inputs on his models. The best models, and the best handicappers, can see the real value in those tight margins; margins which are certainly not all made equal.
A length, or a deviation in speed, has a different value in the east to the west. Race results tell us as much and our ratings should reflect race results, not nice versa.
Ratings are not all made equal either. A horse with a peak rating of 130 can (perhaps should) be ranked no better than a horse rated 125 in some scenarios. If the '125 horse' is holding a pair of 125s against a 130-124, then races (where the ratings are randomly distributed) will be shared evenly between them. Consistency matters, something punters and betting markets well know.
Conventional handicapping methods won't do Golden Sixty justice but he doesn't need to win by miles to be the best miler on the planet - and just how far is a mile anyway?