3 minute read
Chris Scholtz reviews Sydney barrier trials at Rosehill on June 7 and Warwick Farm on June 10.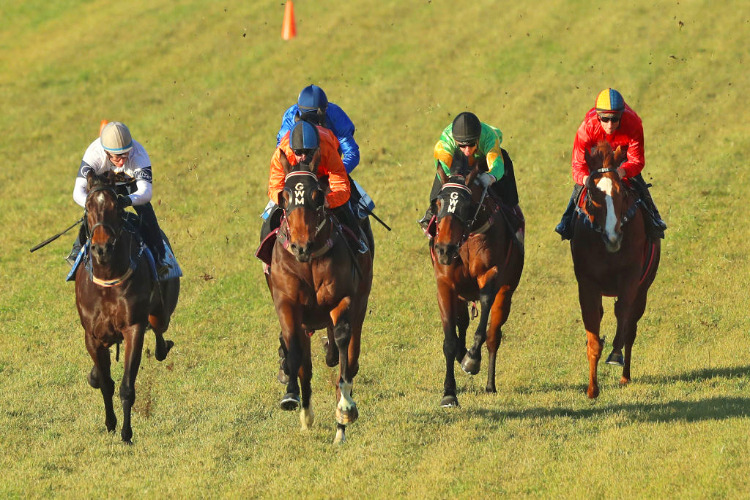 WARWICK FARM June 10
Inside Grass; Soft 7
15 Heats – 1 x 1200m (Open); 3 x 815m (3 Open); 3 x 812m (3 2YO); 4 x 808m (4 2YO); 3 x 804m (1 3YO; 2 Maiden)
Polytrack – 1 x 1175m (Open)
Another set that that should prove a good guide to winter racing.
EXSENSIBLE (David Pfeiffer): Unraced Exceed And Excel 3YO has won two of his three trials since his transfer from the country to the David Pfeiffer stable. Looks ready to make an impact on debut after cruising through his 804m maiden heat for a soft win by almost two lengths with plenty in reserve (48.11; 34.18).
HEADWALL (Matthew Smith): Unraced Dream Ahead youngster returned as a gelding for his second trial and looked much improved form the version we saw at the start of the season. Open to improvement on his strong work to win his 808m heat in good time (48.20; 34.12).
MONTE INVINCIBLE (Joseph Pride): Unraced I Am Invincible filly found her legs in her third trial to lead easily under no pressure in her 812m heat (48.93; 34.54). Was doing it in style when three lengths clear at the 200m before she was throttled down in the last 100m, allowing a pack of rivals to halve her winning margin.
REACH FOR GOLD (Jason Coyle): Stylish 3YO filly by Air Force Blue has now won successive Warwick Farm trials and is set to build on the impression she made when she won a Canberra maiden and was placed at Goulburn in January and February. Had plenty in hand winning the 3YO heat over 804m (48.29; 33.85) from some handy types in what should prove a strong trial.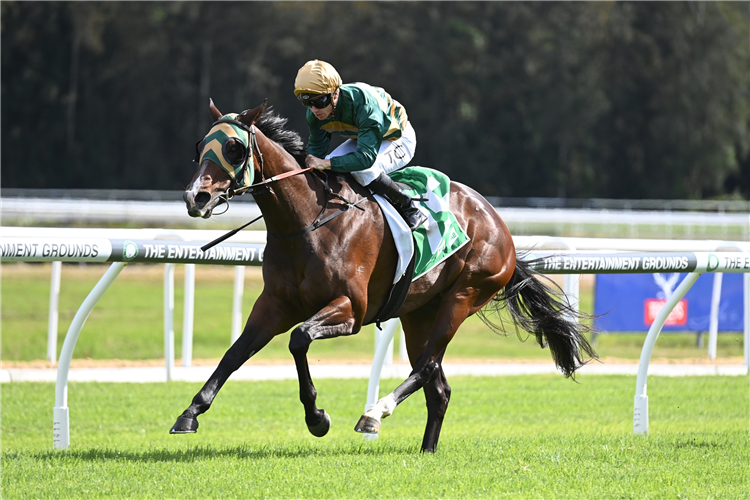 SHOWTIME LADY (Brad Widdup): This well-seasoned mare was back on her game after a heavy track failure, winning her open heat over 815m (48.48; 34.07) with authority. Allowed two others to take up the running, lobbing easily in third place and always having them covered while tracking over extra ground. Worked well within herself to pick them up in the run to the line under a quiet ride.
WILD AMBER (Ciaron Maher/David Eustace): Here's a speed ball. Sharp first trial by this Pariah youngster, running away with his 808m heat in fast time (48.02; 34.07) to win by more than four lengths. Like to see him trial again.
NOTED TRIALS
XX Exsensible; Headwall; Monte Invincible; Reach For Gold; Showtime Lady; Wild Amber;
X Choisir's Choice; Humble Star; Imrahor; Just Wai; Lady Brook; Martial Music; Marooniyah; Millybella; Mr Gee; Night To Remember; Transplant
Transplant, a recent addition to the Joe @PrideRacing stable, wins a trial at Warwick Farm on Friday from stablemate Lady Brook with Nikohli Beagle in third. @tabcomau pic.twitter.com/wuMYdiqZXU

— Racing NSW (@racing_nsw) June 9, 2022
ROSEHILL June 7
Inside Grass; Soft 7
12 Heats – 2 x 1030m (2 Open); 6 x 900m (2 Open; 4 2YO); 4 x 898m (3 2YO; 1 Maiden)
Winter racing has arrived and this session underlined the massive depth and variety of horses the Chris Waller stable is preparing for racing over the next few months.
Waller won five trials – notably four of the seven 2YO heats – and had numerous other runners taking the eye with their strong performances.
EPONYMOUS (Chris Waller): This unraced I Am Invincible colt was having his fifth trial and his winning performance was superior to anything he had shown in previous appearances. He had no trouble taking up the running from the start in his 900m heat and was held back to them by James McDonald until the 200m where he extended easily, cruising through his last 200m with plenty in hand (55.13; 35.83). He's ready to go to the races as it seems the penny has dropped with this colt.
SUPER CHILLED (Chris Waller): Has trialled twice since his first start in February and there was plenty to like about the improvement he showed here to win this 898m heat (55.42; 36.11) after covering ground from the start. He sat off the leaders travelling three deep but was always under a good hold from Chad Schofield and while the margin wasn't big at the finish he worked well within himself to hold off his rivals over the last 200m.
Waller also won 2YO heats over 900m with ALBERICH (55.56; 36.15) and previously noted SORGENTE (55.57; 36.10) but you can also mark down his other youngsters HIMALAISM, COOL KAAP, PARALLEL, POZESANA and CABACA as other youngsters in his team to keep an eye on when they make their debuts.
The Hawkes stable also had some handy 2YO triallers including the impressive BOTANICA finishing a strong second in his 900m heat won by SORGENTE and AIRMAN finding the line nicely from well off the speed for third behind EPONYMOUS. They also have a nice maiden prospect in the unraced 4YO mare JASIRI after she worked to the line strongly in the maiden heat over 898m heat won by COSMIC MINERVA (55.21; 35.80) after missing the start by two lengths.
The fastest 2YO heat over 900m was won by THE LIONS' GATE (54.81; 35.82) from the Matt Dunn stable; Bjorn Baker's previously noted racy filly SHEZANALISTER made it two wins from two trial appearances with too much speed for her rivals in her 898m heat (54.53; 36.04); and Gerald Ryan's Rubick filly OUR LADY STARDUST sat outside the lead and did best under a kind ride to win the quickest 898m heat (54.29; 35.08) narrowly from CABACA.
The open heats over 900m were won by the Waller-trained OVERLORD (54.51; 34.98) and CONSCRIPT (54.01; 35.36) from the Ryan/Alexiou stable. These heats featured several nice trials from the Waller team including ACHIEVER, RUBAMOS and YIYI.
The maiden runner VENGEFUL, beaten at short odds in his only start at the provincials, has definite prospects on his strong second behind OVERLORD while CONSCRIPT built a handy record through his last prep and looks set for another successful campaign.
The Matt Dunn-trained QUATUM made an impression in his recent first-up trial win at Warwick Farm and did it again with a strong front running effort in the fastest of the two 1030m heats (63.17; 36.18). His trials indicate he is in much improved form since his last preparation.
NOTED TRIALS
XX Eponymous; Super Chilled
X Airman; Alberich; Botanica; Cabaca; Conscript; Himalaism; Hotstep; Jasiri; Our Lady Stardust; Overlord; Parallel; Quatum; Rubamos; Steel Diamond; Vengeful; Were Da Ya Get It; Yiyi