Products
Final Report PDF
Every Saturday and occasionally on other big race days, Racing And Sports delivers an extensive analysis of the Sydney, Melbourne and Brisbane races using criteria employed by our handicapping team.
These metropolitan races are examined with specific horses provided with a price component at which you should consider backing. We rate each race with "Stars" and 3 Stars constitutes a good betting race while 1 Star is not nearly as confident a betting event. You can purchase these on Saturday mornings after scratchings have been taken into account.
Armed with the power of First Cut, our analysts then further interrogate the information this provides.
Adding in factors like track condition, pace, predicted peak ratings and suitability of race provides us with an even clearer picture of the likely outcome of a race.
Then personal input of Racing & Sports' experienced team of handicappers, headed by Timeform's official Australian handicapper Gary Crispe, produces an accurate assessment of a horse's true ability.
This final assessment makes up the Racing and Sports
FINAL REPORT
.
Here is an example of what a couple of races in the Final Report looks like:-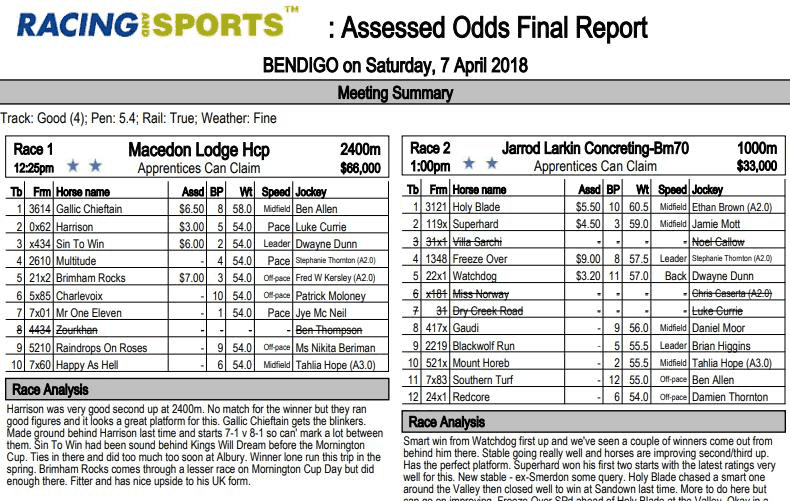 Entire meetings will be covered, with a Star System in place to identify the better betting races.
Final Report will be available on race morning from 9:30am.