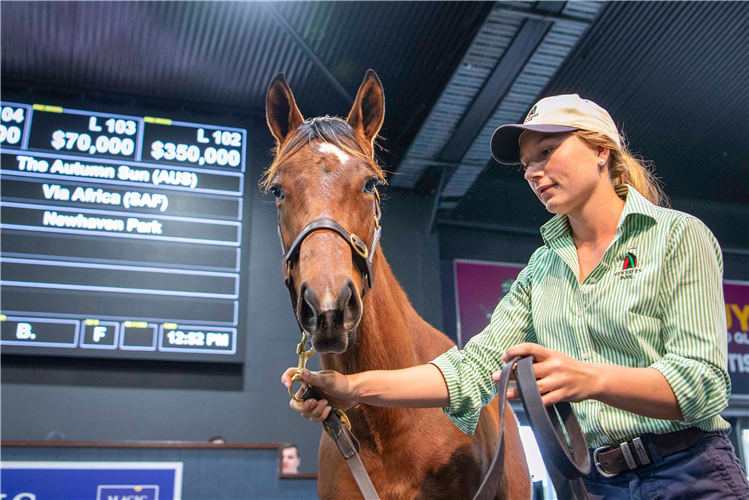 Magic Millions was never likely to compare this year's National Weanling Sale to last year's record-breaking edition, which has left them happy with the results after Day 1 of the 2022 offering.
But Magic Millions managing director Barry Bowditch was happy to compare the day to all other National Weanling Sales.
The 118 lots sold on Thursday grossed $9,970,000 at an average of $83,083 with a $52,000 median.
The median compared favourably with $52,500 last year, when the average was $105,000.
"It's an incredibly strong average," Bowditch said. "Outside of last year I think it's well above any average for a weanling that we've had here before.
"The clearance rate ending at 77 percent is sound and I think it gives us a great Day 1 to build on into the second day of the sale tomorrow."
Day 1 was headlined by Newhaven Park's daughter of The Autumn Sun and Via Africa, who is a three-quarter sister to Golden Rose winner In The Congo, who sold to Silverdale Farm and Shrone Bloodstock for $600,000.
"She was an outstanding filly, she was obviously very, very well bred and physically she was what you'd look for and a lot of the best judges on the ground thought she was as good a filly as they'd seen here at the sale," Bowditch said.
"There were four different bidders after $500,000 so it just shows there was huge craving and there were plenty of people that admired her almost as much as the buyer.
"We hope to see her back here in January."
The day's other half-million-dollar youngster was the top-priced colt, a son of So You Think and Salina who sold to Justin Bahen for $525,000.
No one bought more lots than Bahen, who along with Trilogy Racing and Belmont Bloodstock secured five weanlings each, with Bahen the leading buyer by gross ($1,285,000) and average ($257,000) for those who purchased at least three horses.
Newhaven's two weanlings sold brought in $685,000, while Vinery led the averages for those who moved on at least three horses with their three weanlings selling at an average of $180,000.
The sale concludes on Friday when a Snitzel filly out of a daughter of Peggy Jean, an I Am Invincible-Faint Perfume colt, the only two Extreme Choice fillies in the book and a couple of Frankel colts out of star race mares are among the lots to be offered.