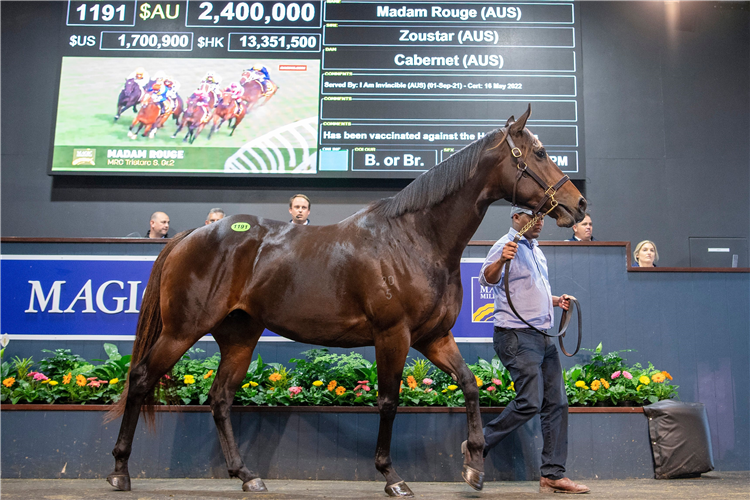 Madam Rouge was Thursday's final-day headline act after selling for $2.4 million in a session that also saw Irish blueblood Fantasy sell for $1.7m and top Australian racemares Nettoyer $1.3m and Oceanex $1 million.
It took to 18 the number of mares who sold for seven figures at a sale that grossed $123,744,500.
Mares sold at an average of $228,311, which was down slightly on last year's $232,000, but the 2021 figures were bolstered by the Shadwell Stud dispersal sale that generated around $25 million in turnover.
Without the Shadwell lots, this year's sale outdid last year, leaving Magic Millions managing director Barry Bowditch ecstatic.
"It's been one of the great breeding stock sales we've ever held," Bowditch said.
"Last year was a huge benchmark to meet, it was an incredible sale and obviously included the Shadwell dispersal, so to increase our gross taking out Shadwell, and to sell some 18 $1 million horses over the last three days is an extraordinary effort.
"We thank the vendors for entrusting us with these mares and race fillies and the buyers out there for supporting the product we have a lot of confidence in with great gusto."
The sale was dominated by Victoria's Yulong, who spent $29,239,000 on 63 mares under a variety of syndicate names at an average of $464,111.
Among them were the top two lots – Away Game ($4m) and Tofane ($3.1m) – and five others who sold for at least $1 million.
"Sam Fairgray and the team, no one works harder at the sale and we're delighted to have them as significant clients of Magic Millions," Bowditch said.
"They've participated in the market at all levels and they've been incredible strong but, all in all, it's been a great spread of buyers and when you look through we've had close to 30 buyers spend over $1 million, which is huge."
Newgate's 49 lots sold grossed $20,044,000, while Arrowfield Stud was leading buyer by average of those who sold multiple lots, selling eight at an average of $525,250.