3 minute read
The 63rd running of the Takarazuka Kinen will be held on Sunday, June 26th and it is a 2,200m inner turf event at Hanshin Racecourse.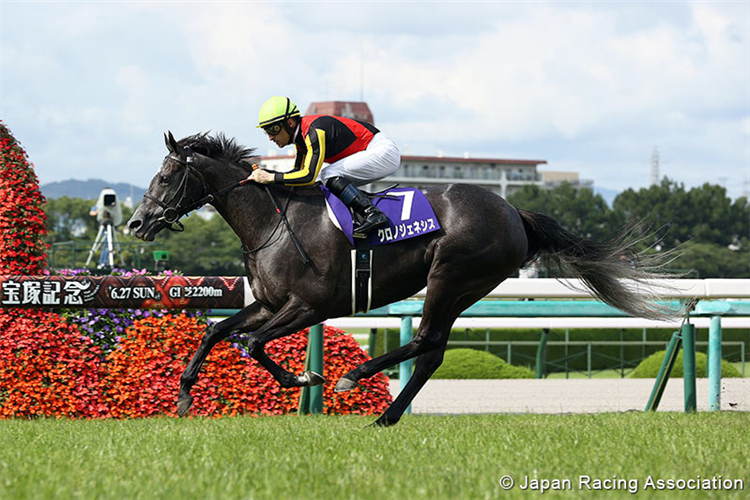 After five consecutive weeks of Grade 1 racing in Tokyo recently, there has been a slight lull in the top-class action here in Japan, but this coming Sunday (June 26) it returns in the form of the Takarazuka Kinen, to be run at Hanshin Racecourse over 2,200 meters on the inner turf track. It is one of the two so-called 'All-Star' races in a year, where racing fans get to vote for the horses they want to see competing against each other. It is a race for 3-year-olds and up, and there is a maximum field size of 18. There are 20 horses nominated for this week's Grade 1 Takarazuka Kinen.
The race was first run in 1960, when the distance was 1,800 meters, but in 1966 it was extended to the 2,200 meters the race is run over today. It was open to foreign trained horses in 1997, and the last overseas challenger was Werther from Hong Kong in 2018. There will be no runners from abroad this time.
This year will see the 63rd running of the Grade 1 Takarazuka Kinen, and as with other recent big races, it's shaping up to be a truly competitive field. Race favorites have found it tough to win in the past ten years, with just three of them returning to the winner's enclosure. The race has, however, favored 5-year-olds, who have won seven times in the past decade. The last three years, a filly or mare has won, taking their overall tally of wins in the race to six.
Weights are set at 58kg for 4-year-olds and up, with a 2kg allowance for fillies and mares, and any 3-year-old taking on the race gets to run with 53kg, an attractive weight advantage. Record time for the race was set by Earnestly in 2011, winning in a time of 2 minutes 10.1 seconds. This year's winner's check is JPY200 million (just under USD2 million). The winner of this year's Grade 1 Takarazuka Kinen also receives an automatic entry to Australia's Cox Plate (won by Lys Gracieux in 2019) and the Longines Breeders' Cup Turf at Keeneland in November.
The big race will be Race 11 on the Sunday card at Hanshin, with a post time locally of 15:40. Final declarations and the barrier draw will come out later in the week.
Here is a look at some of the runners expected to feature in the race:
Titleholder : This year's Grade 1 Tenno Sho (Spring) winner looks perfectly at home at Hanshin, running away with his latest win by seven lengths, and the 4-year-old colt by Duramente came out on top of the fans' poll, demonstrating the respect he commands. Trainer Toru Kurita said: "On his return to the training center on June 1, he looked well and refreshed, and probably better all round than he did when he returned before the Tenno Sho. He has been moving well in his recent training." The trainer's two Grade 1 victories have come with Titleholder, and jockey Kazuo Yokoyama, who has ridden him in his last three races, is set to take the ride again.
Efforia : With six wins from eight starts, last year's Grade 1 Tenno Sho (Autumn) and Grade 1 Arima Kinen (The Grand Prix) winner was looking to continue his success into 2022, but only managed to finish ninth in this April's Grade 1 Osaka Hai over 2,000 meters at Hanshin, his worst result ever. However, trainer Yuichi Shikato thought that things went against him in that race. "He had the long transportation to the track last time, together with the accident at the gate and the flow of the race itself wasn't helpful, so things didn't really go his way," the trainer said. "He came back to the stable from Northern Farm Tenei on June 2, and looks a lot tighter than he did before his break. This season is also better for him, and he's shown enough in his work so far." Jockey Takeshi Yokoyama has ridden the Epiphaneia colt in all his races so far, and will partner him again on Sunday.
Deep Bond : The 5-year-old by Kizuna remains very competitive, as could be seen from his effort right up to the end last time in the Grade 1 Tenno Sho (Spring), where he managed to finish second to Titleholder. He has always finished in the first two at Hanshin, so a big run can be expected this time too. Trainer Ryuji Okubo said: "He was beaten into second last time, and the riderless horse didn't help things in the run. He still ran well and finished ahead of T O Royal in the end. After giving him a rest, we have had this race as his next target."
Daring Tact : Having had her first run in over a year in last month's Grade 1 Victoria Mile, the 5-year-old mare still managed to put in a creditable run to finish sixth. "She was coming back after her long layoff last time, and it was a tough mile race," trainer Haruki Sugiyama commented. "There had been quite a lot of rain before the race, and she drew the inside gate which wasn't to her advantage. She still ran well, putting in a final three-furlong time of just over 33 seconds. I thought it was a good run, considering everything, and her legs were fine after the race." Jockey Kohei Matsuyama is bidding for his sixth career JRA Grade 1 win, with three of them achieved already on Daring Tact.
Authority : After a successful campaign in Saudi Arabia and Dubai earlier this year, where the 5-year-old won and finished third in his respective races (the latter in the Grade 1 Dubai Sheema Classic), he's now set for his next challenge in this Sunday's big race. Assistant trainer Yu Ota said: "He has been racing well this year, so it's been good to use him constantly. He is looking just a little heavy at the moment, so I hope he'll adjust to things in his fast work from now. We will just have to see how he does racing right-handed in this next race." Jockey Christophe Lemaire gets on well with him and takes the ride again on Sunday.
Potager : Causing a bit of an upset last time when he won the Grade 1 Osaka Hai over 2,000 meters at Hanshin in April, the 5-year-old by Deep Impact has now won three times at Hanshin from his six career victories overall. Trainer Yasuo Tomomichi has a lot of skill when it comes to having a horse just right for a big race. He recently commented on Potager: "There wasn't much time between his races in the spring, but he kept his condition well. He ran on from the back of the field in the Kinko Sho, but in the Osaka Hai, he demonstrated how he could run from a more forward position and get a good result. It was decided then to give him a break and bring him back for this race." The trainer is seeking his 17th JRA Grade 1 victory, and he's already scored twice at the top level this year.
Panthalassa : From the all-conquering stable of trainer Yoshito Yahagi, Panthalassa's tough front-running style has won him two races already this year, namely the Grade 2 Nakayama Kinen over 1,800 meters in February, and the Grade 1 Dubai Turf over 1,800 meters in March. He will have to see out an extra 400 meters this time, but the 5-year-old looks capable of a big run this time too. Assistant trainer Yusaku Oka said: "He seems well enough after his overseas trip, and his return to the stable after a stay at the farm. His work on the uphill training track recently has been smooth, and things should be fine with him as we work him more."
Stay Foolish : From the same stable as Panthalassa, the 7-year-old by Stay Gold is showing that age is not an issue, nor long distance travel, with his two wins earlier this year in Saudi Arabia and Dubai. Forcing the pace in one of them, and being well forward in the other, he proved impossible to stop in both races over long distances. "He returned from the Yamamoto Training Center to the stable on June 9, and everything seems fine with him," assistant trainer Yusaku Oka said. "He ran well in Saudi and Dubai over the long trips, but this time it'll be shorter, so we'll just have to see how he adjusts to the distance."
Arrivo : The 4-year-old colt by Duramente has been showing improvement, and he now has five wins from his eleven career races to date. His most recent third place finish in the Grade 1 Osaka Hai in April was arguably his best ever race. Trainer Haruki Sugiyama said: "He had won some handicap races away from the big tracks, but I was a little uncertain about how he might perform last time, given the gradient at Hanshin, but he ran well, and there wasn't much in it between him and the winner. He was tired after that race, but he recovered quickly and we could consider this next race for him." This year's Derby winning jockey, Yutaka Take, is set for the ride on Arrivo.