3 minute read
With the likes of Tiger Roar on the back of a strong Class 3 win and Relentless, Amazing Breeze and Vgor all knocking in recent Class 4 wins in preparation for Sunday's Group 2 Stewards' Cup (1600m), it is easy to forget that the best four-year-old in Singapore - Lim's Kosciuszko - started favourite in the Group 1 Kranji Mile just over a month ago.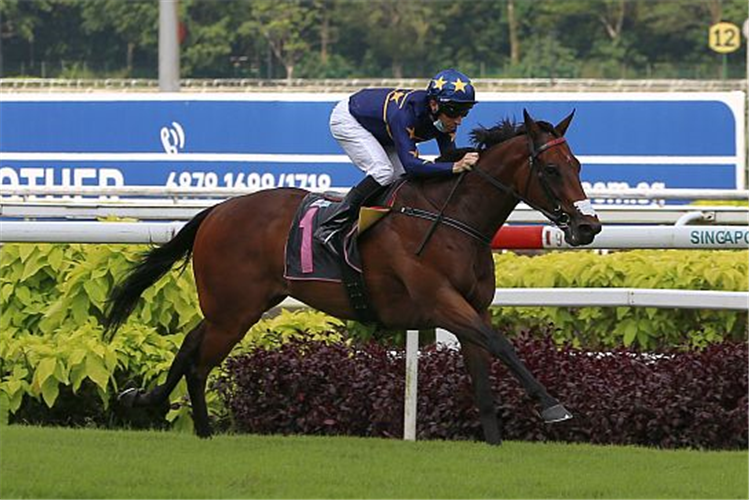 It is history now that Lim's Kosciuszko battled late to finish tenth – beaten (but not disgraced) by some four-and-a-half lengths behind his higher-rated stablemate, Lim's Lightning - but he faced the best older milers in Singapore at weight-for-age conditions then.
On Sunday, he gets his chance to make quick amends against his own age group at equal weights in the feature race worth $150,000.
In fact, his rating of 101 is an amazing 18 points higher than the next best – Tiger Roar on 83 – and a whopping 49 points greater than the lowest-rated horse in the race – Happy Wonderful on 52 points.
At the set-weight conditions of the Stewards' Cup, all horses will carry 57 kgs - which obviously favours Lim's Kosciuszko - who otherwise would be carrying (at handicap conditions) nine kgs more than Tiger Roar and a hypothetical 25.5 kgs more than Happy Wonderful.
So, on weights and measures and 'on paper', Lim's Kosciuszko should win.
And although we know that races are not run or won on paper, the Kermadec gelding is definitely the horse the others have to beat after a cracking trial last Thursday.
"Yes, very happy with the trial," said his trainer, Daniel Meagher from the stables on Tuesday afternoon.
"Some of the other horses haven't come through the (Kranji) Mile that well – it's tough - but he did the trial by himself and has come up really well, so the extra time off looks to be in his favour.
"In hindsight, I probably shouldn't have run him at weight-for-age against the more seasoned horses in the Kranji Mile and wait for a race like this instead, but he deserved a crack given his record.
"And he wasn't beaten far and he's won eight out of 10 so it's hard to fault him."
It will also pay to remember that while beaten fair and square in the Kranji Mile, the trip held no fears given Lim's Kosciuszko carried 57 kgs at Kranji Stakes A race on March 26 over 1600m when beating Circuit Mission by more than a length.
"Yes, he's won at the mile at a good level," continued Meagher.
"And he's also won at 1400m and 1200m, so he's pretty versatile and against his own age group at set weights, the mile looks good.
"It's never that simple (the weight-to-ratio differential) but it's in our favour, so we're expecting him to go well."
Regular race-rider - Danny Beasley - has the plum mount and after a winning return to the saddle last Saturday with Amore Amore, the experienced Australian hoop will be hoping to add some Group race glory this weekend.
Staying with weight variances, the first southern hemisphere two-year-old to be nominated this season – Cash Cove – is one to watch in Sunday's $75,000 Restricted Maiden over 1200m on the turf.
Restricted Maiden races in Singapore are run at weight-for-age conditions, so while the southern hemisphere three-year-olds all carry 57 kgs, Cash Cove will only be handicapped to carry 49.5 kgs.
Obviously, two-year-olds are yet to fully mature – thus the universal weight allowance against older horses – but the seven-and-a-half kgs swing counts for plenty late in these types of races and it is always worth having a second look at the juveniles at this time of year.
Cash Cove looks handy enough too – he was more than solid winning his most recent trial on June 16 (heat no.1) in 1 min 2.31 secs - but trainer Alwin Tan suggests he still has some maturing to do.
"He is still a bit green," said Tan after trackwork on Tuesday.
"We have been changing his gear – he worked well with a shadow roll off this morning (he won his recent trial with the shadow roll on) and hopefully, he will mature into a nice three-year-old.
"(Jockey) CC (Wong Chin Chuen) will ride him one-and-a-half kgs over (51 kgs) and he's happy with him, so hopefully he runs well with the lightweight."
So, from the highest-rated horse on the card to the lowest-handicapped horse on the card, there is something for everyone on Stewards' Cup Day.