3 minute read
CHEVAL BLANC returned to racing after a year on the sidelines to create a big upset in the Class 3 – 1200m handicap at Sungei Besi here today.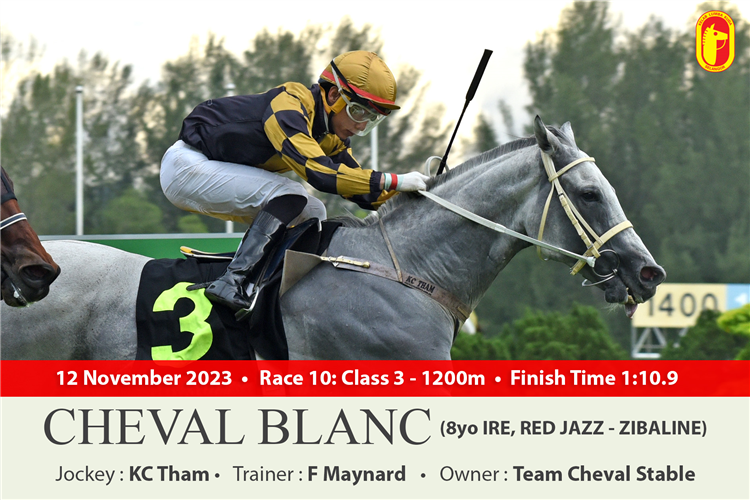 The Irish gelding had his last outing in Singapore this week last year when he returned lame. In fact, the son of Red Jazz returned lame in his final two starts at Kranji where he managed two wins in Class 4 in 19 starts.
After failing to get him right again, his owners sent him over to Malaysia to join the stables of Frank Maynard.
Following three barrier trials in the last few weeks, CHEVAL BLANC was ready for his first start here and few expected much from him.
Ridden by Tham Kim Chong, Cheval Blanc won the start and led from the favourite MALAYSIA CAPTAIN.
MALAYSIA CAPTAIN drew alongside CHEVAL BLANC at the 400m and the pair drew away from the rest to fight it out. MALAYSIA CAPTAIN was momentarily in front at one stage but CHEVAL BLANC fought back and raised another effort to win by 3/4 length. He paid RM210 for win.
"I was impressed for the horse to win after 12 months at this level," said Maynard. "He originally came from Dermot Weld in Ireland and never finished further back than fourth over there, so he is obviously a good horse.
"Hopefully he pulls up well and I'm looking forward to seeing what he can do. Big thanks to (Singapore trainer) Stephen Gray for recommending me to the owners (Team Cheval Stable)."
"He is fresh and jumped out with strong big strides," said Tham. "He travelled keenly throughout and hung out slightly in the straight.
"I didn't feel any problem with his legs and he won by sheer class and a big heart."
CHEVAL BLANC cost just 17,000 euros as a foal but after a win and finishing fourth four times in five starts at two, including the Group 3 Lyrefield Stakes at Leopardstown, he was sold for 260,000 euros and transferred to Weld.
CHEVAL BLANC, then known as Burgundy Boy, started three times under, managing a third and finished fourth in the Group 3 Ballysax Stakes and the listed King George V Cup, both at Leopardstown.