3 minute read
Trainer Jason Ong is a step closer to winning the 2023 Singapore champion trainer's title with every meeting.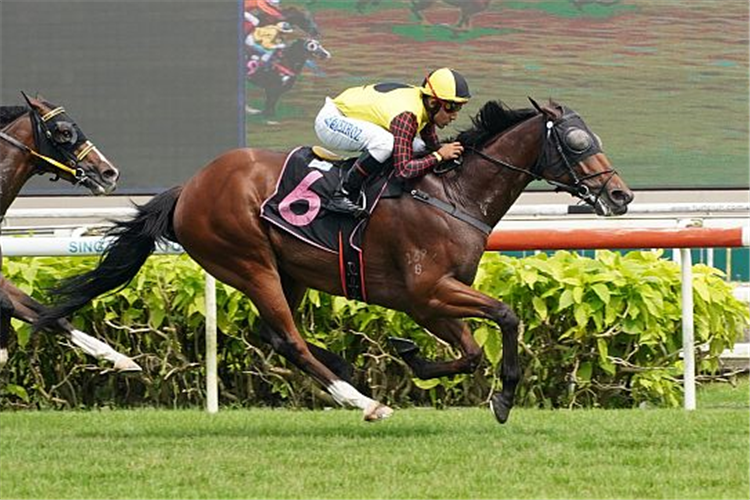 With only six meetings left in the season, the Singaporean conditioner – whose highest finish on the trainers' log was fifth in 2022 – currently leads by three over last year's champion trainer Tim Fitzsimmons.
The fierce competition makes for excellent racing and with a huge team of 26 runners nominated for this Saturday's meeting, Ong could extend his lead on Fitzsimmons as he only have 10 runners entered.
But like last year, when the Australian handler won a battle to the wire to beat trainer Donna Logan by six wins, the 2023 title race will also likely go down to the last meeting or two with every race vital.
If Ong does hang on to his lead and is crowned champion trainer come 30 December, he may well look back at the feats of Top Field , who found winning form at the right time. He will be gunning for five wins in a row in the $50,000 Class 4 race over 2000m on Saturday.
The son of Real Impact only broke his maiden status on 20 August but has since knocked in three more consecutive Class 5 wins (the last over 1600m on 21 October). While he will be stepping up in grade and distance, Ong thought he cannot be discounted.
"It was impressive for him to have won four in-a-row," said Ong of the Australian-bred five-year-old.
"All credit to the team for his improvement. He's a happy horse now and while he is up in Class, I think he is a lightweight (52kgs) chance.
"(Jockey) Bruno (Queiroz) is staying on, which is good given he would have had other choices, but he (Queiroz) gets on well with him and had been on him in all his four wins.
"Obviously, this is a tougher field but 2000m looks suitable with no weight and hopefully, he (Top Field) can prove himself in Class 4."
In what is a number's game on Saturday, Ong had two more horses – Fighter and Roda Robot – nominated in the same race and hoped the law of averages are in his favour.
"It's not a big field (eight nominations), so having three runners is good odds," said Ong, who began training after he took over retired trainer Bruce Marsh's string of horses in September 2019.
"Fighter (x Lord Kanaloa) had a few issues lately but I thought he improved at his run in the Class 3 (1600m) race last Saturday.
"The feedback from (jockey) TH (Koh Teck Huat) was good and he will ride him in a more suitable race this Saturday.
"Roda Robot (x Mongolian Khan) is a tough horse. I have been racing him frequently as he seemed to enjoy that and (jockey) Ronnie (Stewart) will ride him with just 51.5kgs. He also looks to be a lightweight chance."
Ong has plenty of other winning chances scattered throughout the 11-card meeting with a Class dropper in King Zoustar one of his fancies in the $50,000 Class 4 Division 2 race over 1200m on the Polytrack.
"He is so honest but has struggled to win in Class 3," said Ong of the eight-year-old son of Zoustar.
"So he gets his chance back in Class 4 and while it's not an easy race, he is working well and should go close. (Jockey) Vlad (Duric) is a strong rider and will suit him.
"I think Super Convince (x Super One) can also win again for TH Koh in his race ($50,000 Class 4 race over 1400m).
"He didn't get the best of rides when unplaced two starts back (in a Class 4 race over 1400m on 21 October) and TH won well on him last start (in a Class 4 Division 2 race over 1400m on 4 November).
"This is a big field and he (Super Convince) will need luck, but he is a young horse with plenty of upsides.
"I have Wait You Know (x Reset) in the same race with Bruno riding him and I think he will appreciate his first-up run (in a Class 4 over 1200m on 28 October). He's an interesting horse, worked well this morning and will improve with racing."
With a few other live chances in Nature Chief (x Time Test) in the $30,000 Class 5 race over 1200m and War Star (x Super One) in the $30,000 Class 5 race over 1100m, Ong may be able to hold on to his lead in the premiership with one meeting to go in November, before the "showdown" begins in December.