3 minute read
Auguste Rodin booked his place in the annals of racing history with a scintillating performance that took everybody's breath away in the Grade 1 Breeders' Cup Turf at Santa Anita.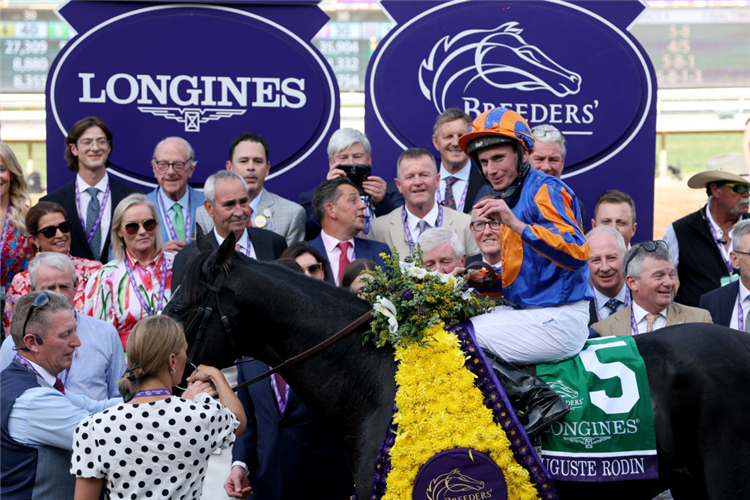 The dual Derby winner proved he was absolutely the real deal when running out a ready winner of the Grade 1 Breeders' Cup Turf for Aidan O'Brien and Ryan Moore.
The pace looked a generous one in the early stages and Ryan Moore always looked well-positioned onboard the 2/1 market leader, who sat handy towards the inside rail as the field sorted themselves out after a couple of furlongs.
Moore continued to scrape the paint on the beautifully-bred son of Deep Impact as the field quickened turning for home and it soon became apparent Auguste Rodin had plenty more to give. The gap parted like the Red Sea towards the inside rail, and without any hesitation or doubt, Auguste Rodin quickened up in breathtaking style to grab the initiative with a few furlongs to run.
Auguste Rodin showed a tremendous attitude to battle on gamely alongside the rail once the opportunity arose, and eventually prevailed by three-quarters of a length, giving O'Brien a record-extending seventh success in a race Europeans continue to dominate.
On the brilliance of Moore's ride, O'Brien said: "He had incredible confidence in him. He was drawn handy, and he thought he might be handier, but when he was not, Ryan knew. What an incredible ride.
"You can see the pace that he has, he was able to quicken when he wanted him to, and it was a brilliant ride. He doesn't do much when he gets there and that was a little worry because Ryan sent him down the inside and he ended up getting there early.
"He's a super horse and during the week the way he was cantering on the dirt I was wondering have we done the right thing, should we have had him in the other race [Breeders' Cup Classic]. He was cruising on the dirt, most other horses don't handle it when they are not used to it really, but he was incredible really."
"We've always felt he has a beautiful action and that he's a kind of dream horse.
"His dam [Rhododendron] was one of the best Galileo mares ever, and he's the absolute double of his grandsire [Sunday Silence]. His pedigree brings the best of Japan and Europe together."
On the performance by stable jockey Ryan Moore, the maestro of Ballydoyle said: "Ryan doesn't waste any energy in being anything other than what he is. He's familiar with all the top tracks and the top races.
"He says he can't be getting better, but he's 40 and I've told him you peak at 45."
Moore said: "I got squeezed out and horses were getting in each other's way. I didn't like where I was, but once he got there, he did it very easily. Considering how the race went against him in the early stages, it was a really big performance.
"Going up the rail was Plan F; my horse was getting a bad trip and the reason he won is because he's so good.
"He's now won two Derbys, an Irish Champion and come here and beaten proper horses. He had things go against him today, but he overcame them. He's shown himself to be a good Derby winner and a real top-drawer horse."
On the possibility of Auguste Rodin staying in training as a four-year-old, Coolmore's MV Magnier added: "We've been thinking about it for a while, there's a lot of things we could do with this horse. We could stand him in America, we could stand him in Europe and there's definitely a strong possibility we will keep him in training next year.
"How fun would that [Classic] be?"