3 minute read
Whilst some may remember 2023 as the year of marmalade sandwiches, a French ace and Frankie's not-so-farewell tour, the members of Middleham Park Racing will reminisce fondly on the globetrotting antics of their home-grown hero Brave Emperor.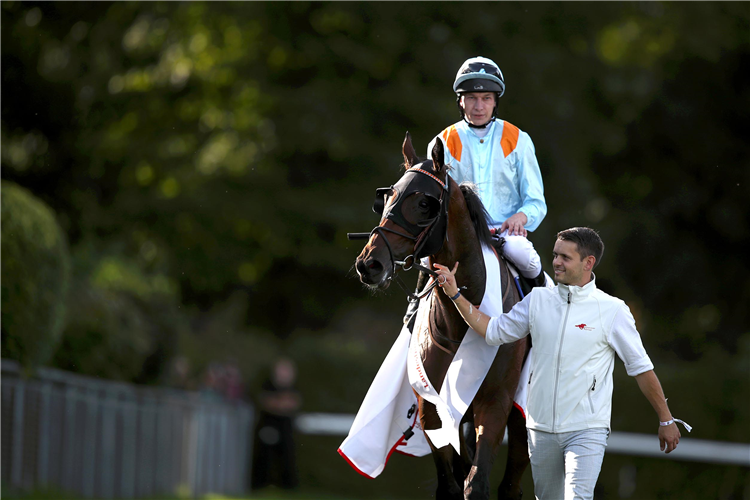 From the picturesque seaside resort of Cagnes-sur-Mer to the bustling metropolis of Milan's Hippodrome de San Siro, Brave Emperor has conquered four different territories with six wins across the course of his three-year-old campaign.
Despite numerous stamps in his passport, European travel was not always on the agenda for the son of Sioux Nation, a three-time juvenile winner.
Tom Palin, racing manager for Middleham Park Racing, explained more:
"We didn't truly know what we had at the end of his two-year-old career because it was a bit stop-start and that's the reason he endeared himself so much to us. He actually had a pretty serious stress fracture and he's got three pins in one of his front legs. The fact that he was able to overcome that and come back and just race as much and as honestly as he does, it's a credit to the horse. If you ever need an example of a horse who was born to race, this is it – this is what he loves doing.
"So coming into this year, we thought we'd start out relatively sensibly, pitching him in conditions races and handicaps and all he's done is just continue to improve. We kept giving him a bit more of a challenge and he kept winning. If it was a swimming pool, you just kept putting him in deeper waters and he continued to swim."
Those 'deeper waters' have taken Brave Emperor across the length and breadth of Europe – winning the Listed Prix de Californie at Cagnes-sur-Mer in February, before a victory in the Group 3 Grosser Preis der Wohnstatte at Krefeld and a trip to Scandinavia, where the gelding was narrowly beaten into third in the Group 3 Stockholms Stora Pris at Sweden's Bro Park.
He continued to perform well at home, winning the 'Road To The Kentucky Derby' Conditions Stakes at Kempton Park before a second in the Woodford Reserve Cardinal Conditions Stakes at Chelmsford, when the idea of a potential 'Run for the Roses' bid was mooted.
"We had a conversation with the syndicate members, and we just weighed it all up. At the time, he didn't have 320,000 in the kitty, like he has now. He'd have basically wiped out every bit of prize money that he would have earned. We weren't as assured then that we had a consistently good horse, it was a long way to go for a mission on dirt. We didn't feel it was right, but if it was now, I think we might have taken that opportunity."
Brave Emperor's latest victory in Italy's Group 2 Premio Vittorio Di Capua was particularly poignant for Middleham Park Racing, as it marked a landmark 100th victory for the season.
"It is always a nice milestone to hit. We probably won't hit the heights of 125 like we did last year, but that was an exceptional year. We're way up on prize money this year, even though last year we had Super Sprint and Group 1 winners. Across the board, the quality is up and that's probably in no small part thanks to Brave Emperor earning plenty this year."
Brave Emperor's campaign has been masterminded by trainer Archie Watson and Tom was keen to point out the genius race planning from the young handler.
"All credit has to go to Archie Watson with the placing of this horse, he knows that European Pattern book like the back of his hand - every time the horse ran, he knew where we were going next, he's
placed this horse to absolute perfection. Archie is not afraid to send horses to far-flung places, he called upon his previous experience with this horse."
Archie Watson is not the only integral member of the Brave Emperor team. Jockey Luke Morris has ridden Brave Emperor in all eleven starts this year and knows the gelding inside out.
"Look, you need the horse, you need the pilots as well. I think Luke gets on very well with him, he knows him extremely well - it's just a wonderful team."
Every intrepid adventurer needs an excellent support system behind them, and the twenty-two owners involved in Brave Emperor have been with the gelding every step of the way.
"There's a loyal band of about seven or eight owners who haven't missed a single one of these far-flung adventures. They've been to every one, and that's the beauty of it, really. Everybody loves having winners, but I do feel when you have to go to the effort of getting on a plane, getting hotels and going away for two to three days at a time - those wins feel a bit more special."
So, what's next for the Middleham Park pioneer?
"I think he deserves a little bit of a break, a bit of a freshen up and then we'll start to have a little look. There's a Group 2 over in Qatar in February, which could be a good starting point for him. We'd like to see if Hong Kong are interested, he'll probably go up a little bit for his win in Italy so he might be sneaking into Hong Kong Miles. He'll need an invite for that, it's not really something we can decide – there's extremely good prize money and I hear racing out there is very good fun.
"It's probably looking at something like a Lockinge or the Prix d'Ispahan in France – one of those Group 1 miles. We're probably still looking at campaigning him away from the madding crowds I'd say, but it's going to get trickier. But he's earnt his right to have a crack at races like the Lockinge, or the QEII."
With uncharted territories to discover, 2024 could mark a new era of exploration for Brave Emperor – but wherever the gelding goes, members of Middleham Park Racing will be cheering him all the way.