3 minute read
Veteran Australian rugby star Michael Hooper is to take up a new challenge as a sevens player for the national squad, with an eye on striking Olympic gold.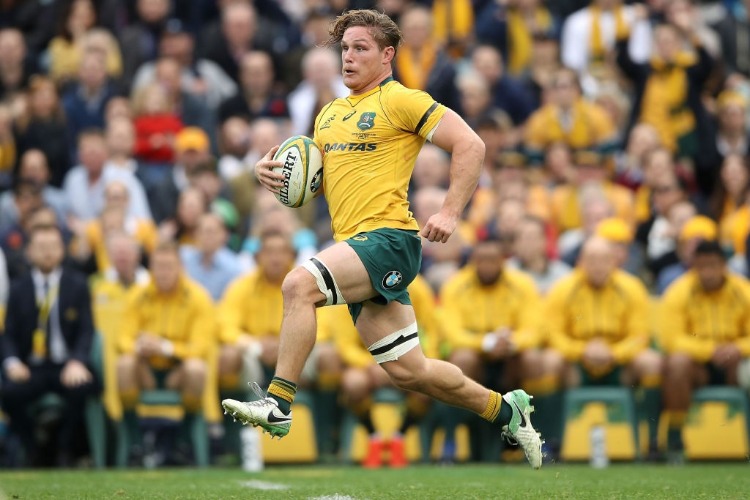 Michael Hooper's rugby sevens move is just the tip of the iceberg as Australia plan to fight fire with fire in a restoration mission for the code at the Paris Olympics.
The record-breaking former Wallabies captain was controversially overlooked by former coach Eddie Jones for their ill-fated World Cup bid despite beginning the Test season as skipper.
A four-time winner of the John Eales Medal as the best Wallaby player of the year, 125-time capped flanker Hooper will join the sevens program fulltime in January, and hopes to play his first tournament at the inaugural Perth SVNS event over the Australia Day long weekend.
The 32-year-old could feature in six legs of the revamped series before the squad is named for the Paris Games, where the Australian men will chase a breakthrough medal.
French Test star Antoine Dupont will miss next year's Six Nations in a bid to play for the hosts in a further sign of the thrilling rugby iteration's legitimacy.
"It's an endorsement in what we're doing," Australian coach John Manenti told AAP.
"It gives a sense that these guys are fair dinkum when you've got someone like Hoops wanting to be part of it.
"I hope as the rugby public we're supportive of it, encouraging. Not sitting there going, 'He's too old, what are they doing?'.
"He's the most capped Wallabies captain. He brings so much off the field and we'll do everything we can do to get him in the right shape to bring it on the field too."
Manenti expects Rugby Australia's centralisation efforts to benefit his team, who have drawn on Super Rugby talent in the past and will do again in the lead-up to Paris.
"We've learnt our lesson .... we definitely will," he said of his intention to give any prospect 15-a-side talents plenty of opportunities before the Games.
"If we're going to win a gold medal it's got to be a collective approach by Rugby Australia and the franchises to really support us.
"They need to understand that a gold medal isn't a gold for sevens rugby, it's one for rugby.
"We fight with money but for these guys, Olympics is a unique experience. If we can give people a sense of that it'll be a great point of difference."
Manenti said the prospect was first tossed up during a random meeting in a gym "years ago" and he believed Hooper would have made the move whether he had played at this year's World Cup or not.
A Wallabies captain on a record 69 occasions, the announcement almost certainly spells the end of Hooper's national ambitions in the 15-a-side game.
Manenti said the flanker could drop some weight to improve his mobility and speed over short distances to complement an "engine" and skill set that is already up to the task.
"The transition is something I have thought a lot about and I'm extremely motivated by the challenge of playing sevens and trying to earn my way into this team," Hooper said in a Rugby Australia statement.
"I've started making a few changes to my training in preparation and can't wait to get started in January.
"I'd like to thank John Manenti and Scott Bowen (the national performance manager for sevens) for the opportunity to join the program."
Australia's men's team have already qualified for the Olympics which will be held at the Stade de France in Paris in July and begin their SVNS series campaign on December 2-3 in Dubai.