3 minute read
Super mare completes a Horse of the Year hat-trick.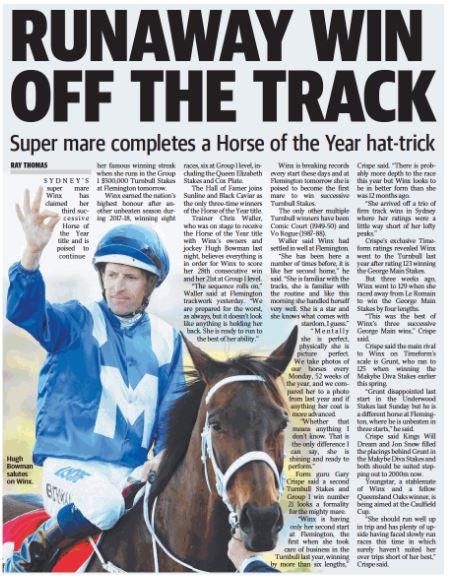 Sydney's super mare Winx has claimed her third successive Horse of the Year title and is poised to continue her famous winning streak when she runs in the Group 1 $500,000 Turnbull Stakes at Flemington tomorrow.
Winx earned the nation's highest honour after another unbeaten season during 2017-18, winning eight races, six at Group 1 level, including the Queen Elizabeth Stakes and Cox Plate.
The Hall of Famer joins Sunline and Black Caviar as the only three-time winners of the Horse of the Year title.
Trainer Chris Waller, who was on stage to receive the Horse of the Year title with Winx's owners and jockey Hugh Bowman last night, believes everything is in order for Winx to score her 28th consecutive win and her 21st at Group 1 level.
"The sequence rolls on,'' Waller said at Flemington trackwork yesterday. "We are prepared for the worst, as always, but it doesn't look like anything is holding her back. She is ready to run to
the best of her ability.'' Winx is breaking records every start these days and at Flemington tomorrow she is poised to become the first mare to win successive Turnbull Stakes.
The only other multiple Turnbull winners have been Comic Court (1949-50) and Vo Rogue (1987-88).
Waller said Winx had settled in well at Flemington. "She has been here a number of times before, it is like her second home,'' he said. "She is familiar with the tracks, she is familiar with the routine and like this morning she handled herself very well. She is a star and she knows what comes with stardom, I guess.'' " Mentally she is perfect, physically she is picture perfect. We take photos of our horses every Monday, 52 weeks of the year, and we compared her to a photo from last year and if anything her coat is more advanced.
"Whether that means anything I don't know. That is the only difference I can say, she is shining and ready to perform."
Form guru Gary Crispe said a second Turnbull Stakes and Group 1 win number 21 looks a formality for the mighty mare.
"Winx is having only her second start at Flemington, the first when she took care of business in the Turnbull last year, winning by more than six lengths,'' Crispe said.
"There is probably more depth to the race this year but Winx looks to be in better form than she was 12 months ago.
"She arrived off a trio of firm track wins in Sydney where her ratings were a little way short of her lofty peaks.''
Crispe's exclusive Timeform ratings revealed Winx went to the Turnbull last year after rating 123 winning the George Main Stakes.
But three weeks ago, Winx went to 129 when she raced away from Le Romain to win the George Main Stakes by four lengths.
"This was the best of Winx's three successive George Main wins,'' Crispe said.
Crispe said the main rival to Winx on Timeform's scale is Grunt, who ran to 125 when winning the Makybe Diva Stakes earlier this spring.
"Grunt disappointed last start in the Underwood Stakes last Sunday but he is a different horse at Flemington, where he is unbeaten in three starts,'' he said
Article taken from Daily Telegraph, published Friday 5th October 2018, Author, Ray Thomas, Page 35.