3 minute read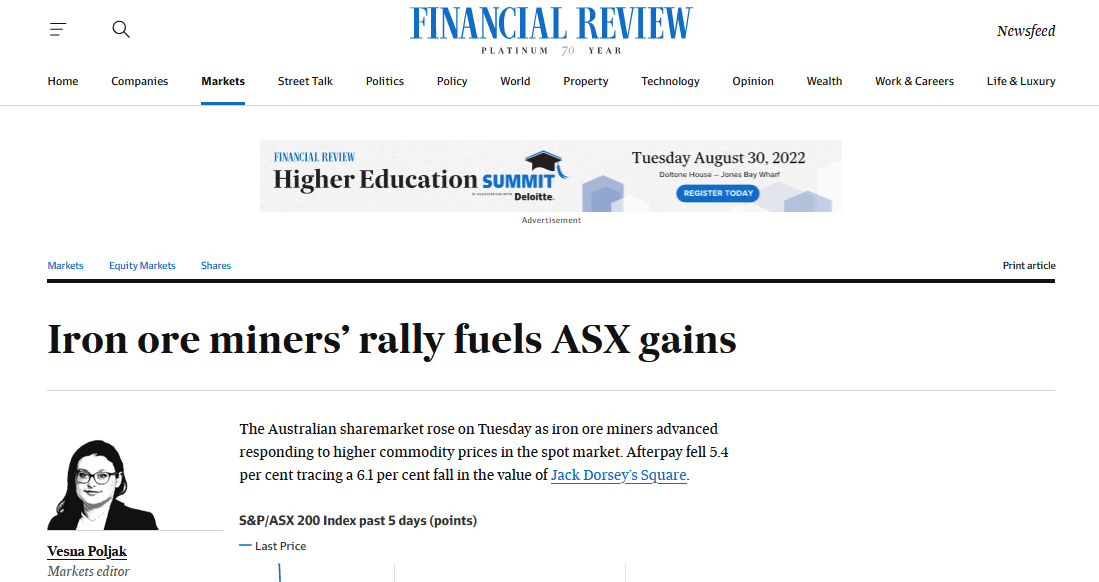 The Australian sharemarket rose on Tuesday as iron ore miners advanced responding to higher commodity prices in the spot market. Afterpay fell 5.4 per cent tracing a 6.1 per cent fall in the value of Jack Dorsey's Square.
The S&P/ASX 200 Index rose 0.8 per cent, or 57.5 points, to 7410.60. The All Ordinaries gained 0.7 per cent to 7741.70 points.
Iron ore traded in the spot market rose to $US95.63 a tonne, up 4.3 per cent on Monday, for 62 per cent-grade ore according to Fastmarkets MB. That followed a rise of 5.1 per cent on Friday, attributed to the prospects of stimulatory policy settings in the world's second-biggest economy.
BHP Group rose 4 per cent to $38.05, Rio Tinto gained 3.6 per cent to $95.13, and Fortescue Metals Group firmed 9.8 per cent to $17.35.
On Wall Street, technology stocks fell as bonds sold off in response to US Federal Reserve chairman Jerome Powell's reappointment. WiseTech Global fell 5.6 per cent to $53, EML Payments dropped 5.6 per cent to $2.72 and NextDC declined 5.2 per cent to $11.82.
Shares in wagering data company RAS Technology Holdings closed at $1.60 on debut. The company completed a heavily oversubscribed raise of $29 million at $1.50 per share. RAS is a provider of premium data, enhanced content, and software as a service solution to the global racing and wagering industries, including to Sportsbet and bet365, among others.
Bapcor shares fell 9.6 per cent to $7.46. Darryl Abotomey, the CEO of the car parts group that runs the Autobarn, Autopro and Burson chains said he will leave next February after 10 years of running the business.
Pinnacle agreed to pay as much as $75 million for a 25 per cent stake in private equity firm Five V, investing alongside its founders and principals, Adrian MacKenzie and Srdjan Dangubic. The deal will be funded with a $105 million equity raising; the shares last closed at $17.50 but did not trade on Tuesday.
Life360 shares were halted as it revealed it will buy bluetooth-tracking device company Tile for up to $US205 million ($283 million) being $US132.4 million of cash, up to $US37.6 million of new Life360 shares issued to Tile shareholders, and as much as $US35 million in retention awards.
Life360 will raise via entitlement offer and placement total proceeds of about $280 million to fund the acquisition. It last closed at $13.51.
Brickworks rallied 2.4 per cent to $23.74 as the company said sales momentum is improving in its Australian building products business. Brickworks' North American 2021-22 earnings will benefit from prior-period plant rationalisation and upgrades, plus the contribution of its IBC acquisition, although margin pressure is intensifying there.
Brickworks is also forecasting another strong half for its property trust business, and stable and growing income from its 26 per cent interest in WHSP.
Link Administration Holdings rose 0.6 per cent to $4.93. It has affirmed its 2022 financial year guidance, noting that year-to-date trading has been strong, and ahead of expectations. It is on track for low, single-digit revenue growth and operating earnings before interest and tax broadly in line with financial 2021, with a positive outlook.
TechnologyOne reported profit before tax at the top end of its guidance for the year ended September 30, up 19 per cent. Its annual recurring revenue (ARR) jumped 43 per cent to $192.3 million. TechnologyOne fell 2.9 per cent to $12.55.
Mayne Pharma chose not to provide a trading update at its annual meeting, saying that year-to-date trading is not reflective of the expectations it has for the remainder of this half, and the rest of the financial year. Mayne fell 3.2 per cent to 30¢.
Genworth Mortgage Insurance Australia rose 6 per cent to $2.31; it intends to commence an on-market share buyback for as much as $100 million.
Judo Capital Holdings will be a $20 billion-plus lender by financial year 2030 with a return on equity of 12 per cent according to broker Citi, which began research coverage of the non-bank lender with a "neutral" recommendation.
The shares are worth $2.60 apiece, or 2.1 times 2021-22 book value, versus their float price of $2.10, it said. Judo closed at $2.28, up 0.4 per cent.
Online article taken from The Australian Financial Review, published on Tuesday, 23rd November 2021, Author, Vesna Poljak.

Imagine what you could be buying instead. For free and confidential support call 1800 858 858 or visit gamblinghelponline.org.au.