3 minute read
Here are all the details on RAS Technology's float.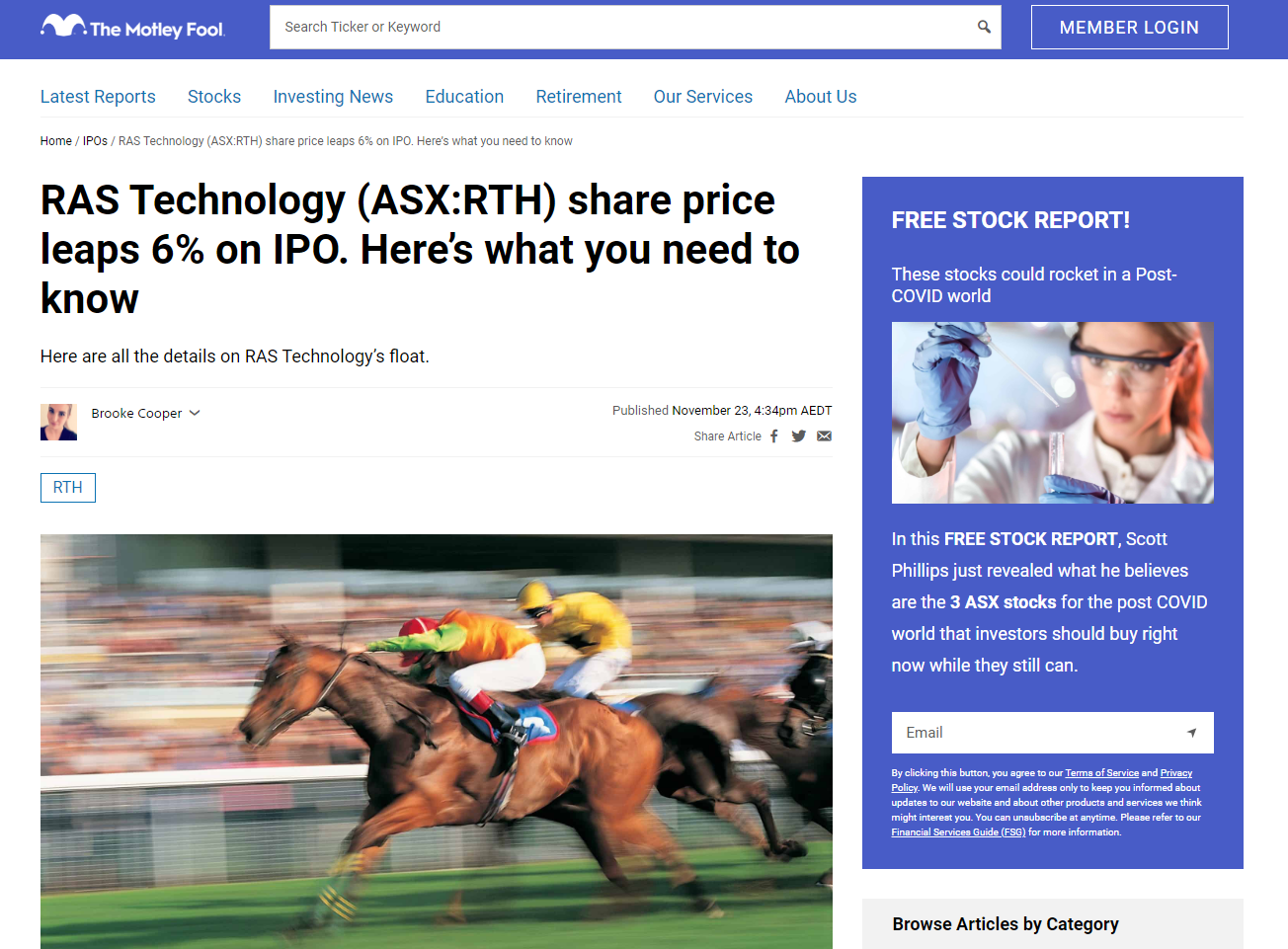 The ASX welcomed another new face today as RAS Technology Holdings (ASX: RTH) underwent its initial public offering (IPO).
The company's shares floated at 11 am AEDT on Tuesday before finishing their first day trading at $1.60. That represents a 6.6% gain on the company's prospectus' offer price.
Let's take a closer look at the ASX newbie and its debut on the market.
But first, what does RAS Technology do?
The RAS in RAS Technology is an acronym for Racing and Sports, indicating the industry in which the company operates.
Racing and Sports is the holding company's main subsidiary. It works to provide integrated premium data, enhanced content, and software-as-a-service solutions to the racing and wagering industries.
It operates in both business-to-business and business-to-customer spheres and services a geographically diverse and established customer base of racing bodies and authorities, wagering operators, media and digital organisations, and retail and private clients.
Right now, it has staff in Australia, the United Kingdom, and Sri Lanka. It also has plans to expand into the United States in 2022.
RAS Technology's IPO
RAS Technology raised $29 million through its IPO.
Under its prospectus, RAS Technology offered 19.3 million shares for $1.50 apiece.
That meant it expected its market capitalisation at the time of listing to be around $68 million.
Though, as of its first close, the company can boast a valuation of approximately $72.6 million.
How has the business performed recently?
Here is a brief breakdown of the company's results for financial year 2021:
Around $5.5 million of revenue
Gross profits of approximately $5.4 million
Earnings before interest, tax, depreciation, and amortisation (EBITDA) of around $1.4 million
Operating expenses as a percentage of revenue came to 84.1%

The company doesn't have any plans to pay dividends.
Should you invest $1,000 in RAS Technology right now?
Before you consider RAS Technology, you'll want to hear this.
Motley Fool Investing expert Scott Phillips just revealed what he believes are the 5 best stocks for investors to buy right now... and RAS Technology wasn't one of them.
The online investing service he's run for nearly a decade, Motley Fool Share Advisor, has provided thousands of paying members with stock picks that have doubled, tripled or even more.* And right now, Scott thinks there are 5 stocks that are better buys.
Online article taken from The Motley Fool, published on Tuesday, 23rd November 2021, Author, Brooke Cooper.