3 minute read
Welcome to the Market Herald Deal Room for this Friday, where we review the week in capital raising.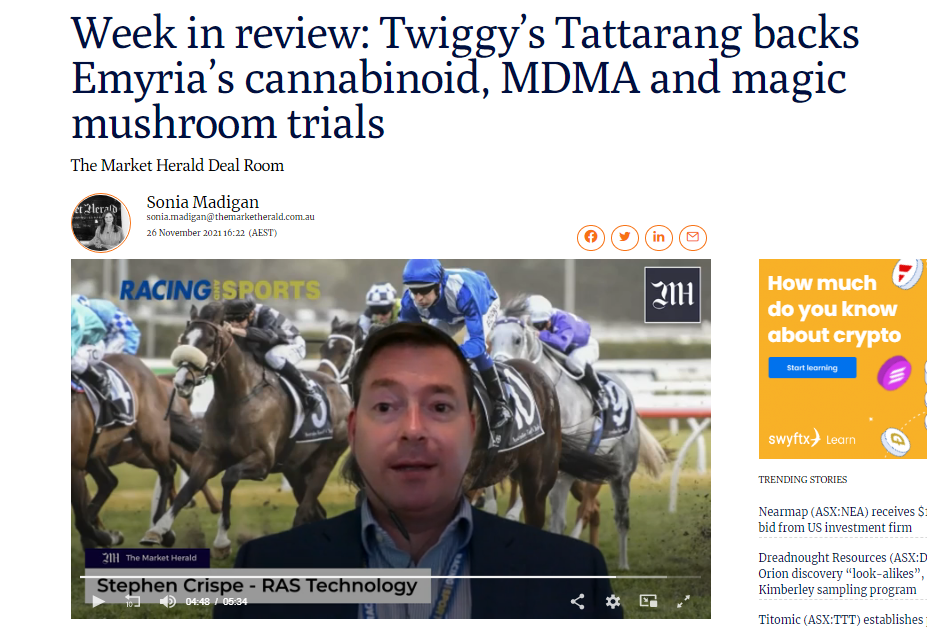 Emyria (EMD) shares soared more than 60 per cent on news Andrew "Twiggy" Forrest's private investment group Tattarang had invested $5 million.
It could be viewed as a controversial move for Tattarang, in that Emyria is not only trialling cannabinoid treatments for mental health conditions, epilepsy and Parkinson's disease, but also MDMA and magic mushrooms.
Emyria's Managing Director Dr Michael Winlo said there'd been a resurgence in research into the effectiveness of these drugs.
"Conservative medicine's cautious about these treatments, in the same way they're cautious about medicinal cannabis," he said.
"But the reality is, for many patients, standard treatments aren't effective, have unwanted side effects or are just not available yet.
"Tattarang sees the size of the problem. This is a global, massive issue that we're trying to address and obviously there's clear commercial value to that."
Emryia's market cap has increased since the announcement to $135 million, with shares opening at 50 cents today. Tattarang has already doubled its investment after securing its shares at 25 cents.
Pharmaxis (PXS) this week launched a $2 million share purchase plan (SPP) to help fund phase two trials of its treatment for liver and bone cancer, as well as trials of a topical drug with the potential to improve scarring.
Pharmaxis CEO Gary Phillips said the company had also secured $7.2 million through a placement.
"This (bone and liver cancer) is a really high unmet-need market which is crying out for drugs which can change the course of the disease and we think we have a drug that can do that," he said.
Pharmaxis has a market cap around $55 million dollars, the SPP issue price is 10.5 cents per share — the same price as it traded on market today.
Also raising this week was Oneview Healthcare (ONE) which offers bedside digital communication tablets for patients in hospitals and other care facilities.
The company's raised $20 million through a placement and has opened an SPP for another $3 million.
CEO James Fitter said there was growing demand for the technology which can help facilities ease pressure on their nursing staff.
"The capital raise we've just announced is about putting our foot on the accelerator in the key US market," he said.
"The fact that we've got three of the top 20 hospitals is obviously a fantastic start, I think that it proves that the product has real value."
Shares in the SPP are offered at 27 cents, which is where trade opened on market this morning. The company has a market cap in excess of $130 million.
There were 10 new listings on the ASX this week, including two with market caps above $200 million: heart pacemaker developer EBR Systems (EBR) and Advanced Share Registry (ASW).
The Deal Room followed the IPO of RAS Technology Holdings (RTH), which debuted earlier this week, gaining some 18 per cent on its IPO issue price of $1.50.
CEO Stephen Crispe said the company was previously known as Racing and Sports and was behind the data in most horse racing form guides.
"It was a nice entrance onto the ASX," he said.
"The trading volumes have been good, certainly we haven't been underwhelmed or overwhelmed, we've been very pleasantly surprised with the consistency of the trading."
Share trade in RAS opened at $1.78 this morning.
For more information on this company, or any other ASX listed company go to the search tab on our website.
Online article taken from The Market Herald, published on Friday, 26th November 2021, Author, Sonia Madigan.