3 minute read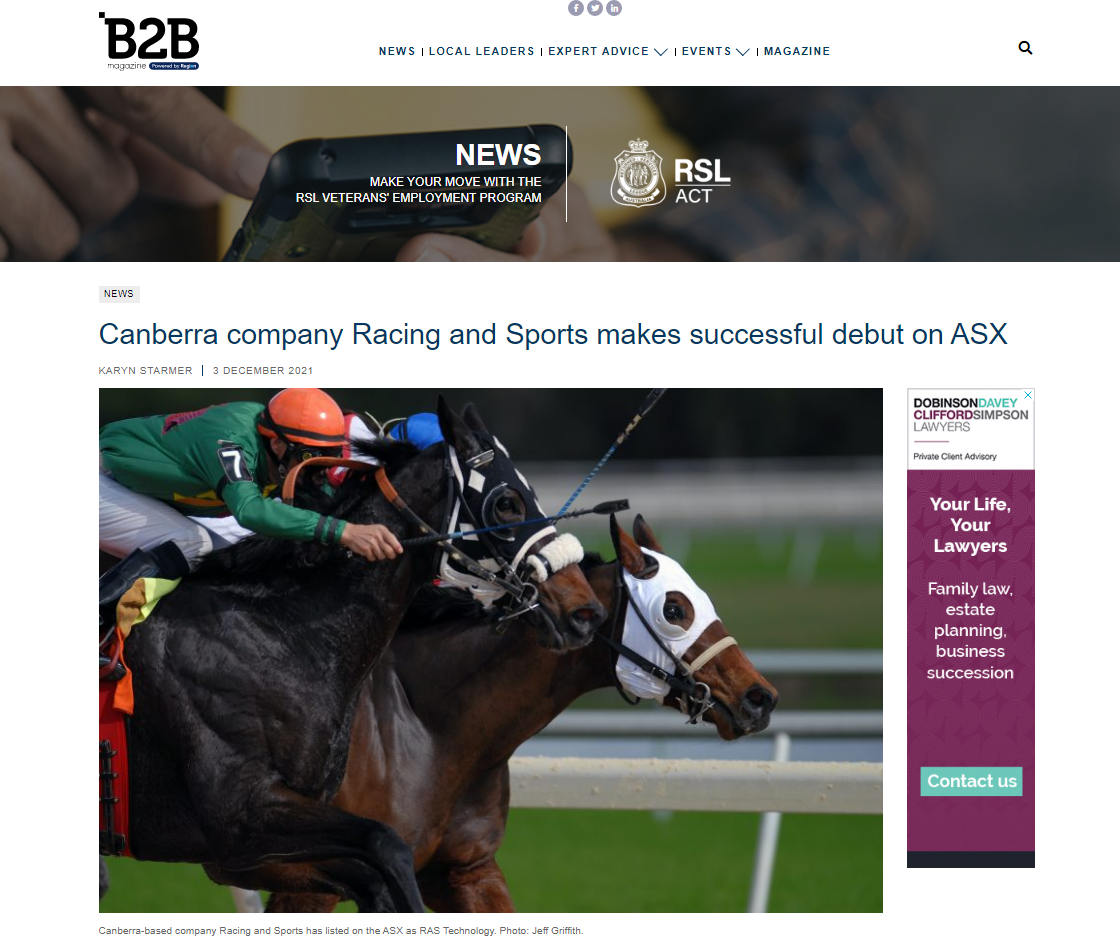 Canberra-based company Racing and Sports has had a successful listing on the Australian Securities Exchange (ASX), with shares climbing 6.6 per cent following the company's $29 million initial public offering (IPO).
Listing as RAS Technology (RTH) on 23 November, 2021, Racing and Sports, the holding company's main subsidiary, is a technology, data, digital and media company that services the global racing and wagering industry.
With its headquarters in Canberra, the company powers the data flows behind betting operators such as Tabcorp, Ladbrokes, bet365, Sportsbet, Betfair and BlueBet, providing data for about 1.5 million horses racing in 30 countries.
The company's IPO attracted a lot of interest and was subsequently heavily oversubscribed.
Racing and Sports CEO Stephen Crispe said the company is delighted with the result.
"This is a solid endorsement of the data and technology that Racing and Sports provides," he said.
"The market has recognised the value and sophistication we bring to the racing and wagering industry."
Following the successful ASX listing, Ladbrokes announced, on 29 November, it had acquired a 10 per cent stake in the company.
"Ladbrokes has been a customer, and now wishes to work with us as we expand into new markets," said Mr Crispe.
Racing and Sports was founded in 1999 by Gary Crispe and Robert Vilkaitis, originally functioning as a media-based business generating revenue through advertising.
As data flows increased, Racing and Sports saw an opportunity to insert itself as a middle layer between international racing jurisdictions and wagering operators.
In doing so, it built up one of the biggest databases of thoroughbreds in the world, as well as harness racing and greyhound racing.
Racing and Sports then transformed the data into products and services to sell to wagering operators throughout Australia, UK, Europe, and parts of Asia, and has now established relationships in the US where it plans to expand in 2022.
During the 2021 financial year, the company saw annualised monthly recurring revenue hit $6.6 million, an increase of 75 per cent compared to a year earlier.
The racing data and analysis, automated editorial content and advanced analytics accounted for 64 per cent of that income.
Gary Crispe will remain as chief commercial officer, while Robert Vilkaitis will retain his role as chief technology officer. Both will continue as majority shareholders with a 52 per cent stake between them.
Kate Carnell is the company's non-executive chair, her first role as chair.
The RSM Technology IPO was arranged by RSM in Canberra.
RSM Australia partner Andrew Sykes said he is pleased with the level of interest and result in the ASX listing.
"The success of the listing demonstrates the strength of Canberra's growing technology sector," he said.
"Racing and Sports joins the growing list of Canberra-based companies on the ASX."
Online article taken from B2B Magazine, published on Friday, 3rd December 2021, Author, Karyn Starmer.

What are you really gambling with? For free and confidential support call 1800 858 858 or visit gamblinghelponline.org.au.