3 minute read
Sydney coach Scott Gowans admits he didn't expect his side to play finals this year, but believes his side can go further in November.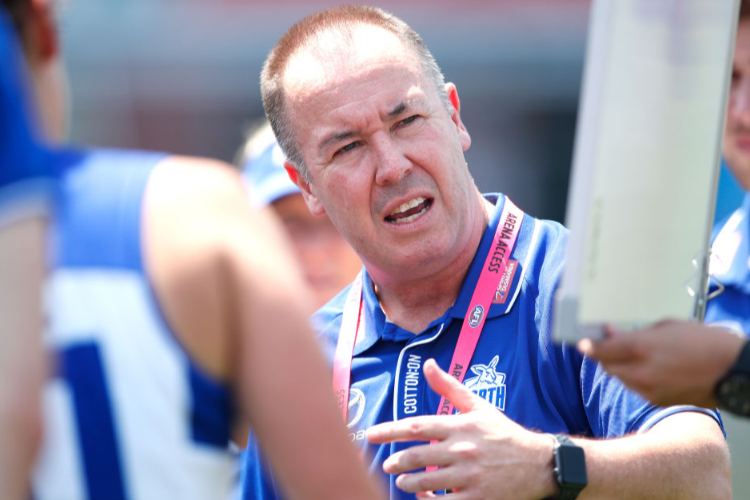 Winless one season, finals the next - even Sydney coach Scott Gowans is taken aback by how rapidly his side has improved.
The Swans have booked their first-ever AFLW finals appearance after knocking out St Kilda in eighth place with a 20-point win over Fremantle last round.
Their passage to the finals represents a dramatic improvement after the Swans went winless in their inaugural season which was capped by a 75-point drubbing by Geelong.
"I'm not going to lie, (this year) exceeds expectations of what we had at the start of the season," Gowans said on Wednesday.
"We always spoke about being on a journey and one day becoming good that we can win more games than we lose, but it's happened quicker than we thought.
"The players credit to them, they've bought into what we've been trying and they're the sum of all that is."
Gowans says he looks back at the Geelong game as a catalyst for his determination to drive the club to excellence, even while he was battling prostate cancer.
"After the game I was frustrated because you want to win, and we didn't win a game. That hurt," he said.
"I thought, 'now, I'm going to give it every minute that I've got to try and fast-track what we've got'.
"Then I had health issues in the preseason. You'd never wish it on anybody but it did give me time to collect my thoughts and strategise.
"I watched every game from the last two years and what worked for teams and what didn't.
"That we've improved and my determination to do that, I hope has got filtered down and hopefully that has been infectious."
The Swans make their first trip to the Gold Coast to take on the Suns in the first elimination final on Saturday.
Cameron Joyce's side defeated the Swans by 34 points in their first and only meeting in 2022, though they will be without injured midfield powerhouse Charlie Rowbottom.
Getting the better of the Suns in a preseason match earlier this year, Gowans is confident his side is a chance of getting across the line.
"I believe in us," Gowans said.
"The Gold Coast are a sensational side - they play similar to us and I just think it's going to go either way.
"No matter what happens on the weekend, I'm pretty proud."